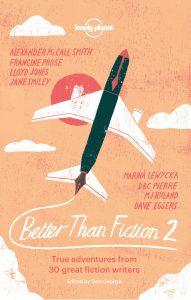 Picking up a Lonely Planet book immediately begs the question, 'where to' based on their long history of producing in depth guidebooks to destinations across the globe. The company has branched out in recent years with other travel themed books in addition to their guidebook staple but did you know that Lonely Planet publishes a literary anthology once a year focusing on true short stories by excellent fiction writers?
This is their latest edition (edited & curated by accomplished and long time editor Don George).
These short stories take the reader around the world from author Porochista Khakpour's personal journey to discover Falkner in Mississippi to M.J. Hyland's gripping tale of how she avoided arrest in the UK on a train.
Grab a blanket, a cup of tea and a warm spot to park it for a few hours while you jump from story to story.
To purchase this book