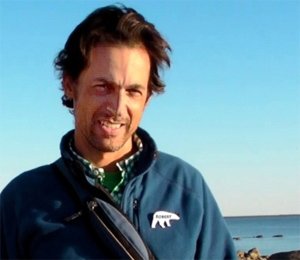 Based in New York City, Robert is Lonely Planet's USA Travel Editor. He has written two dozen guidebooks (including USA & Canada, Europe & Southeast Asia) and articles for The New York Times, The Wall Street Journal and ESPN. Recently we had a chance to ask him several questions about his career, travels and travel advice.

Q. Tell us a little about yourself and how you first became interested in travel writing/editing?
I grew up in Oklahoma, where there quite new things to see in any direction we took the car. Seriously, I remember being floored by a weekender in Wichita. But the real kick-starter in travel for me, way back at age five, was a trip to Mexico City. Seeing Aztec pyramids and canals, that was pretty much it. After college, I moved to New York City and worked in admin jobs at magazines then moved to Vietnam to teach English and work for the English-language paper there. That's where it started. I was a Lonely Planet nut already, so I just started writing about Vietnam, the setting I found myself and in outlet I had — after I sent a few articles into LP I got a job. That was 13 years ago now.

Q. Tell us about one of Lonely Planet's latest books that you helped edit, "The World's Best Street Food"
Before the street-vendor revolution of recent years, you really had to travel to enjoy the pure joy of eating fresh food, cooked before your eyes, on sidewalk stalls. I've loved these experiences everywhere I've gone — taco stands in Mexican fishing villages, teashops in Istanbul or Burma, noodle shops on cracked sidewalks in Southeast Asia. The best view anywhere, cheap, and very good. The book pulls together 100 of these wonders, offering background on what local custom, where to find it, its history AND a recipe so you can try making it yourself.

Q. You have worked for Lonely Planet for a number of years – what is the best part of your job?
Well, travel's pretty fun. And not just doing it. It may sound hokey, but there's a thrill just talking about it, analyzing it, planning it, and creating itineraries and material that you really think can do the same for others. I mean, I'm actually a seriously big believer in what Lonely Planet does. I've been lucky to have a few roles with LP — editing books, overseeing series, writing a couple dozen guidebooks, creating videos and articles, and talking about travel trends on TV and radio. And one of the things I've liked the most is when travel can add to a conversation missed in a greater new story, like perception of a place. That you can go to places like Mexico or Colombia, that you could still go to the Gulf during the oil spill disaster, that places like Cleveland and Saskatoon can be great fun. Great travel is everywhere.

Q. Is it true that Thailand has some of the world's best street food? Any Thai culinary favorites?
Without a doubt. And isn't funny that so many of the Thai dishes we go to restaurants for are found for nothing from street vendors around Thailand? My favorite is som tam, that crunchy, salty and sweet papaya salad that comes with a kick for about a dollar. (I get this in Queens, NY — which has some of the best Thai food in the US.) I also think Vietnam is right up there with Thailand. Banh mi sandwichess, bun thit nuong, pho noodle soup, cha gio, bun bo hue — dozens of snacks linked to their regions — all over. I even saw a banh mi hamburger stand in Danang once. Seriously, do you really need to go to a restaurant in either country?

Q. You are involved in something called the "76-Second Travel Show" – what is this?
'Something' is the operative word there. A couple years ago, I started doing a video for Lonely Planet that tried to use the most travel-friendly tools like FlipVideo, graph paper and crayons to create a weekly show that would take on a question of the week. My question of the week. Very personal. Which meant they weren't always the most common travel questions.
Instead of 'how to book a cheap Caribbean cruise?' I took on subjects like using a Monopoly board as a 'guidebook' to Atlantic City (the board's place names are all based on AC's streets); using Billy Joel lyrics as a guide to Long Island, NY, where he grew up; and asking the immortal question, 'pirates versus Vikings, who'd win in a fight?' For the latter, I simply called pirate and Viking sites and asked, holding the phone on speaker to the camera, and let 'travel' answer it. Some are, um, better than others.
The idea was taking 'travel' a bit out of the normal travel space of deals and dreams, and just find out some unusual stories lurking on the edge of what travel is. I find it very interesting.

Q. Can you describe a specific humorous moment (story, happening or other) from some of your travels?
There's always that impression that Russians are fond of the vodka. And, yeah, it's pretty true. I've shared more than a bottle with folks on trains while crossing the country on the Trans-Siberian — there is no such thing as saving any for the next day. At one point, a jovial trucker going for a job was so drunk he was pointing at me laughing, 'I'm sorry, I shouldn't be doing this, I can't stop.' I was laughing at him too.
My favorite experience though was on a flight, going from Petropavlovsk to Vladivostok in the Russian Far East. Two clean-cut guys in suits were across the aisle, seeing me, with a smile, they pulled out a bottle of vodka and beckoned me over to share it. We did. Several shots later, and a little loopy, I thanked them and exited — and it turned out they were the immigration officials! After they checked my passport and papers, they welcomed me to Vladivostok and offered me a ride to town.
Russians are wonderful people and can shame you with their kindness, you just have to get out of public spaces and into shared space of homes or trains to really learn that.

Q. What does it take to be successful in this type of work (guidebook writing, editing)?
A writing degree sure helped me. I studied journalism, and it's a skill that isn't always seen with bloggers. Even if you can't go back to college, take a couple writing courses and editing courses from a local junior college. For writing, you no longer have to wait for traditional media to hire you — just start yourself. And WORK at it.

Q. How would you approach making a living today from travel writing if you had to start over from scratch?
In some ways it's a healthier time for the travel writer who has a little get-go in their mustard. Blogging gives someone an immediate, free outlet to self-publish. The key is what to do with it, and for what purposes. I always recommend don't start thinking of money, thinking of building your 'brand' or perspective or identity. If you are an Akron blogger, start with Akron perhaps, but get it as precise as possible. Akron Donuts? Then build out to Northeastern Ohio Donuts. Use social media to meet new people in business and promote your work. Travel departments for cities and states and countries are increasingly turning to bloggers and video-bloggers to do trips/projects from a PR value. I know people who have been taken on outside usual travel companies, like car companies, to do road trips, and govern all content. Build it first. Know how you fit in, and be honest to what you want.

Q. You are a prolific traveler and have been all over the world – are there any countries that you keep returning to again and again? And why?
I've never been to fussed about ticking off all the countries of all the continents. I could spend a happy life in North America, road tripping across parts of the US, seeing more of Canada (particularly Newfoundland, which is a real gift to travel), but especially Mexico. I think it's the most misunderstood country in the world, in terms of what people who've never been say of it, or who've only been to impersonal resorts or border towns, and what you find when you jump into places like Oaxaca, San Cristobal de Las Casas, Guanajuato, San Miguel de Allende, Merida and dozens of others. I'm into travel literally because of a country I liken to the India of the Western Hemisphere. It's a sprawling spectacle of overlapping cultures, fantastic food, ruins and very friendly people.

Q. You currently live in New York City – what are some of your favorite activities and or places to visit in "the city"?
Where to begin? I moved to New York after college, and it remains a city that, popping out of a subway and looking up, that I'm awestruck by just to look at. There's always new things to find. I love going around outer boroughs neighborhoods along the East River like Greenpoint, Brooklyn, or Long Island City, Queens, or taking the ferry between them. Bryant Park, a block from Times Square, is always fun to sit in and read with a coffee, or play on the ping pong tables. The cable car to Roosevelt Island gives an unexpected airborne view of Manhattan's skyline, costing just a swipe of a MetroCard. And biking up the west side's riverside paths, all the way up to the little red lighthouse under the George Washington Bridge reminds you that the city is, down deep, a river city. You can forget that sometimes in the shadows of skyscrapers. And for food, don't forget about street food. A year ago, the The King of Falafel & Shwarma in Astoria Queens won the local Vendy's awards for best street food. And the spicy chicken-and-rice dish sold on the sidewalk is seriously as good as any New York meal I've had in years. Should I stop or keep going?

BIOGRAPHY

Robert Reid is the US Travel Editor for Lonely Planet and sole occupant of the Lonely Planet New York City office. A guidebook author veteran, Robert regularly discusses travel stories and trends for national media including the Today Show, CNN, Fox, MSNBC and the Weather Channel. In addition to writing two dozen Lonely Planet guidebooks (eg New York City, Eastern Europe, Central America, Southeast Asia), he ha written for publications including the New York Times, Wall Street Journal, ESPN, CNN and World Hum.
Robert also creates the 76-Second Travel Show homemade travel series that takes an alternative looks at various travel topics using simple travel-friendly equipment such as FlipVideo cams and crayons. In various episodes, he has staged the 100th birthday party for the Manhattan Bridge, used Billy Joel lyrics as a guidebook to pockets of Long Island off the tourist radar, donned a tri-cornered hat as a loyalist reenactor at Independence Hall in Philadelphia, and tracked down a Lebanese sandwich that can be ordered and eaten in a former bedroom of a US president.
He first joined Lonely Planet in 1998 and has worked in the Oakland, London and Melbourne offices. He lives, without apology, in Jackson Heights, Queens. Visit his website: www.reidontravel.com