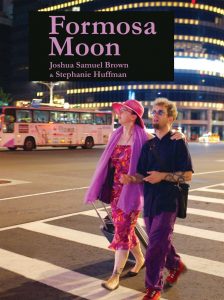 This is a journey around Taiwan curated by experienced guidebook author Joshua who fell in love with the island long ago and has spent years living in Taiwan. He convinces the love of his life, Stephanie to join him in Taiwan – prior to her time in Taiwan she had never visited Asia. Thrust into a world that is completely foreign to her she follows Josh's lead in their exploration of both its rural beauty and urban life.
Their journey details a diversity of experiences and attractions throughout the country including night markets (a culinary sensory overload for Stephanie) to villages to public art to colorful festivals.
Rather then combining efforts to produce a single narrative, Joshua and Stephanie contribute their own unique perspectives written as two voices, each sharing their thoughts about the same experiences. As a result, this book can partly be used as a guidebook and as a travelogue. This is an interesting read based on both a seasoned perspective of Taiwan contrasted with the excitement of someone who is seeing and experiencing a destination for the first time.
And with Josh's expertise, readers will discover attractions totally under the radar – such as Rainbow Grandpa, the Temple of the Traveling Monk, the Yunlin Hand Puppet Museum, the "Portland" of Taiwan, a number of exciting festivals and loads more.
This is a must read for someone planning a trip to Taiwan – especially for those looking to dig deeper into this fascinating destination.