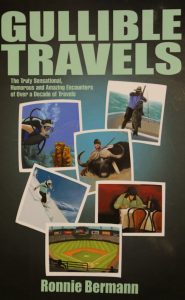 Author Ronnie Berman, now over 70 years old spent the better part of the last 10 years traveling the world. This book is a dated Journal of his various trips over an approximate seven year period from mid 2007 to mid-2014.
This is a fast read where Mr. Berman goes from one experience to the next describing daily activities while he is on the road.
Travel is not always exciting and Mr. Berman makes sure to nearly always describe the mundane details of his days on the road including various times he wakes up, flight times, what he eats and activities experienced.
Like most travelers Mr. Berman travels to gain a variety of experiences, but rather than an introspective read this is a more of a "what I did journal."
To purchase this book click here.