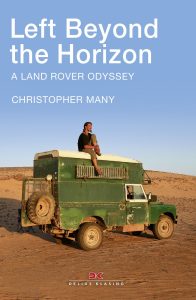 Most books we receive to review are quickly consumed – easy travel reads. This book is different. It reads at a snail's pace providing insights and food for the reader to digest slowly. It is written as it was traveled – to be absorbed over time rather than finished in a day. Author Many is no stranger to long road trips; at the time this book was first published in Germany in 2011 he had been on the road for nearly 15 years.
Taking him on this journey is his 'trusted steed', a 1975 military Land Rover he calls Matilda which actually breaks down countless times. Fortunately Many is a knowledgeable mechanic and always gets his vehicle running again no matter the challenge (including one time where he spends 6 weeks replacing the entire chassis).
His travels throughout Africa are intense at times – with challenging interactions and experiences magnified by someone who travels slowly and independently with his own vehicle – rather going on a short trip somewhere or being a part of a group tour. He poses difficult and uncomfortable questions at times – and his views are not always the most politically correct.
You may agree or disagree with his thoughts, but either way this book will challenge you to think about the world.
To purchase this book