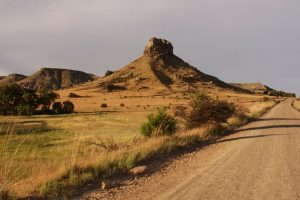 We arrived in South Africa with no plans. A quick scan of the airport revealed a number of name brand car rental companies – so we bee-lined for the only Internet Cafe we could find and used one of the online car reservation companies. Within 40 minutes of making our reservation we had signed countless forms and were sitting in our almost brand new Nissan Sentra. This was the only "automatic" transmission vehicle we could find at the entire airport.
We headed out and quickly took the wrong highway – we turned around and after some stressful driving and lots of traffic found ourselves in central Johannesburg. We tried to find the N1 Highway but spent nearly 2 hours within about a 2 mile radius essentially driving in circles trying to find this freeway. We stopped many times and asked for directions but the spoken word was always different depending on who we asked. One guy ran up to us while we were parked at a light and stuck his head in the window looking around. I quickly moved my phone to the floor.
Somehow we ended up on the N1 heading south after much hair pulling and yelling in frustration. We hadn't eaten at any fast food restaurants for about 3 years. Finding a KFC in a small town but not much else in the way of food, we hesitantly entered the front door. Finding no utensils we ate our coleslaw with improvised chopsticks – bending two ends of a straw together.
We reached Blomfontein in the late hours of the night. We were utterly exhausted and were barely able to stay awake at the wheel. I was hitting myself in the head and playing music loudly with windows rolled down. After the 20 hour journey from Thailand we were zombies.
As is the case when you settle for your first choice of lodging in the throws of exhaustion you nearly always get a less than ideal situation. In this case it was expensive, dead bugs in the bed, and swarms of mosquitoes in the bedroom and bathroom! We spent what little energy we had closing the windows and pounding mosquitoes against the walls and ceiling with an aggression we didn't realize we had at this ungodly hour.
—