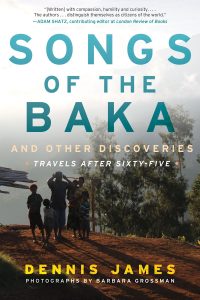 After retiring in 2005 from careers in law, husband and wife Dennis James (author) and Barbara Grossman (photography) decided to visit a number of countries often found on do not visit lists.
There are numerous books written about one's travels and reflections often authored by retirees however there are a few that focus on such unusual destinations. Dennis and Barbara are intrigued by these lesser visited countries and enjoy living and interacting with indigenous populations – despite the often physical hardships needed to reach their villages.
Their travels would be adventurous at age 20 – but both are in their 70's.
Some of the destinations covered in this book are Algeria, Cameroon, Gaza, Mali and Papua New Guinea among others. Their stories are vivid with details of their experiences and observations about the cultures they interact with. The title of the book comes from their time spent with the Baka pygmies in Cameroon.
Purchase this book