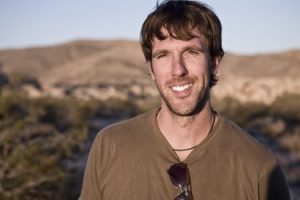 James Kaiser is an American travel photographer and guide book author currently living in Costa Rica. Recently we had a chance to ask him a few questions about his guidebooks, interests and travels.

Q. Tell us about your background and your International travels to date.
I grew up in a family that loved to travel. My first trip was to Tahiti when I was six months old. When I was seven, my family spent a summer in Tanzania while my father did volunteer work and after that we traveled through Egypt.
In high school, I was an exchange student in Sweden and I spent a summer studying at Oxford. So yeah, I caught the travel bug very early and have never kicked it. Last year I traveled to Costa Rica, Colombia, France, Italy, China and Thailand.

Q. Your first book was about Acadia National Park in Maine. How did you decide to choose Joshua Tree, Yosemite and the Grand Canyon for your additional books? Any other books about National parks in the works? Or what other National Park would you like to feature in a guidebook?
Acadia was an easy decision because I had grown up near the park. To be honest, Joshua Tree came about because I wanted to live in LA and learn how to surf. Joshua Tree was the closest national park to LA. After the Joshua Tree book became a hit, I decided to take on really big parks like Grand Canyon and Yosemite. That was a leap of faith, because there are lots of guidebooks to Grand Canyon and Yosemite. But, my Grand Canyon guide won two national book awards and my Yosemite guide is currently the bestselling guide to Yosemite National Park! As for future projects, right now I'm switching gears and working on a guide to Costa Rica.

Q. Here is a question I originally posed to Tony Wheeler but can be asked of anyone starting a business, guidebooks or other: When you were thinking of writing your original guidebook how did you overcome the risk aspect of starting a new business? (especially in your case where guidebooks are usually developed by teams of writers/editors/photographers).
It's funny because when I started out I didn't really consider the risk at all. I was 21, not particularly career-oriented and writing a guidebook just seemed like a really fun thing to do. I figured worst case scenario, I'd lose some money, but have a great time and learn a lot about starting a business. Of course, it was harder than I ever imagined. But thank God for that. Had I known how difficult it was going to be, I probably never would have started in the first place. By the time I realized how much work was required, I was over halfway through, so I just kept going.

Q. People may not know about the "firefall" at Yosemite National Park. Rangers used to drop burning embers over the side of Glacier Point but what you are photographing is different – it is natural. Tell us what this is and why it is so elusive to photograph.
The natural Firefall is a waterfall in Yosemite that is perfectly illuminated by the setting sun during the last two weeks of February. If weather conditions are perfect, the waterfall glows orange and red at sunset. It literally looks like a cascading waterfall of fire. This past February, I spent 10-days trying to photograph the Firefall (check out my blog at www.yosemitefirefall.com, but it was rainy, snowy and cloudy the whole time. The Firefall never lit up. That's pretty common, actually. The year before I waited a full week before I caught a glimpse of the Firefall, but it was well worth it! It's one of the most amazing natural spectacles I've ever seen.

Q. What's a typical day for you when you are researching for a guidebook? How is your time spent during the research?
There is no typical day. Some days I'm out photographing in the middle of nowhere, others I'm sitting at home surrounded by dozens of books. It just depends what stage of production I'm in at the time. but that's what I like about my job. I get to wear lots of different hats, so I never get bored

Q. Any advice for those wanting to get into travel writing or travel photography?
From a personal standpoint: travel as much as you possibly can. From a business standpoint: take advantage of all the new tools the internet and social media have to offer. That's where the future of travel writing lies.

Q. Which travel authors do you admire?
For travel guidebooks, I think Rick Steves is amazing. Sure, he can be corny and folksy, but at least he's passionate and speaks with an original voice. So many guidebooks are so homogenized these days. I mean, if you're a big publishing company that makes hundreds of guides, you're obligated to make them consistent to protect your brand. Ultimately though, I think that restricts your creative possibilities and using multiple authors and editors just waters down the voice of the guide. It's like McDonalds: consistency and mass production take precedent over quality.
As for non-guidebook travel writers, I think Michael Lewis is doing some of the most amazing travel writing for Vanity Fair these days. Everyone thinks of his pieces as 'financial disaster' articles, but they're really modern-day cultural profiles. He's just using the greed and fear generated by the financial crisis to pull back the curtain on a nation's character. It's such an original and relevant take on travel writing.

Q. Can you give us a description of a specific humorous moment (story, happening or other) from some of your travels?
In Thailand last winter, I danced shirtless on a table next to a transvestite dressed like Edith Piaf. Still not sure how that happened.

Q. When did you get hooked on photography? Was it a particular trip or event?
I got into photography because I wanted my original Acadia guidebook to have lots of color photos. Prior to that, I had never really used a camera. But I was a big art nerd as a kid, so I picked up photography pretty quick.

Q. What attracted you to Costa Rica (where you live now)- what are some of your favorite activities and or places to visit in the country?
Costa Rica is a tropical paradise. It's home to some of the most pristine beaches and rainforests in the world and it's biodiversity is off the charts. Monkeys, sloths, toucans, poison dart frogs — you name it. If you're planning a trip to Costa Rica, definitely do some wildlife watching. The Osa Peninsula and Tortuguero National Park are my two favorite places to see animals in the wild.

BIOGRAPHY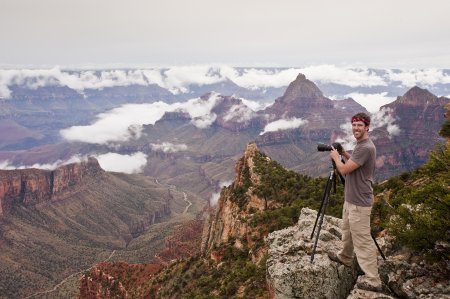 James Kaiser is an award-winning travel writer and photographer. Believing behind-the-scenes information leads to successful, thoughtful travel, James is dedicated to giving travelers the tools they need to make every moment of their vacations count.
The journey that led James to "the coolest job in the world" started 12 years ago when he was a recent college graduate with no job and no job prospects. Drawing on his love of Acadia National Park in his native Maine, he decided to write, photograph and publish a guidebook about the state's most popular destination. With its beautiful photography and insider tips, the Acadia guidebook was a hit. It also set the stage for a series of successful national park guidebooks focused on in-depth research, informed nature writing and real life experiences. James' guidebooks benefit from the integrated perspective of a writer who is also a skilled photographer – a rarity in the guidebook field, where books are often developed by a team of writers and photographers working separately.
James' books include Acadia: The Complete Guide, Joshua Tree: The Complete Guide, Grand Canyon: The Complete Guide (winner of the Benjamin Franklin Award for Best Full-Color Travel Guide and the Independent Publisher Award for Best Travel Guide), and Yosemite: The Complete Guide. In 2010, the Acadia, Joshua Tree and Yosemite guides were all ranked as the number one best-selling guidebooks for their respective national parks by Nielsen Bookscan.
When James is not trotting the globe documenting his adventures or sharing tips with travelers, he can be found teaching photography workshops. Currently living in Costa Rica, James is submersing himself in the local culture as he works on his first guidebook about travel outside of the United States, which is slated to be in stores fall 2012.
Please visit: www.jameskaiser.com