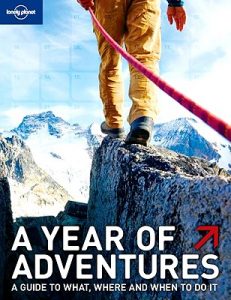 A Year of Adventures by Lonely Planet Don't let age catch you before you've had a chance to explore the planet and some of its most rewarding adventure experiences. Start with this Lonely Planet book to get you on the right track so to speak.
The adventure activities are organized by time of year with 42 weeks of listed activities. From outdoor activities, this book has you covered from Patagonia to bungee jumping in Queenstown New Zealand. Inspirational photography only leaves the travel itch unscratched.
A Year of Adventures is truly global in natural – over 250 experiences are highlighted in 115 countries.