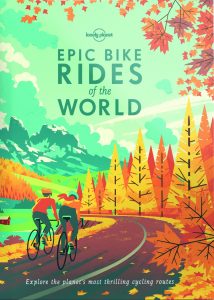 A book for cycling enthusiasts, a book for recreational riders and a book to inspire those to travel and combine the trip with some time on a bike. This book highlights some of the world's great rides from the seat of a bicycle – with first hand written experiences covering rides from Africa to Asia and points in between.
We have been biking most of our life – and in urban settings often are able to take advantage of bike sharing programs. Bicycling is a great way to explore a city or beyond – especially for travelers short on time. Unlike being in a car, there is more of an immersion among your surroundings and despite the slower pace of travel, a freedom to explore and become more immersed in your surroundings. And these are rides that lead the riders through scenery not always accessible via car.
50 routes are highlighted in 30 countries. A couple of truly epic rides in particular are the Tour d'Afrique (Egypt to South Africa) to Bikepacking in Mongolia. From the mountains to the oceans, each ride highlights the level of difficulty with a special "toolkit" section providing the basic outline of each ride (when to ride, where to stay, distances etc).
To purchase this book