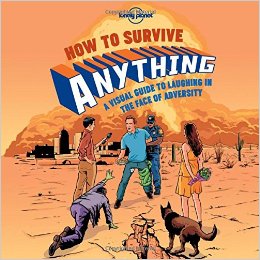 Lonely Planet released this very interesting visual read earlier in the year. This entertaining book focuses on a variety of problems travelers invariably face during their travels (especially those who travel independently). The book is not only a fun read but delivers practical advice for specific problems focusing on outdoor activities such as surviving an earthquake, surviving a night in the snow or a Tsunami.
But the book also offers advice for other common situations – travel or not – how to survive a breakup, public speaking (commonly referenced as one of the most frightening experiences for many people). Even Las Vegas made the book – how to survive this city although perhaps your life is less at risk here than in some of the other situations this book describes.
And then there are just plain fun reads that most likely will never happen to anyone in this lifetime such as How to Survive a Zombie Attack and Time Travel.
Discovery Channel survivalist and extreme adventurer Ed Stafford delivers the forward. As you would expect, he starts out his commentary by "I'm alive. Therefore, like you, I'm a survivor"! View our interview with Ed here.
To purchase this book