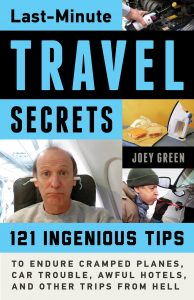 This is a fun read yet at the same time offers many useful tips and tricks for surviving the hassles of travel. Author Green is no stranger to travel having spent years exploring the world and having tested out a number of his ideas on a two year backpacking trip around the world as part of his honeymoon.
Some of the tricks covered in this guide may sound a bit off the wall but in reality they do work. Take his idea for sleeping in economy class in a plane. Simply bring a beach ball, blow it up, lower your tray table and lean your head over onto the beach ball. Not exactly subtle, but the photograph of Green sleeping on the red and white beach ball looks about as comfortable as you will ever get in coach.
No ordinary household item is safe in Green's world – from tampons, to paperclips, maxi pads, neckties, toothpaste, panty hose – the list goes on, all have unique uses other then their original intended use.
Especially useful is his section on airplanes and airports, packing and hotel hacks. Several how to's include relieving air pressure ear aches simply using a plastic drinking cup (readily available on most planes), sleeping comfortably in an airport by using a newspaper, how to hide money, and even how to recharge a dead battery with red wine.
To purchase this book