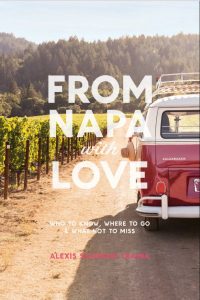 While Napa is only about 25 to 35 miles long (depending on who you reference) and contains somewhere between 350 to 500 physical wineries (again depends on your source) – this tiny slice of the state is immensely rich in visually stunning landscapes, qualitity of wines, personalities, culinary excellence, premium accommodation, and diversity of experiences mostly centered around food and wine.
From Napa with Love, written by Alexis Swanson Traina (same family that created the Swanson meals, formerly associated with Swanson Winery in Napa Valley, married to Trevor Traina, ambassador to Austria under the Trump Administration and when in the valley live in the former home originally occupied by H. W. Crabb – the founder of arguably Napa's most famous vineyard, To Kalon) is a hi-so look at the world famous Napa Valley through the luxe-lens of some of its most well-known and accomplished residents.
Alexis has carefully curated an insiders collection of tasty treats, sultry sips, classic cars and sophisticated yet up-country casual wearables. These are friends of Alexis, a select few who-to-know personalities of the valley including Kate and Andy Spade (published before Kate's death), Thomas Keller, Carlo Mondavi (Robert Mondavi's grandson) and Roman Coppola (Francis and Eleanor Coppola's son).
Each creative section in this artistic publication is named after those featured including the Foodie, the Bohemian, the Tastemaker, the Oenophile, the High Roller, the Bon Vivant and the Summer Folk. An intriguing read for those new to the valley, but especially for those who live and work in the valley. Follow their advice and recommendations for some of the best this valley has to offer.
Book is available at selection locations within the Napa Valley and on Amazon here.