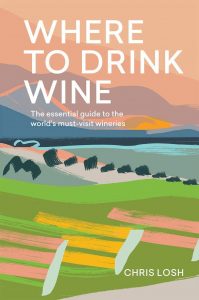 Covering many of the world's wine regions, this book highlights some 400 wineries worth visiting. Compiled by Chris Losh, editor of the UK drinks magazine Imbibe, Chris has been writing about wine and spirits since 1995.
An excellent read for those who love to travel and drink wine – plenty of wineries are highlighted in the world's top wine regions including, Australia, Europe and parts of the USA and Canada. But wineries are profiled in regions one may not always associate with wine – despite these regions having a very long history of wine making – including the countries of Georgia and Lebanon.
No photos rather the focus is on descriptive text along with a short description prefacing each region. Highlights both established wine regions as well as emerging wine destinations.
To purchase this book, click here