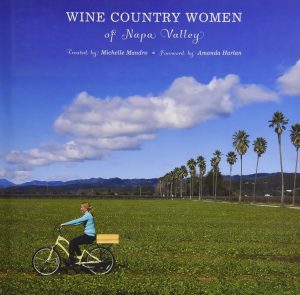 Wine Country Women of Napa Valley was written by Michelle Mandro with a forward by Amanda Harlan and the excellent photography contributed by Donna Kopol Bonick – three women who have strong connections to the valley and its lifestyle. A book of this topic could well be many times its thickness – however this book covers select women the author knows and has worked with who are making valuable contributions to Napa Valley. Profiles focus on winemakers but also others in the lifestyle business. The front cover photograph immediately catches one's eye – a winter shot of a vintner based in Rutherford riding her bicycle on her property in winter through a field soon to be planted with grapevines.
Michelle is the founder and president of Wine Country Women, Amanda is a passionate equestrian and vintner and Donna is a well regarded long time Napa photographer and resident.
The book is laid out like a restaurant menu starting with appetizers, soups & salads, entrees followed by desserts. Each woman profiled in the book offers a specific unique and favorite recipe – so in some sense, this is also a culinary treasure. Each dish is listed with a recommended wine pairing.
Each woman is profiled based on their passions and contributions towards the community
Lots of photos.
To purchase this heavyweight, visit: www.winecountrywomen.com