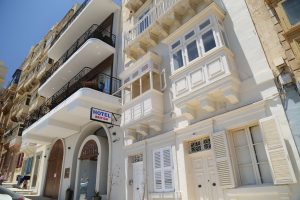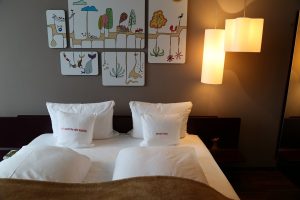 For not having reservations pre-booked while traveling in Europe in mid summer, I had no issues booking hotels or hostels at the last minute. Before I arrived in Europe I made a list of hotels & hostels in every city I planned to stay the night in. Then I would then book various hotels while on the train or from downtime hanging around train stations or airports.
Often times I would just show up in a city and find budget accommodation. Finding hotels at the last minute depends most importantly on when you arrive (time of day and season) and each particular city. For example, in Venice I started walking away from the train station and kept walking through side streets until I found some hotels. I ended up staying about 2 minutes walking distance away from St. Marks Square at the end of July.
Most hotels require your passport for scanning they photo page. Sometimes they will insist on keeping your passport until you pay. If you have not yet paid, do so to get your passport returned immediately upon check-in.
We found hotel prices cheapest in Greece, southern Italy, and eastern Europe. A clean marble tiled floor, multi roomed hotel on the islands in Greece cost about $30 US dollars/night. This price becomes even more affordable if you have someone to share the cost of lodging.
The most expensive room that I paid for was $120 in Venice and in in Paris. However, in both cities I was in prime locations. In Venice I was two minutes walking from St. Marks Square and in Paris, I would walk two minutes down the street and I would be in front of the Lourve and have views of the Eiffel Tower and the Arc du Triomphe.
One hotel that I stayed at had the toilet situated directly in the middle of the shower. Every time you took a shower you had to remove all the toilet paper. Another hotel had built the toilet and shower in the middle of the room completely enclosed in glass windows so one could easily see anyone using the shower or toilet.
Most of the bathrooms in Europe have a cleaning chamber called a bidet. This is used for cleaning your under side after using the toilet. After seeing numerous dirty dusty bidets, it seems like many of these are now left for old time sake and are relics of another time. But when the water pressure is strong, using these are the most sanitary way of cleaning up after a poop.
One note about the electricity in Europe; it is a different voltage then that of North America. Laptops and general portable electronics usually have a built in transformer so you do not need to buy a special converter. So one doesn't need to bring anything other than an adapter to plug into the European wall plugs (rounded two prongs).
Hostels
As one gets older, and theoretically has more money to spend, there is nothing quite as satisfying as getting a private room in a hostel. After being on the road all day and being tired, I found it a real pain if I had to share a room with 4 to 12 other travelers. It was hard to get to sleep early because people would stay up chatting and leave the lights on. Fortunately I only had to share a room several times. But staying at a hostel (even in a private room) gives you access to meeting many other travelers in the hostel's shared spaces.
All of the hostels I stayed in were quite clean. Some were much more fancy then others. The hostels located in the country were the ones that were generally the cleanest and nicest. The ones in the middle of the large cites were usually quite crowded and more expensive. I found that hostels in medium sized cities tended to be located on the outskirts of town (theoretically cheaper land/rent space); trips into the main part of town often took a while using public transportation.
The exception to this is in the large cities, where there are hostels scattered throughout the city.
Some of the hostels are closed to check ins from 10am until 5pm. This makes it a real pain when traveling. A common myth is that hostels require a sleep sack. From talking to people and from my own hostel experience, I did not find this to be the case. Never once did I need a sleep sack. The hostels would rent sheets if needed. In the summer, the nights were always so warm that I never even used sheets. This saved me some money. Some hostels include the price of sheets with their lodging cost.
Some hostels are listed on Hostelling International. Others are privately owned. I had no complaints about the privately owned hostels. In fact they were usually nicer and they often had private rooms.
Camping
Camping is one way to save money on lodging in Europe. There are many nice campgrounds located on the continent. I visited one near Venice and was pleasantly surprised to how organized it was. They had a large swimming pool, an extensive gift shop and nice facilities for camping as well as WiFi. As with campgrounds in the USA, some will certainly be more primitive then others, depending on location.