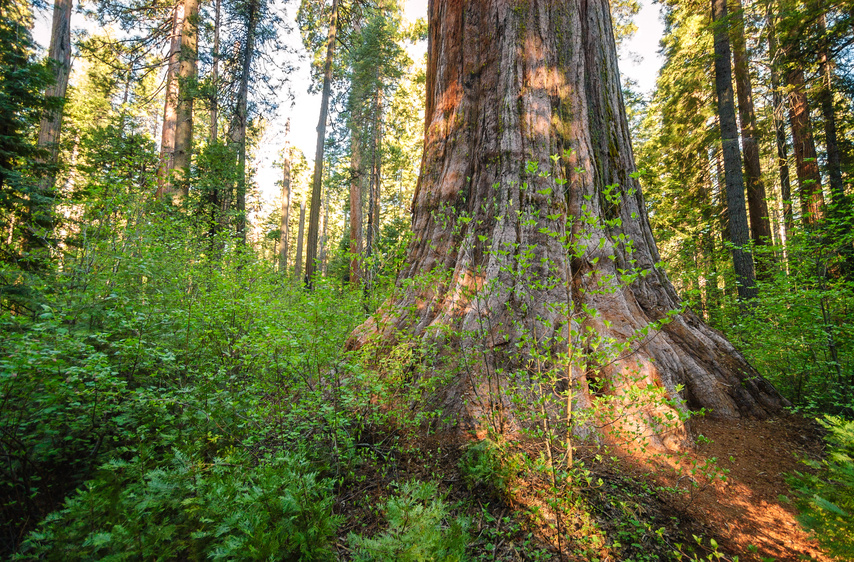 For beauty similar to the redwood forests on the north coast of California I recommend the Calaveras Big trees. These giant Sequoias (Sequoiadenderon Giganteum) are not quite as tall as the redwoods but they are more massive. For instance some of the lower trunks of the larger trees are incredibly thick. Thirty people could stand next to each other in a circle with their arms extended and the first and last person would still not be able to touch each other.
There are two different groves here, the north and the south grove. The south grove is located about 10 miles from the park headquarters, which are located in the north grove. The south grove has three times as many trees as the north grove. In fact of all the different Sequoia groves in California, the south grove is the third largest. These groves are located along Highway 4 above Angels Camp and above the town of Arnold.
The park is located between 4000 and 5000 feet. There are fully developed camp grounds, picnic areas, and many miles of hiking trails. The south grove has not been invaded by roads. You can drive to within a mile of the grove but if you want to enter the grove you must hike in.
The Sequoia is an interesting tree. It is very resistant to fire damage for several reasons. First, on many of the older to middle aged trees their branches start high above the forest floor. Second, their bark is quite thick and its thickness protects the vulnerable cambium growth layers underneath. Third, there are many tannins in the bark of the Sequoias. These tannins are naturally resistant to fire damage. It is ironic to note that for all its adaptations to resisting fire damage a Sequoia seed can only sprout and grow into a seedling after a fire. A fire needs to burn all the pine needles and natural duff that exists on the forest floor. After a fire all that remains is the bare soil on the forest floor. Only then can the Sequoia seed become embedded into the soil and develop into a seedling.
The park sells an excellent map and guide. It provides a detailed map of the groves and lists and describes points of interest. It also describes hikes and trails. Admission is $5 per day for a single vehicle. Horseback tours and stagecoach rides are also given. For more information call (209) 795-2334.
More information courtesy of the US Parks Service: www.parks.ca.gov/?page_id=551