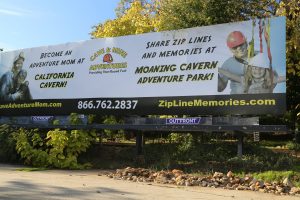 California Caverns are located east of the town of San Andreas near the town of Sheep Ranch at Cave City in Calaveras County (9565 Cave City Road, Mountain Ranch). These caves have been open to the public since 1850. They were California's first show caverns. Early well-known California visitors included Bret Harte, Mark Twain, and John Muir. These are the most extensive and impressive of the California caves. There are miles of winding passages and still unexplored caves.
There are even underground lakes and some are over 200 feet deep. The general tour lasts a bit over an hour and covers lighted trails. Adventure tours are also offered similar to what is offered at Moaning Cave and can last up to 4 hours. However, unlike Moaning Cave, these adventure tours offer a short rafting trip across an underground lake. Reservations are highly recommended. For more information you can contact California Caverns at (209) 736-2708.
Open year round.
Mercer Caverns are located approximately one mile from the small town of Murphys in Calaveras County. From Main Street in Murphys, turn onto the very narrow one way Sheep Ranch Road; from this junction it is one mile to the Caverns. This cave was re-discovered in 1885 by a gold miner Walter J. Mercer and hence named after him. The remains of six individuals from the Mi-Wuk tribe of Native Americans (who perhaps were the first to discover this cave) were found dating from tribe members that lived in the area 1,500 to 2,000 years ago.
The cave descends almost 200 feet although the tours do not reach the absolute bottom. Each tour lasts approximately 45 minutes. Bring a sweater as the temperature inside the cave is a constant 55 degrees all year.
"Gem mining" is available near the main entrance. Also a Visitor's Center contains a gift shop selling cave memorabilia. Open year round. For more information visit: www.mercercaverns.net
Moaning Cavern is located off of Parrotts Ferry Road between the small town of Vallecito on Highway 4 and one arm of New Melones Reservoir. It is located 8 miles north of Columbia State Historic Park (5350 Moaning Cave Road, Vallecito). This cavern unlike most caves in California has a huge central chamber. In fact, this main cave is California's largest public cavern. Another very interesting note about this cave is that it contained the oldest human remains yet found in the United States. Scientific excavations have shown these human remains to be older then 13,000 years old. This cave also features a 14 foot long stalactite.
The traditional tour descends to the cave floor on impressive lengthy spiral staircase that winds its way down many feet. This tour takes about 45 minutes and is suited for the entire family. Little ones are encouraged to keep quiet however. When I went on this tour, they turned off all the lights at the bottom of the spiral descent. Apparently some small children became so frightened that they began howling and they did not stop even after the lights were turned on.
Over 300 million years of geology is contained within the cave. Explorations have traced the depth of some of the smaller caves down to over 410 feet. Additional explorations has continued more recently. The bodies of early humans discovered were fairly well preserved. Scientists attribute this to the deposits of mineral bearing waters surrounding the bodies.
One tour that we are seriously thinking about doing next summer is the 165 foot rappel into the darkness of the cave and eventually to the bottom. Then you take the adventure tour and spend 3 hours of exploring the cave and crawling through deep passage ways with a guide. Grubby clothes are recommended for this adventure. All gear is provided and a short climbing lesson is given before you actually begin the descent. The gear provided is a hard hat, gloves, lights, and ropes. The only thing they ask for is that you bring some courage.
For those not wanting to spend as much money, time and physical exertion – the traditional tour is for you. For those who want a bit more adventure but still do not want to spend as much money and time the 165 foot Rappel Adventure is a good choice. You are given all climbing gear, a short lesson about rappelling and a guide to help you descend. You climb over cave formations for 20 vertical feet until you reach a ledge and then you have to drop down the rest of the way into pure blackness. Of course you have a head light on your hard hat to help guide you. This rappel is done at your own pace. I was told by a member of California's Cave Society that the adventure lasts 3 hours. As a member of this society, he, of course, gets in free.
An adventure park on site features zip lining, a 32-foot tall climbing tower and gem mining.
For more information and prices about tours of Moaning Cavern visit their website: www.moaningcaverns.com or call Phone Number (209) 736-2708.