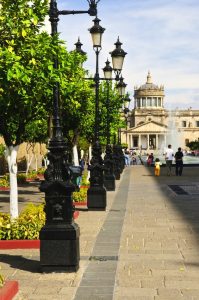 This prominent and massive plaza located along Avenida Hidalgo is one of only a few plazas in Mexico with a footprint that extends in all four directions (similar to the shape of a thick cross). A cathedral is located in the center of the plaza. Plaza Tapatia is seven blocks long with Teatro Degollado at the west end and Cabanas Cultural Institute at the east end. Numerous shops and stores surround the plaza – anchoring all of its sides.
This plaza is an ideal area for people watching since it seems to be crowded no matter what time of day or night. In addition to the stationary stores, a number of mobile vendors roam its grounds selling trinkets, artwork, and other collectibles.
One interesting item I saw for sale that I had never seen before in my travels was an inflatable aluminum balloon. This balloon was in the shape of a crayon and varied in size from 3 feet long to 30 feet long. Vendors inflated them full of air and then hit their underside with their hands; the balloon would then soar into the air oftentimes, a hundred feet high or more. These created quite a spectacle and on most nights you would find many children gathered around hitting these balloons as hard as they could to see which one would reach the greatest altitude.
Several fountains and many benches are scattered around the plaza. These are a comfortable place to sit and watch people go by or simply for reading a good book (often lost in today's digital world). A tourist office is located near the west end of the plaza. The staff are very friendly and helpful – visitors can pickup free maps and printed area guides. Local art work is also sold here and is fairly reasonably priced.
One memory I will never forget, happened to me while I was strolling along the plaza one evening. It was several days before Christmas and I happened to be walking by some carolers who were singing outside of a metal door. I sat and watched them while enjoying my strawberry smoothie; when they were done singing the door opened and they were pulled inside.
The door closed and then opened again, and an old man beckoned to me to come on in. He was a wizened fellow, his features deeply chiseled into his face, showing the wear and tear of his years. Once I entered I went from the darkness of the plaza to the brightness and cheeriness of an office party being held in appreciation of the work that had been accomplished by store employees over the past year. The store sold washing and drying machines as well as other general merchandise. Apparently the entire family worked here as there were several generations present as well as other workers.
This gracious family stuffed me with their local cuisine and gave me small presents. I talked to them in my Spanish and they tested me with their English. I was impressed with their hospitality and willingness to take a complete stranger into their home/store.
—
A large covered mall located at the east end of the Plaza Tapatia near Cultural Cabanas is three stories high and can be very crowded depending on the time of year, and day you visit. Crowds of people descend here during the Christmas holidays. Vendors sell everything from t-shirts, to wallets, to pig intestines. Yes, you read that correctly, intestines from pigs.
The mall is organized by types of products for sale. For example, all the food vendors are situated in one corner, including those selling pig intestines.
Guadalajara holds an event during the month of October known as the Fiestas de Octubre. This 4-week long event attracts many artists and vendors to the plaza. Cultural events, festivals, and music are also offered at various locations. Reservations for hotels and the more popular restaurants are highly recommended during this time of year.