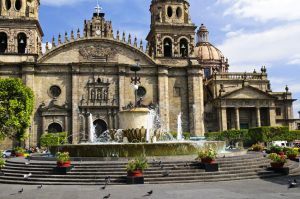 This is the 3rd in a series of five travel articles written about select locations in Mexico. These select locations are Oaxaca, Manzanillo, Guadalajara, and Colima. More recently we have written an article on Xcalak, located in the Yucatan Peninsula, near the border of Belize.
Guadalajara has approximately 1.5 million residents, with estimates of up to 4.5 million including the suburbs. Even with such a sizable population, I did not get the impression that it was a large city. The historical district is largely intact while the newer sections of the city are located more on the outskirts.
Guadalajara was established in 1530, just 38 years after Christopher Columbus landed in the Americas.
The city is located at 5091 feet, yet spring like conditions prevail year round. It is far south enough that the climate is moderate despite its relatively high altitude. However, once every hundred years or so, it snows in Guadalajara. Incredible as this may seem, it snowed when I was in Guadalajara. Several days after the freak snowfall, I could see terrible damage to tropical plants, such as the bananas, papayas, and mangoes.
Bougainvillea and numerous other cold-sensitive plants were also clipped by the frost. However, several days later, I was laying out on the top of my hotel roof catching some rays in 75 degree Fahrenheit temperatures.
Contemporary Guadalajara, despite its feel of a small town is plagued with terrible air pollution at times. And more recently the air in Guadalajara has averaged as bad or worse then the air quality in Mexico City. I noticed the bad air quality when I was in the historic part of town, but it did not really effect me until I traveled to the outside of town and was enveloped in thick orange black clouds of pollutants. I was there in mid day and the sun was almost blotted out due to this tremendous pollution. It hurt my eyes and stung my throat; the only way to escape was to continue driving many miles outside of the city. Part of the reason for the high pollution is that the citizens of Guadalajara have some of the highest person to automobile ratios. We heard there is one car for every four people.
—
The historic heart of the city is surrounded by six different plazas; all offer plenty of places to relax, space for walking or people watching. One would never know this is a city of several million people when walking through this part of town. Many of the surrounding streets are cobblestone and there are always mobile vendors parked, selling a variety of crafts and food to both tourists and locals alike.
One thing we have learned from numerous trips to Mexico is that things will go wrong, whether they involve logistics, food sickness, language barriers, wrong car reservations or expectations of how long something should take when in actuality it takes 2 or 3x as long to complete. These problems are especially exacerbated in large cities. One can only plan so much and make so many reservations ahead of time. No matter how much you plan and stick to details, problems will surface. One just has to expect them and be flexible.
When traveling throughout the city, I recommend using taxis or taking public buses. Buses are slower and less expensive then taxis, but from personal experience because of time restrictions and ease of travel, taxis are more user friendly (especially if you are short on time). Simply give your taxi driver the name of your desired destination; they either know its location already or can easily look it up on their phone.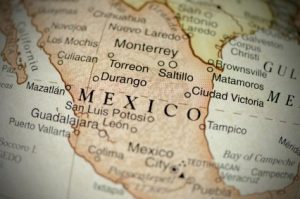 If they aren't immediately familiar with the location, provide the name of a nearby cross road. I found that taxi drivers often knew the location of roads rather then specific hotels. Traveling with more then 5 people? Most taxis are unfortunately limited to 4 passengers.
Miguel Hidalgo International Airport is located 11 miles southeast of the main city center. This is one of Mexico's busiest airports; numerous airlines fly here from both domestic and international destinations.
Servicio Colectivo operates mini vans and brings arriving passengers from the airport to the city every hour. And buses also offer transportation from the airport to the city.
Plenty of taxis are located at arrivals outside on the ground floor, curbside. A fee is generally paid at the airport to the driver (based on the distance to your destination) and is verified at a booth before departing. If a taxi's meter is not working absolutely agree on a total price before getting in the vehicle. With little traffic, it will take about 30 minutes from the airport to the center of town