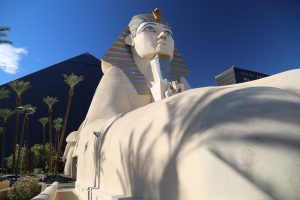 There are so many casinos in Las Vegas; one could spend months just visiting, gambling and viewing all of their other attractions. Many of the Casinos, especially located along Las Vegas Boulevard (The Strip) are considered Super Casinos. There are only a few destinations on the planet where you will find a Super Casino – Las Vegas is one of these cities.
A Super Casino is like an entire city contained within one giant mega entertainment complex.
When you have super casinos of this size you need prominent players. Two of the biggest players in town are Caesar's Entertainment and MGM Resorts International. Between both companies, they own a number of the largest casino's in Las Vegas.
Some of the casinos near the center of "the strip" are connected via walkways that rise above the city. These for the most part are not covered, so if it rains you will get wet. The Las Vegas raised Monorail connects a number of the larger casinos along The Strip.
Ever see the movie The Truman Show in which Truman, played by Jim Carrey lives a choreographed life contained within a giant bubble – in which his reality is blinded by all the unreality that surrounds him…well at times that is the feeling you get from being inside of a Super Casino! All shopping, dining, nightlight, lodging, an eclectic array of attractions, painted sky's, museums, gambling, and entertainment is provided – there is really never any reason why you would need to leave the Casino, except to return to your real life! The casino gods would say "God forbid" to that.
Parking is typically free in Las Vegas (but not always) as most of the casino's have their own parking structures and they cover the cost, as parking is cheap compared to theoretically what you will spend in their casino. Some of the parking garages have security checkpoints and security will either wave you through, or stop and inspect the inside and or the trunk of your car. Why there is no standardized parking structure security among all the casinos is a mystery to us.
If you want to experience Las Vegas when it is most crowded you absolutely MUST come on New Years Eve and New Years Day. This is when life in Las Vegas reaches the utmost pinnacle of partying and many of the casinos are wall to wall crowds. Noise, lights, alcohol and enthusiasm all come together to create the perfect blend.
We have spent hours walking up and down The Strip during multiple trips to Las Vegas. These are a few casinos we have personally visited – however one final note, if you are going to be partying all night bring at least one of two things: youth or a lot of energy.
ON THE STRIP PROPERTIES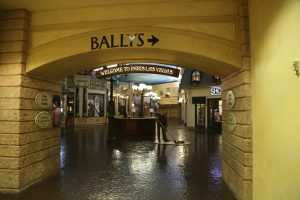 Bally's this blue and white striped tower has a lot of Vegas history buried on it's grounds. The grounds began it's journey on the strip as the Three Coins Motel (opened in 1963). In 1973 a new hotel opened with more then 2,000 rooms – this was the original home of MGM (the MGM Grand Hotel and Casino) and was the largest hotel in the world for several years.
Ownership (like with many casinos in Vegas has changed over the years – look one way one day and look another way another day and seems like ownership changes) At the latest update Bally's is owned and operated by Caesers Entertainment. The fairly newly renovated "south tower" is now called the Jubilee Tower, named after the longest running show involving showgirls in Las Vegas.
Very central on the strip – within a short walking distance of surrounding properties including, the Bellagio, Caesars, the Flamingo and Paris Las Vegas. Doesn't necessarily have the big name cache that its neighbors have but certainly offers just as much in the way of activities and attractions.
One can walk between Bally's and Paris Las Vegas as both are located right next to each other (both used to be sister properties and you can still see signs indicating directions for each hotel).
Has been featured in a number of movies including Rocky IV, Leaving Las Vegas and Honeymoon in Vegas. Plenty of shopping and shows. Visit: www.caesars.com/ballys-las-vegas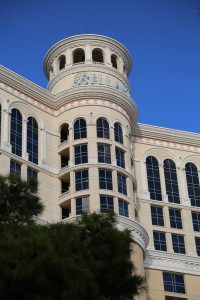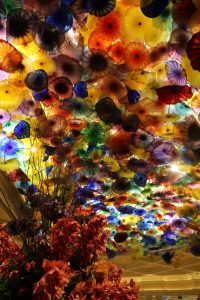 Bellagio as one might expect has an Italian feel to it. Great entertainment, botanical gardens, a gallery of fine art, a famous water show all help to make this Super Casino luxury world class resort complex.
The daily water shows are a must see, especially for first time visitors to Las Vegas. On a warm evening this is as romantic a place as you can find in town. The mist from the finely tuned nozzles buried deep within the blue lake in front of the Casino rain down on you as do the sounds of Italian operas or arias playing in the background. Puccini, or Pavarotti, or Bochelli will be dramatically playing and their voices will surround you. The acoustics are so remarkable that it is just like being at one of their concerts in the front row – better even, this is a free show.
Everyone stops when the water show starts and stares into the middle of the lake, mesmerized by the fountains.
Another iconic part of the Bellagio are the extremely colorful glass pieces that hang from the ceiling near the lobby (some of them almost look like jellyfish). For more information about this five diamond rated resort visit here: https://bellagio.mgmresorts.com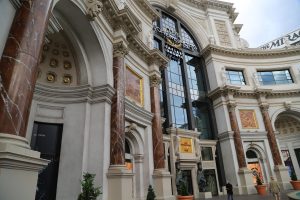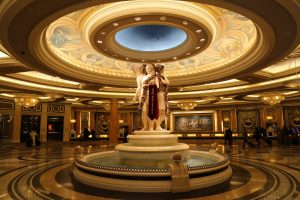 Caesers Palace this mega giant entertainment center controls and operates not only this casino but several other giant casinos also located on the strip. Great location – sandwiched between the ever popular Bellagio and the Mirage. Celebrated it's 50 year anniversary in 2016. This casino hotel has grown significantly since it's early days – and like other super casinos continues to grow and expand outward, sucking up valuable real estate along the strip.
Today amazingly this hotel features nearly 4,000 rooms and suites spread out among six towers (several of these towers are extremely impressive) and convention and meeting facilities that take up over 300,000 square feet. The whose who who has performed here over the decades reads like a baccarat studded red carpet of celebrities – names you know and love such as Celine Dion, Cher, David Copperfield, Frank Sinatra, Judy Garland, Sammy Davis Jr…the list goes on.
The Colosseum at Caesars hosts many big name acts and is the entertainment hub for this casino. An outdoor arena has hosted some prominent boxing matches over the years.
As you walk into the lobby you might have a hard time deciding where you are. A fountain with statues stands prominently in the middle and colorful and artistic murals fill the surroundings. Faux opulence to the max.
This property is also quite popular with visitor's from Asia.
The Forum Shops at Caesars as a stand alone shopping center is truly impressive – 636,000 square feet of some of the highest grossing mall space in the entire country. Big International luxury name brands grace its pavilions, including Cartier, Chanel, Gucci, Tiffany and Co and Versace among many other immediately recognized brands. The Forum is connected to Caesers Palace. Enter through the main entrance and be dazzled by the four stories of luxury that immediately greets you. And the water and fountains inside are not for swimming but simply for guests to admire. Fountains also continue outside the Forum with Romanesque statues so impressive and real looking you might forgot for a bit that you are not in Rome. Visit: www.forumshops.com
And those looking for an elegant and dare we say, sensual experience, check out the Garden of the Gods Pool Oasis, an exclusive part of the property featuring 7 beautiful pools with lounge space. Guests of the resort can enter this area free – those not staying here can rent out lounge chairs, day beds or cabanas on a day by day basis.
For more information visit: www.caesars.com/caesars-palace
Cromwell Las Vegas , formerly the Barbary Coast (and more recently Bill's Gamblin' Hall and Saloon), sits across the street from the the Paris Hotel & Casino on the corner of Las Vegas Blvd. This casino has seen some major life injected into it over the past few years. In 2013/2014 it underwent some major renovations to the clinking sound of $185 million USD.
This has never been a super casino based on the size of the building; today it is promoted as a luxury boutique property (slightly under 200 rooms). Still there are plenty of slot machines and card tables to keep even the most discerning gambler happy for hours. Definitely has a pleasing newer feel to the interior. Certainly an excellent location on The Strip near all the big boys.
Cromwell has its own highly sought after nightclub, Drai's. Sexy and sultry guests wanting to mingle with others of the same look and feel can party and pulsate all night with and close to each other indoor or outdoors. During the day the venue is slightly more sedated (maybe) with those looking to work on their tans; this is the strip's only outdoor rooftop pool and deck.
Consider parking in their parking garage versus some of the other more busier garages and then walking to select casinos of your choice. Their parking garage is very central to the strip but not as popular as some of the other casino garages. Visit: www.caesars.com/cromwell
Excalibur is often referred to as "the castle" for short. This fairy-like exterior is decorated with blue and red spires – visually part of this casino highly resembles a castle. Even parts of the interior are made of faux stone to resemble Medieval castle walls. Named after the mythical sword of King Arthur. When it opened in 1990 it featured more then 4,000 rooms placing it as the largest hotel in the world at the time. Like several other big resorts, this one is owned by MGM Resorts International.
Located at the very busy intersection of Tropicana and Las Vegas Blvd – a skytram connects this resort with two of its nearby neighbors – Luxor and Mandalay Bay. Pedestrian walkways also help visitors cross the streets here as well as connect to other casinos. Of note is a Dick's Restaurant is located here where their slogan should be "we treat you like a dick" – they are known for being rather rude to customers and they have played off of this unique customer service philosophy to stand out from 'the crowd' so to speak. Perhaps it is in your best interest to show up to Dick's already inebriated.
Sometimes what happens in Vegas gets shown on Youtube – most of the time this controlled chaos doesn't – but for a glimpse into this mayhem, nonetheless – view:

For easy access if there is space available, the open air parking lot next to the north side of the tower is our choice for parking. Bring your parking ticket with you and validate it at one of the machines located just inside the entrance (hopefully at least one of the machines will be working). As you look north from cetain parts of the property, the backdrop for Excalibur is the "New York City" skyline. Visit: www.excalibur.com
Flamingo is owned by Caesers Entertainment. Pink is the pleasing theme here – from their pink neon signs, to some of their interior walls to their website. Perhaps they should partner with either Pink the singer, Victoria's Secret's the Pink Collection or Pink Girl Wines for some super synergy.
This was the third casino to open on the Las Vegas Strip in 1946 and is the last of the original three still in business (making this the oldest casino on the strip). Originally it was called the Flamingo when it opened – it has undergone a number of ownership changes in its 70+ years of business. And perhaps not surprising is it's early ties to organized criminal activities (including mobster Bugsy Siegel).
Very centrally located on the Strip – just down from Paris Las Vegas and almost across the street from Caesars Palace. Also conveniently connected to the Monorail system. The tropics have come to the desert…sort of. A pleasing find inside the Flamingo is another one of Jimmy Buffet's Margaritaville restaurants where Parrot Heads and others looking for a good time congregate. This restaurant is located right off of the street. Family friendly.
Has hosted a number of big name entertainers over the year including more recently Donny and Marie Osmond – they have been so popular the Flamingo even renamed their theatre after them to the Donny and Marie Theater. In the spirit of their name, live flamingos (from Chile) are kept on site in the Wildlife Habitat (which also includes other birds). Makes for a quiet spot in an otherwise urban jungle of noise that dominates the Las Vegas Strip.
Sometimes you can get some very cheap rooms here. Visit: www.margaritavillelasvegas.com.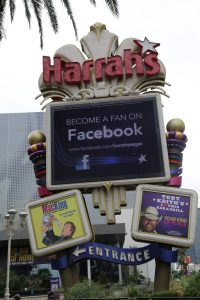 Harrah's is very centrally located on the Strip – almost across from the Mirage and just down from the Venetian. Madame Tassauds wax museum is also within a very close walk. Recognizing the importance of time for patrons – guests who have a hotel reservation can start their check-in online and finish at any of a number of kiosks located in their lobby – or check in entirely using a kisok. You can actually print your room key from one of these kiosks
Like other casinos in the area, Harrah's adds a resort fee on top of their regular per room/night fee. We have actually seen this fee higher then their room fee. The property features two sizable towers – the Mardi Gras, and Carnival. Connected via the monorail system and also offers shuttle service to the Rio Casino (not located on the Strip). Originally opened in 1973.
There is plenty to keep one occupied just in this hotel/casino. Four bars, a spa, plenty of shopping including at the Jackpot (which in part features Harrah's branded merchandise) and no shortage of food including at the poplar Flavors – a buffet that offers a wide selection of food. Visit: www.caesars.com/harrahs-las-vegas/hotel
LINQ is yet another hotel casino owned by Caesars Entertainment. The LINQ offers something that no other casino in Vegas or beyond can offer – the High Roller, the world's tallest observation wheel. This wheel is easily seen from select vantage points on and around the strip. IT stands 550 feet tall and is higher then both two of the world's most famous observation wheels, the London Eye and the Singapore Flyer. This behemoth takes 30 minutes to complete a full turn – features 28 fully air conditioned cabins, each of which can hold up to 40 people. Doing this math, max load equals over 1,100 people in the air at any one time!
Yoga is also offered as a guest experience on the wheel – and because of it's height and uniqueness is a very popular for ringing in New Year's Day – especially overlooking the Vegas fireworks. Combing an already unique experience with a sweet one, guests can opt for chocolate tasting, paired with great views and your own chocolatier.
The High Roller is located in the LINQ Promenade, a 200,000 square feet outdoor plaza that features numerous shops and restaurants. It is also used for various entertainment.
Visit: www.caesars.com/linq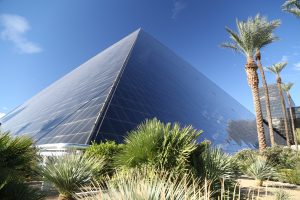 Luxor Las Vegas is a massive hotel casino in the shape of a pyramid. The outside of the pyramid is covered in dark glass windows. Perhaps it would be tempting to try to climb these, but they are extremely steep and very slippery. Harbor those thoughts for when you are at the climbing wall at The Venetian further down The Strip.
The inside features plenty of gambling machines, restaurants and on the upper floor, an exhibition space. At night a piercing light digs deep into the darkness of the desert sky sending up a signal that can be seen for miles around on a clear evening. During a recent visit an exhibition simply called 'Bodies The Exhibition' was on display – featuring a number of perfectly preserved human bodies and internal organs. For more information about the Luxor visit, www.luxor.com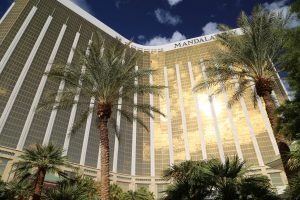 Mandalay Bay is one of the popular casinos located on the southern end of "the strip". Your sight would have to be impaired in order to miss this Super Casino. Gleaming gold is a sign of power and wealth and Mandalay Bay radiates this well. The outside of this hotel casino is entirely golden in color and when the sun strikes it, a radiant light is cast in all directions.
In fact, when walking near the main building – especially near the Mandalay Bay Beach sometimes people almost glow a bronze color as the light from the outside windows casts its golden glow in all directions. And since we are on the topic of the Mandalay Bay Beach, you might almost think you are in the French Polynesia when you pass the sign for Moorea Beach.
From the popular family attraction Shark Reef Exhibit (check out the piranha feeding!), to the very popular House of Blues Nightclub, to the 11 acre ocean beach and complete with man made waves – this Super Casino has got enough attractions to accommodate even the most diverse of families. We've partied and sucked colored oxygen at the House of Blue's all night and helped ourselves to cologne in the bathroom – helped in part by our VIP ('see you suckers' to the line) passes. Dry ice smoke, lots of noise, a rhythmic vibe, a surprising untold energy, and a feel of being an exclusive person are all part of the experience of this nightclub.
There is even a wave pool; unlike other casino pools that seem to fade into the background when the weather turns cooler, in our experience we've always seen people enjoying the special energy of this pool even late into the autumn season on not so particularly warm days. There is also a wonderful topless optional area here – IE, European sun bathing in the dry desert heat of Las Vegas, oh yea.
Located at the south end of the strip between the Four Seasons and Luxor. Visit: www.mandalaybay.com for more information.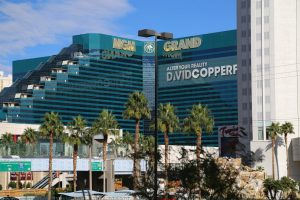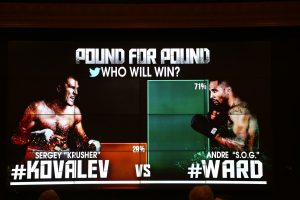 MGM Grand is one of the largest casinos in the world and a result is a "super casino". They have studios, entertainment, tons of shops, shows and more. In a break with Vegas tradition, they charge for parking – take the parking ticket with you and validate and then pay at one of the machines before you leave the parking garage.
Because of its size and crowds and noise it can be somewhat difficult to get oriented in this massive monster. Printed maps are available to help with disorientated folks. Not something to help with disorientation is the giant Race & Sports book venue – featuring 60 screens all showing various sporting events. Many seats and often lots of people hanging out here watching and cheering for their bets… err we mean their favorite sports teams.
This mostly green looking triagonal type building is located just north of Luxor and Mandalay Bay resorts on the south part of the strip. You can't miss it. Their huge central ballroom is amazing and definitely worth the visit. Many murals and paintings adorn the upper walls and balconies. Hakkasan is an extremely popular and exclusive night club and some nights the line for entry snakes around the casino. Cirque du Soleil is a long running popular show. The lion habitat (located near the main ballroom) was always a crowd favorite, despite the fact the lions were often sleeping – unfortunately this mini zoo closed down in 2012.
One of our more recent visits to town was to help promote one of the world's best boxers, California born Andre Ward and his fight against Russian born Sergey Kovalev. Fight promotion material decorated MGM for the actual fight held at the nearby T-Mobile Arena.
Connecting walkways to nearby streets and casinos. Underground walkway connects to their giant parking garage. For more information about MGM Grand visit: www.mgmgrand.com
Mirage you can be sure this property is no mirage in the deserts of southern Nevada. Standing tall and proud, its gold and white trim glitter in the desert casting it's shadow at times over it's own 'waterfront' setting. This water (near the main entrance) is the site of their famed free Volcano Show held several times each evening every day of the week.
This resort was built by Steve Wynn and is currently owned and managed by MGM Resorts International. A free skytram connects to their next door casino/hotel neighbor, Treasure Island.
Visitor's can look for an aquarium in the main lobby and the Mirage atrium. This property features plenty of shopping. Two prominent theatres are here; the LOVE Theatre and the Terry Fator Theatre. One of the famed Cirque du Soleil performances is held at the LOVE Theatre.
Visit: www.mirage.com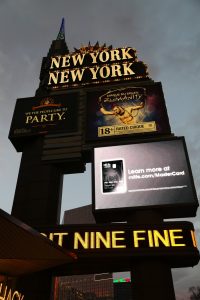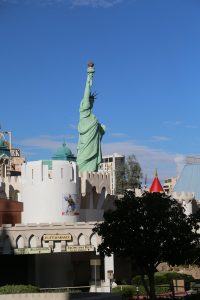 New York-New York – is a massive casino, prominent for its remarkable similarity to the New York skyline (including the Empire State Building and the Chrysler Building)! This New York themed casino doesn't stop with the skyline, a 150 foot tall "Statue of Liberty" also stands in front. New York names are given to parts of the property including the primary casino area named after New York's Central Park.
Great location next to T-Mobile Arena (for plenty of sporting and other entertainment events) and across the street from the MGM Grand Casino (connected via a walkway that crosses over Las Vegas Blvd).
Features a plethora of shopping and a dizzying roller coaster that reaches heights of over 200 feet above the Vegas strip.Great strip location as it is surrounded by mega casinos – with activities and crowds in the vicinity all day and all night long. The long running Zumanity by Cirque du Soleil (since 2003) also plays nightly at New York-New York.
Nightlife can be intense at this casino – features a number of bars and night clubs including the popular Nine Fine Irishmen and a piano bar (the Bar at Times Square. For more information visit: www.nynyhotelcasino.com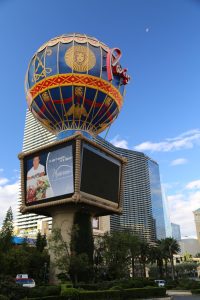 Paris Las Vegas is owned by the entertainment conglomerate Caesars Entertainment and sits in the middle of The Strip. You know you are in "Paris" when you see the Eiffel Tower and the Arc du' Triomphe. The pillars of the 1/2 scaled Eiffel tower run right through the roof and into the casino floor.
And for those lovebirds making romance on the ground – the Eiffel Tower allows them to bring their romance and passion high above the Vegas Strip. The observation deck is perched at 460 feet, giving visitors literally a birds eye view of the Strip Skyline and the loneliness of the desert beyond.
The lighting in this hotel is similar to parts of the Venetian casino in that the sky is lit so that is always looks like sunset. However, the Venetian has done a better job of making this type of lighting more surreal. Le Boulevard at Paris is a romantic and dimly lit street of shops featuring a variety of products including wine, food, clothing and much more. Fake sky and fake trees.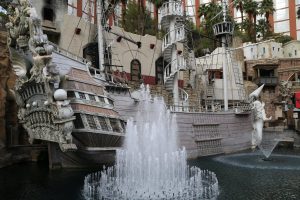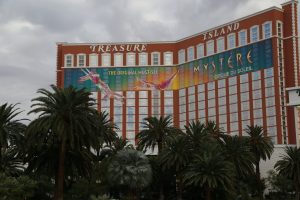 Treasure Island or 'TI' for short brings together two words that often evoke feelings of happiness when spoken separately – when combined, they become even more intriguing and create a mystique of a place you absolutely want to visit. While there are a few pirate boats and water near the main entrance, Treasure Island is not actually on an island. And if you come away with any 'treasure' well, that is mostly left up to chance.
Opened in 1993 this was the original Vegas home for the Cirque du Soleil (they still use TI as one of their Vegas venues). Connected to its neighboring casino, The Mirage by a Sky Tram and to the nearby Fashion Show Mall via a pedestrian bridge. Visit: www.treasureisland.com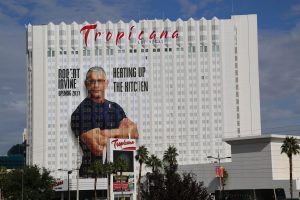 Tropicana is located on the southern part of the strip at the intersection of Las Vegas Boulevard and it's namesake, Tropicana Avenue. This is a major intersection in town – with traffic often stacked up both ways, especially in the evenings and even more so on the weekends. Pedestrians are not allowed to cross the streets here as a result. Rather pedestrian bridges cross over the streets to the MGM and the Excalibur. Offers some 50,000 square feet of gambling space.
The well-known Laugh Factory has one of their comedy clubs here.
One of the older casino's on the Vegas strip. First opened in 1957 – has had multiple owners and some connection to organized crime in it's distant past. Visit: www.troplv.com

Wynn Casino is one of the newer casinos on "the strip" and carries the namesake of its founder, Steve Wynn. Standing slightly north of the center of "the strip" this casino makes an imposing presence. Its more subtle than say the Mandalay Bay resort which anchors the southern end of the strip.
The Wynn Casino is graced in muted copper rather than being built in bright gold such as the Mandalay Bay Resort. Appropriately named, as it was constructed after the Wynn, the nearby Encore is also contains the same color/type of exterior.
The inside of the casino is first class although you can definitely tell it is a casino – it doesn't scream with gaudiness such as some of the other casinos do. There was an excellent Ferrari/exotic car museum near the entrance but it closed in late 2015. Steve's private high end art collection decorating two small rooms is open to the public tucked away among the many pricey fancy shops. No photos allowed. Rembrandt, Picasso, Degas, and Monet are among the artists featured here. A hand set with a speaker you hold up to your ear is given to you which contains numbers corresponding to the various photos. An excellent presentation and description of each painting is given to you – the man's voice who narrates these paintings may well be of Steve Wynn himself.
Note the huge waterfall cascading over a tan colored stone – falling into a huge dark lagoon. Patio dining is available outside in front of this lagoon. Escalators will take you downstairs to this lagoon from the main floor of the casino – good for taking pictures and you certainly are not required to eat here, as you can easily take an escalator back up to the main floor. Excellent colorful tile mosaics grace some of the walkways in this casino.
Long a player in the Las Vegas Casino building business (Mirage, Treasure Island, Bellagio, Encore), Steve Wynn has produced a first class casino complete with the museums, shows and amenities. For more information visit: www.wynnlasvegas.com. We have visited the Wynn Casino in Macau off the coast of China. What a trip! Here is a photo of the chandelier lowering ceremony we took at Wynn Macau.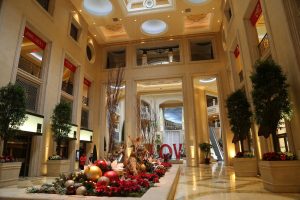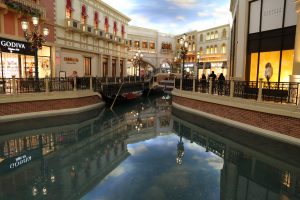 Venetian is one of the Super Casinos – in which gambling is no longer the primary attraction. As with other Super Hotels the Venetian has thousands of rooms, fantastic museums (including a Guggenheim Museum), attractions for the entire family – not to mention its gambling, amazing variety of shops and fascinating nightlife!
The main attraction for many is wandering along perfectly lit canals simulating a never ending sunset – listening to live opera singers gracing small pedestals and seeing romantic couples being rowed along in gondolas. The canals are spotless, the oarsmen are perfectly groomed – it is utter perfect reality. Besides the indoor canals that wind through the shopping areas, you can also take outdoor canal rides here. Those who want to add "gondalier" to their resume can do so by enrolling in their Gondola University. Learn the specialized art of the craft and receive a degree certificate once you graduate – oh and also unique memories to share with friends and family.
One restaurant overlooking all of this centrally located in "St. Marks Square". This restaurant is called the Canaletto. They specialize in northern Italian cuisine. Dining here is like being on a movie set. The food is simply average and the service is very sub-par. During your meal an opera singer may lean out from one of the many balconies above the restaurant and starting singing.
The Venetian offers a significant amount of shopping opportunities for even the most discerning of hard core shoppers. Start at the Grand Canal Shoppes and spend hours weaving your way among unique and high end shops.One such shop we spent a significant amount of time in was the hat shop – with an eclectic array of fashions at our fingertips…er for our head.
For more information about this casino visit: www.venetian.com
Three more casinos we will visit the next time we are in town are the Cosmopolitan, Encore and Planet Hollywood.
OFF THE STRIP PROPERTIES
OYO Hotel & Casino is located just off the strip (within a very short walk of the MGM). Formerly this was Hooters – known for two things: scantily clad gorgeous young girls and chicken wings. This property originally opened in 1973 as a Howard Johnson Hotel. Has gone through multiple ownership changes – most recently in 2019.
Features 30,000 square feet of casino space. Sizable, but still on the smaller size compared to the nearby super casinos. The Hooter girls used to be quite visible – they would carry drinks around for gambling guests. But alas with the name change, no more Hooter Girls. Breakfast served on site. Nice rooms for the price. Visit: www.oyolasvegas.com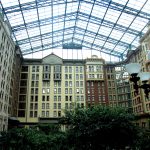 Sam's Town Hotel and Gambling Hall is a sizable stand along casino complex located about a 15 minute drive from the strip. We have stayed here a number of times – in the past often has been one of the best value's in town. Not just a casino, this pretty boy features an indoor park (stick around for the laser show each night), an outdoor pool + hot tub, a bowling alley and an 18-screen movie theatre.
Rooms are surprisingly large for the extremely low price (especially mid week rates during the off season). Although note that prices can vary dramatically depending on various days and weeks. Visit: www.samstownlv.com

Trump International Hotel Las Vegas is located just off of the strip – a short walk to the nearby Fashion Show Mall and slightly under 10 minutes to the actual strip. You cannot miss seeing this behemoth with its bright golden gleam that glows in the sun for miles around. These windows are gilded with 24 carot gold tinting! For a luxury hotel (and one that is a member of the Leading Hotels of the World) you can actually find a room priced very reasonably during the off season.
Once you enter the luxurious lobby head straight to the Trump Gift shop and load up on your Make America Great hats, various Trump Wines and other Trump memorabilia. During our recent visit security seemed quite tight – checking to make sure only guests were allowed to go into the elevators. Nearly 1300 rooms upstairs – tallest residential building in Las Vegas.
This is a hotel and there is no casino here. Visit: www.trumphotels.com/las-vegas