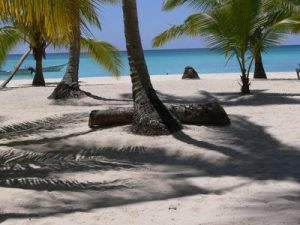 Cuyutlan & Paraiso are located 30 miles southeast of Manzanillo. Not built up, a number of smaller fishing villages are located in the region along with several fine seafood restaurants. I like this area compared to the city of Manzanillo because this is rural Mexico and is well-removed from the beaten path of many tourists. It is a popular spot for vacationing Mexican families, many of whom are from Guadalajara.
Cuyutlan like several of the small towns in this area features very nice beaches. I often found myself comparing the beaches in this part of Mexico to some of the ones along the coastline in Southern California. Open, wide sandy strips with decent surf. Many of the beaches are dotted with umbrellas which can be rented by the hour, half a day or for a full day from local vendors. I also saw other vendors walking the beaches selling numerous cooked items. I never tried this food for fear of getting sick (perhaps I was overly sensitive) but saw plenty of locals purchasing from them. I did try some excellent beach front seafood restaurants. Several have tables and chairs sitting directly on the sand with meals served under a thatch roof. Kick off the flip flops and grab a Corona beer. But don't end with just one beer. Multiple beers are ideal for whittling away an afternoon here.
I noticed many young children selling either small chocolates or hammocks close to the restaurants. They would come and plead with you to purchase some of their candy. Often times they would come back again and again and only leave if you bought something.
If you didn't buy after a few of their attempts – they would leave and then sneak back a few minutes later and deposit a handful of candy on the corner of the table. They would quickly walk away. This was done as a last ditch effort to make you buy their chocolate. I guess any money that you left would more then pay for this candy.
Boogie boards, surf boards and other water related "fun items" can easily be rented. The waves here along with other unprotected beaches both north and south of Manzanillo are larger then those in the more protected bays of Manzanillo. As a result, these beaches are very good for surfing.
While at Cuyutlan I did some boogie boarding. I was told by the lifeguard that in all his years of working the beach he has only had to swim out and save 2 people from drowning. Most of the main beaches are marked with flags indicating the safety of the water conditions at that time. Red flags indicate the water is unsafe and white flags indicate the water is safe. Several other flag colors indicate various degrees of safety. For optimum safety conditions, swim where there are already numerous people in the water. The flags are spaced fairly close together and I saw areas with a safe zone directly next to an unsafe one.
Cuyutlan is famous for the "ola verde" (green roller) which appears in April and May. This is an impressive wave that continuously crashes into shore during these months and appears green at night. Its color is caused by the phosphorescence given off by small ocean dwelling phytoplankton. Most impressive at night when all is dark except this "mysterious" green glow coming from the ocean. Those walking along the surf during this time of year at night may see an increase in phosphorescence. Walking through the water will disturb these organisms and they will increase their brightness.
I saw an interesting sight at one of the beaches in Paraiso. Five children were burying presumably their grandfather in the sand. They spent quite some time digging a trench and then they rolled him into it. Next they covered him with sand until only his head was showing. He didn't scream for help so I continued walking by.
Cuyutlan is connected to Paraiso by a paved road. They are about 4 miles apart. Both towns are located approximately one half way between Colima and Manzanillo. Driving with out stopping, one can make the journey from either Colima or Manzanillo to Cuyutlan or Paraiso in about one hour.
One other item worth mentioning about Cuyutlan and Paraiso are the coconut statues sold on the streets. Artisans carve coconut husks into small human-like faces. One in particular stands out in my mind. It was a carving of a bearded wild-eyed sailor. The small hairs in the husk were used as his beard while a red bandanna was draped over the top part of the husk.
Speaking of coconuts – if you have never inspected a coconut palm or a coconut close up, I recommend stopping by the side of the road somewhere and taking a closer look. I have never seen so many coconut palms in my life. The drive between Cuyutlan and Paraiso to Manzanillo passes through nothing but these palm trees.
Several hotels in both Cuyutlan and Paraiso are located so close to the beach that they are almost in the ocean. Some have steps that drop guests down from the pool directly into the surf. These hotels are much cheaper then those in Manzanillo. This area is off the tourist path and as a result, beachfront accommodations are often quite affordable.