After driving around the South Island coming into Christchurch can be somewhat of a shock as this is by far the largest city on the island and it can be a bit crowded – especially in comparison to the empty roads found on most of the rest of the South Island. This is not a large city by global standards but is large by New Zealand standards – with nearly 400,000 people.
One can't help but notice the intriguing looking Gothic type buildings and churches dominating the architecture of Christchurch. Unfortunately Christchurch was massively hit with several earthquakes in 2010 and 2011 resulting in the loss of many of these historic buildings. Rebuilding has occurred in their places – tragically and remarkably many years later, the Christchurch Cathedral – one of the city's iconic landmarks was still closed and was in a state of disrepair.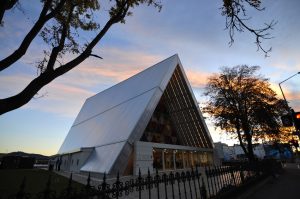 The city is not so big that one needs a car to get around – if you stay close to the center of town, you can pretty much walk to all the local tourist attractions, museums, churches and other sites.
Downtown Christchurch is centered around Cathedral Square area – this is a great place to people watch; during the summer they are often vendors selling a variety of products here.
The Cathedral anchors this square and is worth a visit. If you have a camera you will be charged to use it inside the church – however you can walk in with the camera and as long as you don't use it, there is no charge. A small gift is located next to the exit.
Note, that after the earthquake the cathedral was closed and the congregation moved to a temporary location – housed in a building made with a significant amount of cardboard! Today it is known as the Cardboard Cathedral. Visit: www.cardboardcathedral.org.nz
An excellent restaurant which can be very crowded on weekends or Friday nights in the summer, is Dux de Lux located at 10 Poplar Street. The great earthquake of 2011 destroyed their location at the Christchurch Arts Centre, so they had to move and find a new location. In the subsequent years following the earthquake, they were not able to find one location to house all of their services. Originally founded in 1978, they are still going strong.
Excellent food, salads, soups and fish dishes. They specialize in preparing fresh produce from the "land and the sea." Hip atmosphere – order your food inside. Plenty of outside dining is available although it does fill up on busy days. As with many restaurants in New Zealand they will uncork your own bottle of wine for a small corkage fee. They also maintain an award winning brewery.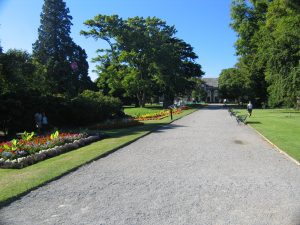 Botanical Gardens is a prominent part of Christchurch – very calm and serene, the gardens are located only about 15 minutes from the city centre. This is a great place to take a stroll on a warm summer's day.
The Avon River flows through the heart of the gardens; also worth spending some relaxing time are next to several small lakes/ponds. The glass Botanic Gardens Visitor Centre opened in 2014. For those who prefer not to walk, guided tours are provided in the "Caterpillar", a solar powered electric vehicle.
Plenty of roses, daffodils (when in season) and fall foliage that displays the colors of the changing of the seasons in March and April.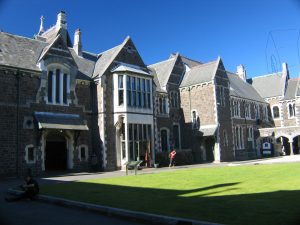 Arts Center is located in the old Canterbury college Gothic looking buildings, which are impressive in an of themselves. Since the earthquakes, the buildings have been fully earthquake-strengthened, renovated and refurbished. Admission to this area is free; take some time to walk in and among the buildings.
Arts and crafts outlets are located throughout this complex as well as shops, galleries & several theatres. This is the center of arts, culture, education and creativity in Christchurch. Visit: www.artscentre.org.nz
The famous scientist Ernest Rutherford who first split the atom studied at this college – and visitors can pop into Rutherford's Den, an interactive science museum named in his honor – visit: www.rutherford.org.nz
Occidental Backpackers is an affordable guesthouse located only a few blocks from the Cathedral Square at 208 Hereford Street. Rooms come with single or double beds – also dorm rooms are available. Breakfast is served for free in the kitchen area upstairs. An entertainment room is located near the kitchen.
The staff is very friendly and welcoming. An outside wood deck is available for eating or relaxing. Some of the rooms upstairs have an outside balcony which runs the length of the upstairs – so you can easily visit with dorm mates from nearby rooms. NOTE: the terrible earthquakes of 2010 and 2011 resulted in this building being torn down. We leave this mention and photo for nostalgia sake.
A wonderful restaurant located in the small bucolic town of Darfield (on main street) – about 30 minutes outside of Christchurch is the Terrace Cafe & Bar. They are open for lunch and dinner and serve excellent meat and seafood dishes. A very friendly staff. Call (03) 318-7303 for more information or for reservations.
More information about Christchurch in general can be found at: www.christchurchnz.com