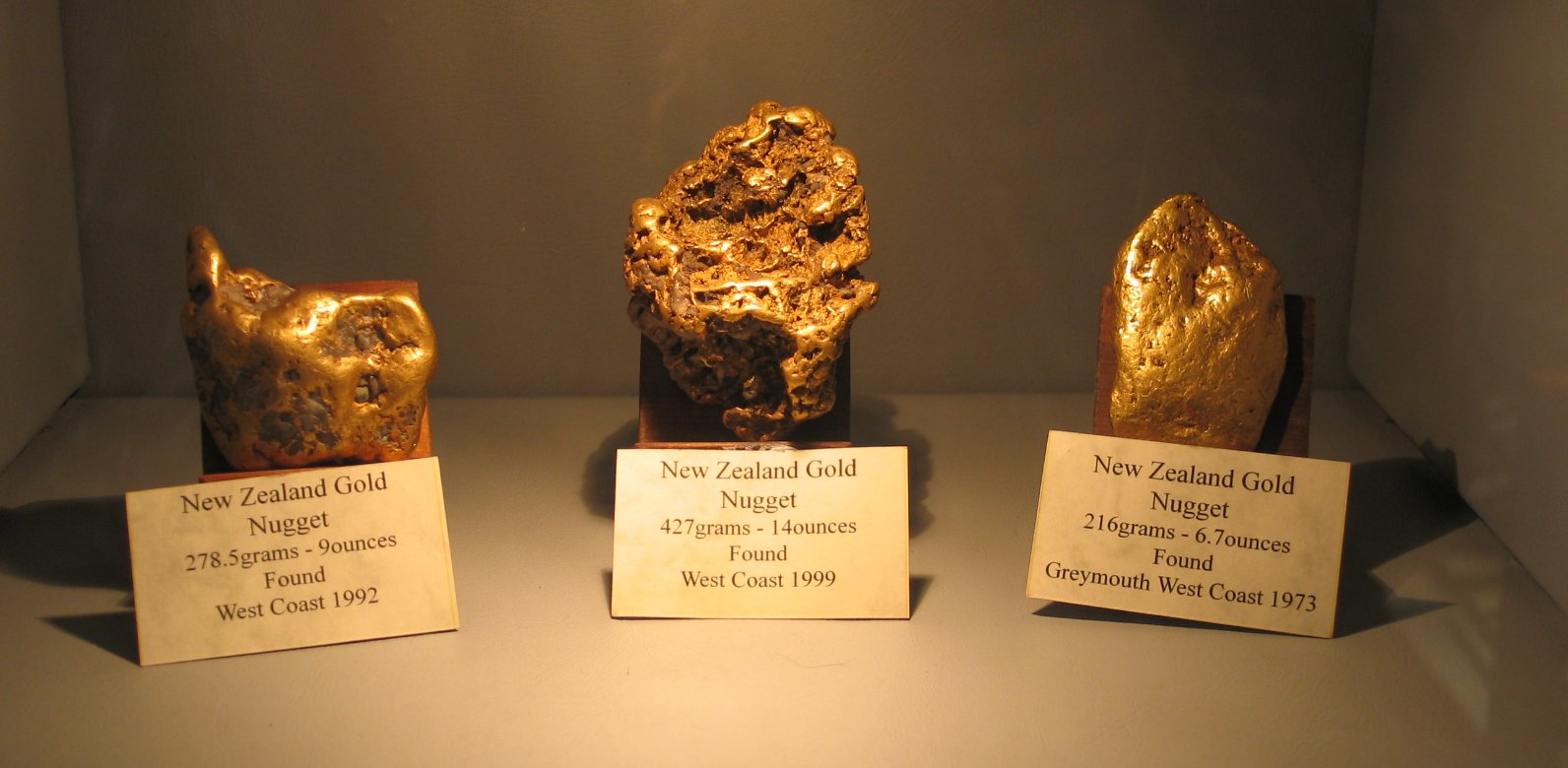 Gold Prospecting is easy to do on the South Island, mostly in part because a large number of gold mines are scattered throughout the island. New Zealand's gold rush, in the mid to late 1800's was after the big rush in California. So called Fossicking, IE, gold panning is allowed in many areas – with special "fossicking" sites available for visitor's to use free of charge. There are still quite a few active mines – those who visit some of the mining towns will surely see them.
One town, Reefton is sitting on huge unexplored gold deposits, which have never been mined. Several "touristy" type mining attractions are scattered throughout the South Island. These are usually located on the site of an old gold mine and have been converted to show tourists what mining was like in the 'old days'. They usually contain a gift shop that contains gold and gold jewelry for sale, a fossicking site where one can learn how to gold pan and keep any small flakes found. Some sites may contain old mining equipment – and several offer tours of old gold mines.
We visited the following mining towns and attractions:
Buller Gorge Swingbridge Adventure & Heritage Park is located along Highway 6 in the Upper Buller Gorge not far from the small town of Murchison. This park contains New Zealand's longest swing bridge which is actually an enjoyable experience when its not raining! You can shoot across the river in a harness connected to a steel cable, or simply walk across the very narrow bridge. Additional activities include gold panning – you can learn how to pan in the gold "trough" and then you can take your newfound skills down to the actual gorge and try panning for real. Jet boat rides are also offered. Be sure to check out the main office – they have gold for sale which has been found locally. For more information visit their website: www.bullergorge.co.nz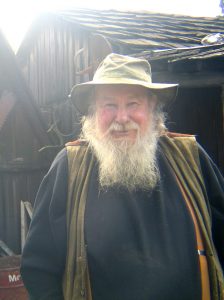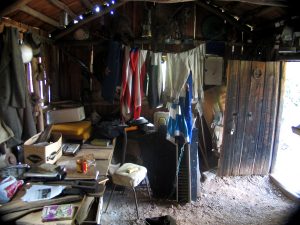 Gold Fields Jet is located just outside of the town of Cromwell in the Queenstown region. This is site is located next to the impressive Kawarau River – see old gold mining artifacts here along with a healthy collection of gold nuggets. The Jet boats are the main attraction and one can zoom up and down the river visiting relics left over from the rich mining days. Visit: www.goldfieldsjet.co.nz for more information
Reefton as the name somewhat implies, is derived from the gold in quartz "reefs" that were abundant in the early mining days. It is located on the junction of Highway 69 and 7 just south west of Westport. This is a very small town of about 1000 people. However, 10+ motels are available. A small park is in town offering public restrooms – near the park are camping facilities. This town is not only known for the richness of the nearby goldfields, but more so as being the *first* place in Australasia to generate and use its own electricity – starting in 1888. That is even before major cities in Australia and New Zealand had their own electricity.
Your first stop in Reefton should be the very informative Reefton Visitor's Center. Its located right on the main street – at 67-69 Broadway. They have an excellent collection of travel literature including brochures, guides and maps, for not only the Reefton area but for many tourist destinations on the South Island. A small replica of a mine is on site – visitors can enter for a small admission fee. If you have never been in a mine before, its worth visiting; this mine is a basic example of what a hard rock mine looks like. They also have displays about local vegetation and they sell a variety of nice souvenirs.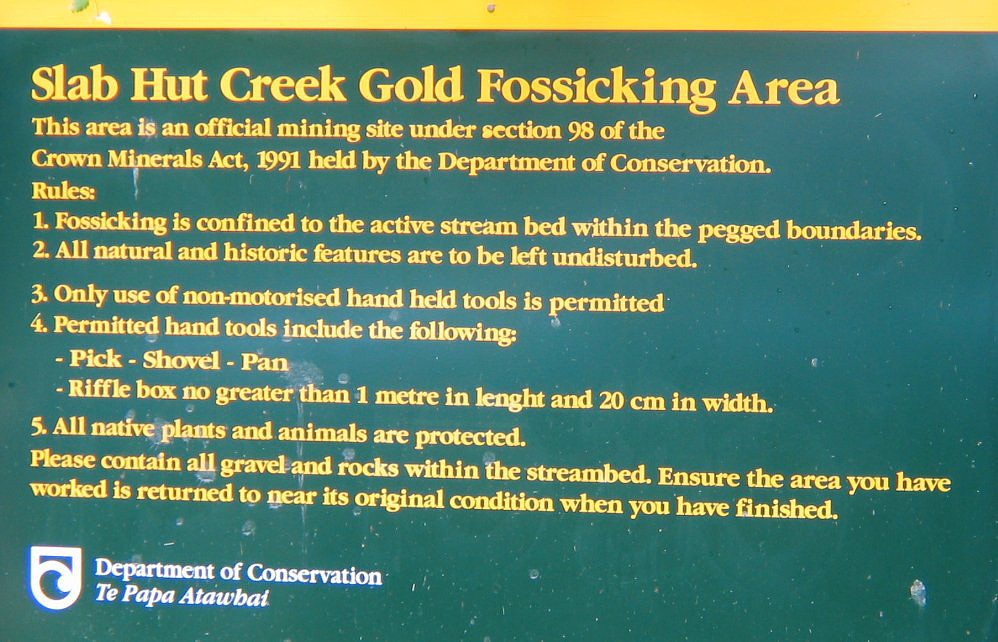 An easy to get to gold panning location is Slab Hut, located about 6-7 km's outside of Reefton just off the Highway 69 heading towards Greymouth. A campground is located here directly next to the river. The best gold panning is found by hiking up the creek a few hundred meters and attacking the river washed rock strata located on the side of the actual creek. The gold is a bit scattered here so it may take several panfuls before you find any small flakes.
While in Reefton also be sure to visit the old "Miner's Hut" called, Bearded Mining Co. Ltd. This is located close to the Reefton Visitor's Center, just across the street.
Here you have a chance to visit with "grizzled prospectors" and find out how life was like during the heyday of gold mining in New Zealand. Some of the old grizzled mining veterans will be hanging out – outside their cabin if the weather is decent. They are easily identified by their long beards and miner-esque like look. Several panning troughs are located outside the cabin; the miners will show you how to pan for gold for free (quite a deal as most other panning troughs you come across in New Zealand will charge at least something.
For more information on Reefton a must visit is: www.reefton.co.nz
The Gold Room, located in Hokitika (a bit south of Greymouth) on the west coast is well worth a visit. They have a large collection of gold nuggets that includes mostly well washed placer specimens. Some jade is also available for sale at this store. They are located at 37 Tancred Street or on the net at www.thegoldroom.co.nz
Visit Arrowtown for more information on gold there.
Nelson Creek is located on Highway 6 on the way to Westport (West South Island) between the small towns of Inangahua and Murchison. A campground is located here next to several small streams. The gold bearing strata is located along Prices Creek – but unfortunately there is no trail to be found to this area so one must do some New Zealand style bushwhacking to access the water.