For the relatively small population of Santa Barbara, the amount of and quality of museums will surprise you. Here are a select few that we have personally visited; they are listed in alphabetical order:
Carpinteria Valley Museum of History is located at 956 Maple Ave, just south of Carpinteria Ave. Descendants of Carpinteria's pioneer families donated household furnishings and clothing to this museum. A turn of the century schoolroom and Chumash artifacts are also displayed. This museum is open Tuesday through Friday and on Sunday from 1:30 to 4pm. They are open Saturday from 11 to 4pm. Phone Number: (805) 684-3112. Visit: www.carpinteriahistoricalmuseum.org

El Presidio De Santa Barbara State Historical Park is located at 123 East Canyon Perdido Street. This was founded in 1782 and includes buildings that were a part of the original Presidio Real, which was the last Spanish military outpost in the New World. In recent years a large part of the Presidio underwent renovation and excavation.
The Chapel on site contains restored 18th century decorations. A ten minute slide show is given and informs visitors about life in early California. Across the street from the Presidio Chapel is a building called El Cuartel. This is the oldest building in Santa Barbara and the second oldest in California. The Presidio is open everyday from 10:30am until 4:30pm. Admission is free. Website: www.parks.ca.gov/?page_id=608
Fernald Mansion is located at 414 West Montecito Street. The Fernald House was built in 1862 and is a beautifully furnished 14 room Victorian. Today this house is one of Santa Barbara's few Victorian survivors. The original owner, Charles Fernald, was a judge from San Francisco. He had lived through some of San Francisco's fires and was one of the first residents of Santa Barbara to have electric lighting installed in his home. The home hasn't always been in this location – it was originally built at 422 Santa Barbara St but then in the late 1950's cut into a number of pieces and trucked across town to it's current location.
Besides serving as Santa Barbara's mayor Charles Fernald, also founded Santa Barbara's first electric company. Next to the Fernald House is the Trussel Winchester Adobe, which was partly built in 1854 with material found in a shipwreck off of the Anacapa Islands. The furnishings in each building are about 100 years old. Open only on the weekends by prior appointment. Admission is $10 for both houses. Phone Number: (805) 966-1601.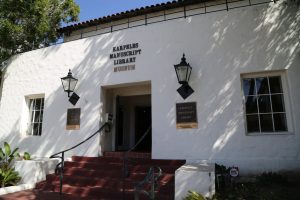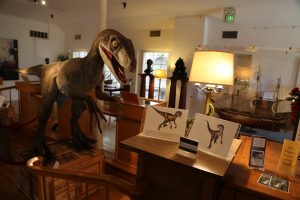 Karpeles Manuscript Library is located at 21 W. Anapamu Street just a block west of State Street and opened it's doors to the public in 1986. This library is located in an elegant building just west of State Street. Admission is totally free and gives one a rare chance to look at a number of important documents. They have held many rotating exhibitions over the years and featured prominent guest speakers. Several of their permanent items include an original Stone copy of the Declaration of Independence and handwritten scores by prominent composers.
This is the world's largest collection of original manuscripts and documents (remarkably over 1 million documents are contained within their overall collection). The museums were founded by David and Marsha Karpeles and their Santa Barbara location is merely one of 13 such locations spread throughout selection locations within the United States. David was born in Santa Barbara. Visit: www.karpeles.com
Museum of Natural History contains 10 exhibit halls, two art galleries, a 40,000 volume referenced library, a planetarium and an observatory. Collections focus on the Pacific Coast natural history. A 74 foot long blue whale is displayed. They also have the largest collection of Chumash Indian artifacts in the West. They display animals, birds, insects, plants, minerals, marine specimens, and geological specimens. The museum also shows films and sponsors lectures. Wanting to get outside? Take a stroll along the Nature Trail next to Mission Creek.
The museum also shows films and sponsors lectures. They are open daily from 10 to 5pm. Adult admission is $15. Tickets for senior citizens and those between the ages of 13 and 17 are discounted. The first Sunday of the month is free to the public. Located within a short walk or drive from the Santa Barbara Mission – tucked away hillside location with plenty of parking at 2559 Puesta Del Sol. They also own and operate the Sea Center on Stearns Wharf. Phone Number: (805) 682-3224 Visit: www.sbnature.org
Plaza de la Guerra is where the first city council met in 1850 and was one of the Santa Barbara's original parks. It is located on De La Guerra Street between Anacapa and State Streets across from the Santa Barbara City Press building. Incidentally this newspaper is the oldest daily newspaper in Southern California (first published in 1855).
However, the building that currently contains the museum, Casa de la Guerra dates back to the 1828 (was actually under construction for about 10 years). A family lived here beginning in 1828 and their descendants lived in this house through to 1943. Its adobe walls are certainly representative of it's history – some two feet thick in places. City Hall is also located next to this plaza. In August a Fiesta Week is held and the Plaza is turned into a mercado (marketplace).
A museum visit starts with a short film about the de la Guerra family history as well as information about the house itself. Several rooms are furnished to look like the era from the late 1820's through to the 1850's. Several rooms also contain rotating art and historical exhibits. Friendly staff. A neat peek into some early California history.
Santa Barbara Maritime Museum is located at 113 Harbor Way #190 just off of Shoreline Drive down by the Santa Barbara Marina along the waterfront. Parking is in a side lot nearby – and is still free for 90 minutes. This is in a very scenic part of Santa Barbara with many ships moored in the nearby marina.
Purchase your tickets at the gift shop, then enter the building and the museum. Note that there are great views on the 4th floor above the museum. Simply take the elevator next to the museum entrance inside the building. This building was constructed in 1943 and served as the local Navy Training Center and then later housed the Navy Reserve. The City of Santa Barbara originally sold this building to the US Navy for $1 – in 1990 the Navy sold it back to the city of Santa Barbara for 2.4 million! They focus on preserving the maritime heritage of the Central Coast – and feature a number of maritime artifacts and collectibles. Closed Wednesdays.
For more information visit: www.sbmm.org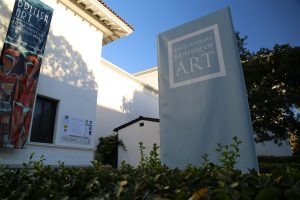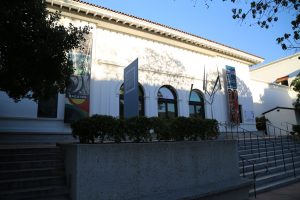 Santa Barbara Museum of Art is located downtown at 1130 State Street at Anapamu Street. This is a quality museum with works by many masters. Expect to stay here a while especially if you enjoy taking your time looking at each painting. During a recent visit we stayed two and a half to three hours, but perhaps we tend to linger at quality museums longer then most people.
Some of the artists displayed include Monet, Pisarro, Morisot, Chagall, O'Keeffe, Eakins, Sargent, and Hopper. Over 16,000 objects are housed including not only paintings but classical sculpture, bronze and glass figures, Asian art and artifacts, and American photography. Classes, workshops and tours are also given. The museum is open Tuesday through Sunday from 11 to 5pm and are closed every Monday. Adult admission is $15, with discounted tickets for those over 62 years of age and for children. Every Sunday is free Admission! Phone: (805) 963-4364. Tours are given by museum docents from Tuesday through Saturday at 2pm and on Sunday at 1pm.
Features both a permanent exhibition and rotating exhibitions. A cafe and a museum shop also are on site. Visit: www.sbma.net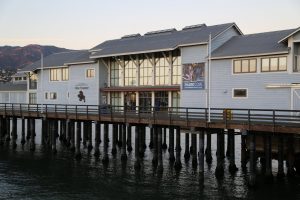 Sea Center is located at 211 Stearns Wharf just off of lower State Street (about 2/3 of the way down Stearns Wharf). This center is operated by the Museum of Natural History as mentioned above. This Center focuses on the life in the Santa Barbara Channel and the Channel Islands National Marine Sanctuary. Exhibits include models of gray whales, birds, a touch tank with living specimens, and ship- wreck remains. Also features a 1,500-gallon tidepool tank.
The Center is open daily from 10 to 5pm June through September from Monday through Friday. Admission is $12. with discounted tickets for those over 55 years of age as well as those under 17 years of age. Visitor's can walk from surface streets (provided you find parking, take the electric Santa Barbara Shuttle) or park in one of a few select spots directly near the museum on the wooden wharf – or in a larger parking lot, also on the wharf but slightly further away (still within walking distance). Phone Number: (805) 962-0885. Visit: www.sbnature.org/seacenter

South Coast Railroad Museum : this is the one Museum worth mentioning in Goleta (about 10 miles north of Santa Barbara). It is located at 300 North Carneros Way, just north of the 101 freeway. This depot was built in 1901 and served for over seven decades of service until it was moved to its present site. It was used in the Coast Route between San Francisco and Los Angeles and is listed on the National Register of Historic Places. The office and lobby display railroad artifacts, photographs and hands on exhibits. Phone Number: (805) 964-3540
The museum is currently open 1-4pm Friday through Sunday and are closed Mondays through Thursdays. Although visitors can certainly stop by outside of the normal business hours to see the outside of the depot. Adult admission is free with donations requested. The first Sunday of the month is free to the public. Phone Number: (805) 682-4711. Visit: www.goletadepot.org
The historic Stow House is also located here – open to the public for interior viewing on the weekends from 1-4pm.