Santa Barbara is like a bright tapestry, woven from time, and enriched with the colors of history and culture.
Some cities grow old and then slowly die. Santa Barbara never grows old, just more elegant and appreciative of its past.
Words cannot begin to describe the intimacy and sophisticated flavor of this city, only experience and a stay here, can do that.
In 1925 a devastating earthquake left the downtown in ruins. Santa Barbara rebuilt itself and changed its overall look and feel almost overnight. The downtown was restored in a classic Spanish-Moorish style of white-washed buildings and red tiled roofs, today best seen in the massive County Courthouse.
As a four-season playground this town has something special to offer everyone; it is a world-class destination.
Santa Barbara is far enough south to be considered a part of Southern California. However, its not quite far enough south to be lost in the congestion of urban sprawl that is so often associated with this part of the state.
I am drawn to a town that has either character or class; Santa Barbara is all about class. State Street, the pulse of Santa Barbara, has world class shopping, gourmet restaurants and museums normally found in cities of much larger size.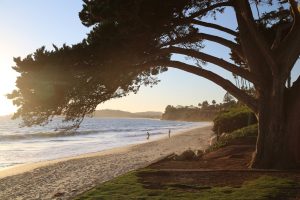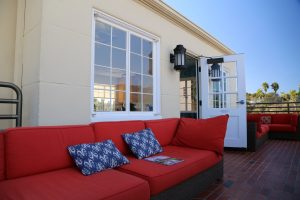 Santa Barbara boasts some of the best year round climate in the United States and as a result is a breadbasket for growing tropical fruits and rare and exotic plants. Fragrant smells abound – even in the middle of wintertime. Plumes from luxurious hibiscus emit a subtle sweet honey smell that hangs in the air no matter where you are and bright bougainvillea drape their colorful paper-like blossoms over warm sunny walkways.
Always within reach of natural inspiration Santa Barbara is a hub for the outdoor enthusiast. Within twenty minutes of downtown you can be high on a ridge staring straight at the top of an incoming fog bank blowing over you while at your back lies a winding river valley a thousand feet below. In the same amount of time, you can be participating in any of a myriad of other outdoor activities.
In the evenings the smooth outcroppings of rock that rise above the steep chaparral lined slopes of the Santa Ynez Mountains become more pronounced. As the sun sets over this Mediterranean Shangri-La these rocks slowly fade from light brown to yellow to red and then finally to a hint of orange as the sun drops from the sky. It is this particular type and color of rock that creates such a unique backdrop for the city of Santa Barbara – found nowhere else in the world.
If all of this wasn't enough, sooner or later everyone who visits Santa Barbara is drawn to the harbor front. The magical dolphins, three noble bronze sea creatures, guard the entrance to Stearns Wharf. The harbor front is a mixture of palm-lined walkways, wide open sandy beaches, opulent beachfront resorts, glimpses of the Channel Islands, and magnificent views of the Santa Ynez Mountains.
Sights such as these truly define Santa Barbara California as the quintessential Southern California coastal resort town.
Santa Barbara Municipal Airport (SBA) is one of our favorite small airports. Convenient, small and easy parking makes a visit here a stress free experience. This airport is located just north of Santa Barbara in Goleta almost adjacent to the UCSB campus and within a very short drive of several beaches. This airport replaced an older one and opened in 2011; it is designed in the quintessential classic style of today's Santa Barbara architecture.

Most cities of this size would drool to have an airport that looks like this. Aside from the beautiful building – the airport itself is fairly small with just a few gates. When clear there are great views of the Pacific Ocean, Channel Islands and the Santa Ynez mountains upon landing or takeoff. For more information visit: www.flysba.com