Santa Rosa and Sonoma County are home to a variety of attractions, museums and outdoor activities. This is a hub for wine country of course but the Santa Rosa area has much more to offer in addition to wine.
The following is a list and brief description of activities and attractions primarily in Santa Rosa – but also some elsewhere in in Sonoma County.
9th Street Rookery. Bird lovers take note – right in the city limits, about a 5 minute drive from downtown Santa Rosa is a teeming assortment of interesting birds in trees in several trees in the median part of West 9th Street (and a few surrounding trees along along West 9th Street). Located just west of Lincoln Elementary School – parking is curbside.
For years one of the two west bound lanes is always cordoned off – typically in the spring and summer months when the nesting birds are here in large numbers. The medium section oft he street is also cordoned off. With large number of birds, comes a large amount of bird poop – literally covering the median lane and certainly annoying for those who have to park here. The birds focus their nesting on one large Eucalyptus tree growing in the medium – but one may see other birds in one of the other Eucalyptus trees as well as the nearby tall Pine trees.
One may have to walk under and around the trees to actually see the birds (you may hear them first). Plenty of gorgeous Snowy Egrets.
Charles Schulz Museum located in Santa Rosa is 27,384 Square feet of exhibits and displays devoted to Charles Schulz and his comic strip PeanutsTM.The Museum is on the corner of West Steele Lane & Hardies Lane, just past the Ice Arena. It would be quite easy to spend the better part of a day in this museum – as it takes time to 'absorb' the detailed exhibits and to read the hundreds of comic strips.
One of the main attractions at this museum is found in the 'great hall'. It is a huge tile mural created by the Japanese artist Yoshiteru Otani. Composed of over 3500 tiles; each tile contains a unique readable Peanuts comic strip. The tiles are arranged in such a way that if you stand at a distance the mural shows the timeless comic strip of Lucy holding the football waiting for Charlie Brown to kick it. Other notable museum attractions include a re-creation of Schulz's studio and a nursery wall painted by Schulz, which was moved from his Colorado home. Be sure to visit the outside patio – if you glance up you will know that Charlie Brown has definitely been here before you. His kite dangles from a tree branch and judging by the length of string that is hopelessly tangled in the branches, Charlie is not getting this kite down anytime soon.
Also view our write-up here based on our initial visit to the museum – and visit the offical website: www.schulzmuseum.org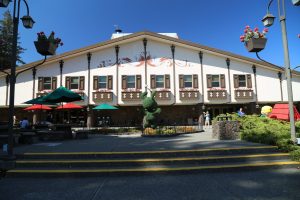 Redwood Empire Ice Arena (part of the Museum complex) is well worth visiting and is located directly across the street from the Charles Schulz Museum (described in above paragraph). The outside of the ice arena looks like a Bavarian chalet. This is the "real" home of snoopy. His red doghouse sits right next to the ice arena. Great ice skating in here – you can tell your friends you skated in the original home of the Peanuts gang. Note that there is an excellent gift shop next to the Ice Arena.
The Ice Arena gift shop has a much better selection of items than the Schulz Museum itself and the prices are cheaper as well. You've never seen so much Peanuts "shwag" in your life! If you are at the main museum and are interested in purchasing souvenirs, I would walk across the street and buy them in the gift shop next to the Ice Arena.
Also note there is a simple free museum upstairs from the gift shop (this used to be the main museum before the new one was built – as a result most of the highlights of this old museum are now housed in the new one). For more information about the Ice Arena and skate times visit: www.snoopyshomeice.com
Epicenter – this 130,000 square foot sports and entertainment complex is located north of downtown at 3215 Coffey Lane. This is the largest indoor sports complex in the North Bay. Plenty of parking to complement the size of this facility. One long building connects all the indoor attractions – range from a fitness center in the south part of the building to the arcade and bowling alley in the north. This place has it all from sports, to dining, to entertainment to special rooms for hosting party's. But speaking of arcade games – there are many here and are often well played with both children and adults alike. Some of the prizes one can win are highly coveted – during a recent visit we spotted a Jerry Rice autographed football and a Pete Rose autographed bat. Purchase your arcade chips at the service counter located next to all the arcade games. A laser tag room is also located here.
A big part of the space is taken up by Sports City – featuring several indoor arena style spaces, an impressive basketball court and a trampoline park. The trampoline park is meant for children but often adults will accompany their children inside – and for a while, feel like children again themselves. Great for practicing acrobatics! Spectators can watch their athletes from tables located nearby these arenas and can even order food and drink from either the Victory House sports bar and restaurant or the Clubhouse Grill.
This is not "Donny's" bowling alley (for those uninitiated, that is a reference to the film, Big Lebowski) – it is not a stodgy place at all. Surrounded by a 60 foot big screen TV wall at the end of the lanes showing a variety of sports, with semi-private dining tables and a nearby bar – this can be a hip and happening place. Visit: www.visitepicenter.com
Green Music Center opened in mid 2012 at Sonoma State University and is the home of the Santa Rosa Symphony. The acoustics here are excellent. This should have been built in the city of Santa Rosa as Santa Rosa is the hub city for Sonoma County – rather than out at Sonoma State. In any case, the acoustics are much better then the Luther Burbank Center to the north. Visit the Green Music Center: http://gmc.sonoma.edu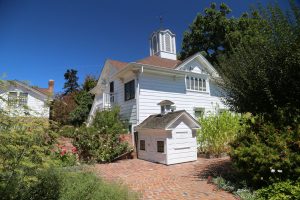 Luther Burbank Home & Gardens is located at the corner of Santa Rosa and Sonoma Avenues, just a few blocks south of downtown across from the large Juliard Park. Luther Burbank was a famous horticulturist who lived in Santa Rosa. He moved here in 1875 and fell in love with the climate.
During his 53 year stay in Santa Rosa he developed, improved, and hybridized more then 800 plant varieties. Some of his more famous success were the development of the Burbank russet potato, the Shasta Daisy, and the Santa Rosa Plum. Luther Burbank also planted the now stately oak trees which grace the SRJC campus. As a result, at graduation, each graduate of SRJC receives a small oak seedling. There is a greenhouse here where he began his experiments. Docents lead tours of his lovely garden and home. The tours are given Wednesday through Sunday from 10:00am until 3:30pm, April through October.
For more information call Phone Number (707) 524-5445. For more information visit this website: www.lutherburbank.org

Luther Burbank Center – is primarily an event center, often holding concerts and speeches by well known personalities. The acoustics leave something to be desired but it is the only place in Santa Rosa where well-known performers regularly perform. From Johnny Cash to Ann Murray to hosting one of Glen Campbell's final performances to more modern artists, this center has hosted a diversity of performers.
Also home to a Saturday and Wednesday morning Farmer's Market in the south parking lot. Was known as the Well Fargo Center for the Arts for a period. For more information visit, the Luther Burbank Center for Arts website: www.lutherburbankcenter.org and the Santa Rosa Symphony's Web page is www.santarosasymphony.com

Maria Carillo Adobe is Santa Rosa's oldest still 'standing' structure – dating from 1837 and locally referred to simply as the 'old adobe'. Although we are using 'still standing' in a very liberal sense of the phrase as not much of this structure is still intact. What kind of city lets something this historic to its' founding continue to be tortured by the elements and various homeless that make their way into the structure passing through 2 separate chain-link fences to do so?
The site borders Santa Rosa Creek and used to be home to a number of Native American camps (evidenced by all the obsidian and arrowheads found on parts of the property – especially next to the Becker Center at St. Eugene's School). Visitor's to the site can only peer in from a distance – the closest viewing is from Franquette Ave on the north side of Montgomery Drive. Or one can stroll the sidewalks of Montgomery Drive to get a view of the historic marker sign.
Interestingly, in 2006 archaeological research discovered the adobe walls were stacked on top of larger stone foundations that were set in the ground earlier then the 1837 when the adobe was built. Some speculate that this might have been an original anticipated build site for a 22nd California Mission (which runs from San Diego to Sonoma).
In the 1850's the adobe housed an inn, story and a post office. At one point in its' history much later, the adobe was used for drying prunes and functioned as a packing shed.

Museums of Sonoma County features the history and art museums both located downtown on 7th Street directly next to each other – as well as an outdoor sculpture garden on the same block. For more information visit: www.museumsc.org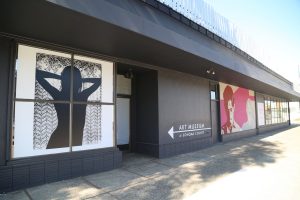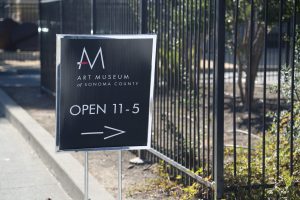 Art Museum of Sonoma County is located on the corner of 7th Street at 505 B Street. This museum opened in April 2015 – next door to the History Museum of Sonoma County. Residents of the county may remember this was the long time location of Conklin Brothers Furniture Store. The gallery features tall ceilings, plenty of open space and good lighting. There is even a roll up garage, presumably a relic from the former furniture store. The focus is on contemporary and modern art from artists who either have lived or worked in the north part of the state. (707) 579-1500.
Exhibitions change throughout the year and focuses on both paintings and sculptures. Located next door to the Sonoma County History Museum and the outdoor Sculpture Garden. Parking is limited street side – using the meters.
History Museum of Sonoma County is located at 425 7th Street near B Street across the street from the Santa Rosa Plaza Parking garage. The building was constructed in 1909 and originally served as the city's primary post office. Remarkably the entire building was moved some 750 feet to its current location in 1979 and has been a museum since 1985.
This museum focuses on cultural history and art of the North Bay with rotating International exhibits also featured. Two permanent exhibits are shown in the Santa Rosa Room and California Landscapes in the Mezzanine Room including works by prominent artist Thomas Hill. Works in their permanent exhibitions focus on artwork by Sonoma County based artists including those associated with SRJC and Sonoma State University. The museum is open Tuesday through Sunday from 11:00am until 5:00pm. The museum is located across from the Santa Rosa Plaza Mall – limited street side paid parking available.

Nightlife – Santa Rosa is the hub of most nightlife in Sonoma County and the peak of this is on 4th Street in and around La Rosa Tequileria & Grille on the block of 4th Street across from Santa Rosa Plaza. With that said, nightlife in this city is fairly limited. Upstairs at La Rosa is The Lounge La Rosa featuring private booths and tables in a luxe environment complemented by the bold sound system, custom lighting and the hand painted murals. A strict dress code is highly enforced on the weekends. Dancing into the late hours of the night – choose Friday night for this space's most sexiest Sonoma County offerings.
Not a nightclub but staying open until 2am on Fridays and Saturdays is Toad in the Hole, an English Pub located downtown – featuring plenty of beer and futbol.
For old school rough and tumble, check out the 440 Club on College Ave (north of downtown) a classic dive bar featuring a dark and dank interior.
Remy's Nightclub is located in an odd location (for a nightclub), west of town this bar & grill is located in the Santa Rosa Business Park. During the day it is a low key unassuming restaurant but it becomes a wild nightclub and stays open until 2am on Fridays and Saturdays.

Petrified Forest is not actually in Napa Valley but is worth visiting and is close enough to Calistoga that we list it here. It is located about half way between Santa Rosa and Calistoga – about 15 minutes drive from either city – at 4100 Petrified Forest Road. From Calistoga take Highway 128 north for about 1 mile and then turn left at the gas station onto Petrified Forest Road.
This forest contains very good examples of petrified redwood and other species of trees – some are quite large. Your tour is self guided along a fairly easy to navigate paved path. Also visit their gift shop for an excellent selection of rocks and minerals. Sometimes they have sales. For more info visit: www.petrifiedforest.org
Quarry Hill Botanical Garden is located at 12841 Highway 12 near the town of Glen Ellen. It was founded by was founded by botanist Jane Davenport Jansen. She purchased some 40 acres here – in 1968 here and planted vineyards. Today the property encompasses 60 acres. The flatland of the property still grows vines (the fruit is sold to area wineries which in help part funds the Botanical Garden). Jane began developing this hillside site as a garden in 1987 after going to Asia on a seed collecting expedition. This first 'expedition' has since turned into numerous other expeditions (20+ to China and others to various parts of Asia).
Jane named the site Quarryhill based on the abandoned stone quarries she found on the property (with the material used for creating road base). Highly worth a stop, these Asian influenced gardens are 25 acres of hiking trails and paths surrounding by a veritable paradise of foliage. These gardens and their greenhouse now houses one of the most significant collections of originally wild-grown Asian plants (with over 25,000 different plants). Tours are self guided at your own pace. Docent led tours are only available by prior reservation.
A guest cottage on site can be rented nightly. A small gift shop/visitor's center is located next to the gravel parking lot. Friendly staff. For more information visit: www.quarryhillbg.org
Railroad Square is located just west of the 101 Freeway across from the Santa Rosa Convention center. This square (which is actually several blocks) contains historic turn of the century buildings (often brick) including originally uses for warehouses and canneries (walls from nearby canneries can still be seen near this part of town). Listed on the National Register of Historical Places since 1979.
Old Railroad Square is known for its specialty and boutique stores including antiques, gifts and clothing. Plenty of dining options and nearby lodging. And only about a 10 minute walk to downtown Santa Rosa. The West End Farmers' Market is held here Sundays. Also made appearances in two older films – Hitchcock's Shadow of a Doubt and Cheaper by the Dozen starring Steve Martin.
In addition the Santa Rosa Convention and Visitor's Bureau/California Welcome Center is located here (in an old stone building directly next to the train tracks). Commercial train service started in 2017 (SMART Rail) with the Santa Rosa Downtown train depot and boarding platform across from the Visitor's Center. For more information visit: www.railroadsquare.net
Russian River is an extremely popular vacation spot in the summer months. Typically rafting, canoe or kayak trips are found between Geyserville and where the Russian River empties into the ocean. This is a long distance and you will want to choose a spot along this stretch of the river where you raft say 3-6 miles – typically taking 2-5 hours. As you get closer to the ocean the weather will become colder due to the ocean's influences.
If you decide to raft the Russian River yourself you will need two cars – drop one car off at your "pull out location" and then bring the other car back to your starting point. Here are a few do it yourself rafting options for consideration.
Geyserville Area
– Geysers road to Kelly road – 5 miles
– Washington school bridge to Geyserville bridge – 6 miles
– Geyserville bridge to campground – 5.6 miles
Rio Nido Area
Steelhead Beach to Rio Nido – 4-5 miles (takes 4-5 hours)
A picturesque general swimming beach is Healdsburg's Memorial Beach – this is very popular in the summer and first opens typically the first or 2nd week in July. Once the beach opens the river backs up for several miles. Before the dam is put in at the beach you can easily wade across the river in the late spring – once the dam goes up the river becomes significantly deeper and there are parts of the river too deep to walk across. Lifeguards are on duty here. Families often have their family picnics at this park.
Several companies rent canoes and they usually provide shuttle pickup service from where you pull your floating device out of the river.
Burke's Canoe Trips is located on River Road at the intersection of Mirabel Road about 1 mile from the small town of Forestville. You can get here by taking the 101 freeway to the River Road Exit – west and then drive about 10-15 minutes. Burke's is located on the right side of the road as you drive west. www.burkescanoetrips.com
River's Edge (formerly known as Trowbridge W.C. Bob Canoe) is located next to the town of Healdsburg next to Memorial Beach. They can be reached at Phone Number (707) 433-7247 and are located at 20 Healdsburg Avenue. www.riversedgekayakandcanoe.com
Note: There are many "private beach" signs along gravel bar benches right next to the Russian River especially in the area in all directions around Rio Nido and Guerneville. There are parts of the river in this area where you have to really search to find a gravel bar without a sign on it. We have researched this and legally these homeowners cannot make the gravel benches right next to the river "private". Some owners have even coned off or roped off "their" gravel bars. This is not right and its not legal. The public has right of use of land on a navigable waterway up to the "ordinary high water mark."
Do some research on this – ordinary high water mark is defined by law using a variety of methods. Some of the homeowners will tell you that this gives you the right to walk right up to their house. That is not what this is saying – from our personal observations all the homes we've seen along the Russian River are well above the "ordinary" high water mark. It wouldn't make sense to build below the "ordinary high water mark" as each year you would be flooded.
"The Russian River is a navigable river and by federal law everything below the high watermark is public access. This means that if people can reach a beach without trespassing through private property, e.g. by boat or public easement, they can use that beach even though it is technically on private property."
For general Russian River information visit: www.russianriver.com
Safari West is a little "piece of Africa" located about 20 minutes Northeast of Santa Rosa. This is a wild game park – where visitors are taken on a driven safari.
This preserve features tent cabins made in South Africa and are authentic to the African Bush. They stand on wood poles situated high enough above the ground for optimum game viewing. When one thinks of tent cabins, one does not often associate the word amenities with this type of lodging. However, these particular tent cabins are complete with hardwood floors, luxurious beds, custom furniture, a bathroom with a shower, and a veranda, which overlooks the rolling hills of the preserve.
The preserve is accessible via jeep roads, which wind their way through the bucolic countryside – there are over 400 acres in the preserve. One drives slowly throughout the tour – observing both solitary animals and those in herds. Cape buffalo, zebra, gazelles – you are "in Africa", if only for a few hours! View our writeup here.
Santa Rosa Creek Trail runs through two parts of Santa Rosa – the western side which runs roughly from Santa Rosa Avenue in downtown west to past Willowide Road. It spans a distance of about 6 miles and runs along Santa Rosa Creek. This is a great place for hiking or biking and even in the downtown area of this creek trail – you don't have a feeling of being in an urban area.
The trail passes under the 101 near downtown (yes we have even seen people on hot summer days swimming in the pools underneath the freeway here – although the water doesn't look that clean), passes by the Convention Center and its mini sloped vineyard – passes by the merge to the Joe Rodata Trail (this other trail will take you to to Sebastopol (about 7 miles) and then meanders through residential Santa Rosa as it works its way westwards. Sometimes we have seen trout hanging out in the shade of the larger pools close to downtown Santa Rosa.
And the Santa Rosa Trail picks up again on the east side of Santa Rosa at what is probably the city's busiest intersection and perhaps oddest trailhead location in the entire city at Highway 12 and Farmers Lane. Steps leading down to the trail (no pavement along this part of the Santa Rosa Trail) bring one to the edge of Santa Rosa Creek. Despite the often noisy and high volume traffic situation above, as soon as you descend below the Farmers Lane Bridge the noise drops by about 95% and you find yourself in a 'different' world. The first several hundred feet are often overgrown and are very rocky, once beyond that the trail becomes dirt, and much flatter running right below Highway 12 until reaching a neighborhood at which point the trail is now a paved path and runs all the way along Brush Creek to Mission Boulevard in Rincon Valley passing through numerous residential neighborhoods.
One of the most interesting landmarks along this path that most people who live in Santa Rosa their entire lives probably never heard of is Flat Rock Bridge – a series of flat (more or less) rocks that are located exactly where Brush Creek meets Santa Rosa Creek. Despite Santa Rosa Creek often becoming just a trickle in the late summer months – one can sometimes spot small fish in the tiny pools here. Nearby the flat rocks is another paved path which leads further along Santa Rosa Creek ultimately ending at the tiny Trailhead Park.
And these rocks feature prominently in Santa Rosa's own history. A Pomo Native American site used to be located nearby – we can see why, this open area still makes a great place to hang out, enjoy the sun and the cool water from the nearby creek. The rocks and trail are surrounded by residential sub divisions. A nearby plaque erected in 1936 indicates that in 1829, Padre Juan Amoros, a Franciscan priest from Mission San Raphael baptized a Pomo lady on the feast day of Saint Rose of Lima – he called this woman Rosa and named the location Santa Rosa. Sources conflict as to the validity of this story; perhaps this was a myth.
Santa Rosa Creek Trail West

Santa Rosa Creek Trail East/Brush Creek

Santa Rosa Junior College Museum is located on the beautiful campus of Santa Rosa Junior College at 1501 Mendocino Avenue. Also referred to as the Jesse Peter Museum. Look for the two bronze stately sculptures of dogs in the front of the building. Known for its Elsie Allen Basket Collection (a native american (Pomo) Sonoma County resident who devoted her later years to basket weaving).

The museum features the work of Native American artists. It includes photographs, basketry, beadwork, pottery, sculptures, and replicas of a pueblo and roundhouse. Over 4,000 items are housed within it's overall collection. The museum is open weekdays from noon until 4:00pm. Hours are more limited in the summer months, usually from Monday through Thursday. Phone Number (707) 527-4479. Visit: https://museum.santarosa.edu
Wine Tasting – visit our Sonoma County Wine tasting page here or The Napa Wine Project Here
(Dave has personally visited, tasted with and written about more than 1,100 Napa wineries, producers & tasting rooms!)