Santa Rosa is by far the largest city in Sonoma County – the hub if you will in which all the other towns radiate out on the 'spokes'. Along with Santa Rosa, the 101 corridor is home to the largest cities in the county including Petaluma, Rohnert Park and Windsor. Other towns in the county are generally small.
There is a marked difference between the west county and the interior of the county (related to the frigid Pacific Ocean) which directly influences the county's weather, agriculture, population centers and the natural visual landscape.
The following communities are typically within a 15 to 45 minute drive of Santa Rosa.
BLOOMFIELD. Far from the congested traffic of the 101 freeway corridor (but really only 20 minutes from Rohnert Park) lies a small community that time seems to have forgotten. Not to be confused with Bloomfield Corner at the intersection of Bloomfield Road and Highway 116 near Sebastopol. Not a lot for tourists to do here as the town is mostly older residential neighborhoods. As you pull in off of Valley Ford Road a small park will be on your left as you enter town. However there is a "main street" with several intriguing older buildings including the Town Hall built in 1860 and the Freemasons Vitruvius building. Out of state visitors who actually make the trek to town, can claim Bloomfield Bragging Rights, confounding friends and family back home as to its whereabouts.
The first house was built in town in 1853. Remarkably, in the late 1850's Bloomfield used to be the second largest community within the County of Sonoma – after the town of Sonoma. The town never grew – mainly due to the fact none of the early local railroads ever built a train depot within town. At one point Bloomfield boasted four hotels, a baseball team, a saloon and butcher shop.
For an old restaurant 'roundhouse' experience check out Stormy's Spirits & Supper – the very dated looking old wooden building on main street with roots dating back to 1854. Focuses on steaks, prime rib and seafood. Although whatever salad they served us on the day we visited was damn good. Old western feel with an era looking bar. Only open Thursdays through Sundays mid to late afternoon until 'late'. May close for several weeks for an annual late summer vacation. Pulling up to the front feels like you should be riding a horse rather then in an automobile. And as you arrive, you are sorry you aren't actually sitting on a saddle.
Feels old as soon as you enter – a dusty piano sits in the foyer, push through the next set of doors and you will feel like you have entered some ethereal portal which as of now is not scientifically understood how your body could be so quickly transported back to the mid 1800's. Dimly lit, but not dingy make a call to the bar and take an open seat. During a recent visit we were asked what beer we would like to drink – in reality all we wanted was a mojito or a margarita, however in our mind, these are weak drinks not meant for grizzled men to be ordering in what perhaps was a rough and tumble establishment at various points in its history. I'm not necessarily grizzled but my company was certainly a grizzled veteran. So not to appear 'weak' to the bartender and nearby patrons we simply ordered a beer on draft. And pretended like we belonged.
After spending an afternoon here, I wish there was more dust, more cobwebs and candle lighting. I wish the bartender had a long beard and a leather jacket and a southern accent. I wish there were horses parked in front. I wish it was actually 1854 for an afternoon.
Just outside of town with a Valley Ford Road address tied to the town of Petaluma – but in reality very close to Bloomfield, worth checking out is the unassuming looking Bodega Bay Oyster Company. Picnic grounds are on site – on Saturdays and Sunday's they will barbecue oysters. The oysters are harvested fresh from Marin County in Tomales Bay about 20 minutes due south of this retail outlet.
BODEGA is a very small cute town located along the Bodega Highway on the way to Bodega Bay. Arguably the most picturesque building in town is the St. Teresa of Avila Church located on top of a hill (for good photos pull up their short steep driveway). Park your car on main street and easily visit all the shops in town if you like (there aren't many). Highlights include several art galleries and the Northern Light Surf Shop. Bodega (along with nearby Bodega Bay was the site for several of the locations shown in Alfred Hitchcock's film, The Birds.
Running Fence – Watson School Historic Park – as you drive towards west towards Bodega on Bodega Highway you will spot an old school house that dates from 1856. Not only is it worth a stop to take a photo of this picturesque old wooden school but this site was also part of Christo and Jeanne-Claude's "Running Fence" art installation which appeared in these local hills for 14 days in 1976.
Just outside of town is the Calvary Cemetery – worth a quick stop to ponder the remnants of local families who settled in this part of the county. The cemetery was founded in 1869 with the burials of two young children (merely 4 years after the Civil War had finished). A much more recent grave is that of Nicholas Green – the 7-year old who was mistakenly shot and killed in southern Italy in 1994 while traveling with his family. His organs were donated – the story resonated with Italians and ultimately there was a significant increase in organ donations in Italy.
Driving a little bit further you will reach the junction of Highway 1 – turning right onto Highway 1 you will soon reach a sign for Hagemman Ranch on your right hand side. This is a 500-acre cattle ranch with a fully stocked trout pond (open to the public since the early 1980s (no license required). Poles, nets, tackle and bait are all provided as needed. Also a grill on site for BBQ. Kids love this place – so do adults! Any fish you catch can be put on ice by the staff for your ride home. Horse rides are also offered here. Typically open from April through November.
Bodega Photos

Hagemann Ranch Photos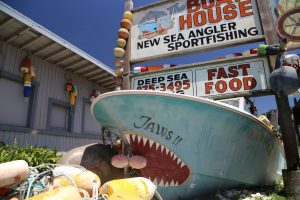 BODEGA BAY is located about 45 minutes west of Santa Rosa on the Sonoma County Coast. While still in the same county, a visit along this rugged coastline seems far removed from the urban environment of Santa Rosa. The coastline features numerous beaches within a short drive of Bodega Bay (as of now, most of the beaches along Highway 1 are still free).
Swimming in the ocean in this part of California is strongly discouraged. Every year there are those who try to go swimming and they don't realize how strong the undercurrent can be. Sleeper waves are large waves that crash much higher on the beach then most. One sensible piece of advice is to never turn your back to the ocean.
The weather is often foggy along this part of California's coastline – with the warmest weather often coming in September and October. Often very windy – bone chilling at times, even in the middle of the summer. Some days in the middle of summer it can be 55 degrees at almost the same time it is 95 degrees in Santa Rosa – less then 20 miles away (we have experienced this)! On weekends when the weather is like this – often droves of people head out to the coast to experience nature's air conditioning while it is baking inland.
Bodega Bay has been used as the setting for a number of movies, but none more popular then the iconic Alfred Hitchock film, The Birds. More recently it has been used for Steve Carell's Beautiful Boy.
The town of Bodega Bay is spread out slightly along the edges of Highway 1 (not to be confused with the town of Bodega which is more inland, smaller and about a 10 minute drive from Bodega Bay).
Bodega Bay Marine Laboratory is located on a reserve at Bodega Head and is run by UC Davis. Tours are given by docents for free on certain days of the month. Tours start in a classroom and then wind through the laboratories – information is given about the research done here and the local marine life. Highlight includes visiting the abalone growing area.
Doran Beach is located just south of Bodega Bay – this is a very long flat beach which features a number of pull out spots for vehicles. This is a county beach so they do charge an admission (versus most of the state beaches in the area which are still free).
Lucas Wharf features a restaurant and a fish market.
Tides at the Wharf is a sizable shopping complex featuring a good restaurant and fish market – it overlooks Bodega Bay. Just up the road are several more stops including several restaurants, gift shops and a salt water taffy store.
We maintain a *STRONG* no fog/cloud photography rule for this guide but we had to make an exception for this:
Coastline near Bodega Bay in mid July, mid day with a temperature of 55 degrees Fahrenheit!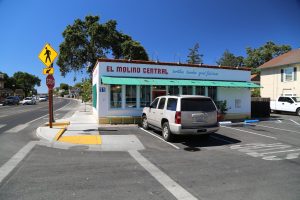 BOYES HOT SPRINGS is located about 35 minute from Santa Rosa – along Highway 12. The town is known for being a part of a region produces a number of hot springs. Other towns in the area with hot springs include El Verano, Fetters Hot Springs and Agua Caliente. Locals simply call this area, "The Springs". Boyes Hot Springs is the home to the iconic and luxurious Fairmont Sonoma Mission Inn & Spa. It was originally built in 1927; the main building looks similar to some of California's historical Spanish style architecture – resembling some of the early missions (tile roof, 'bell towers' adobe style color as the exterior. The historical water tower still towers over the main entrance and greets all visitors to the property.
Well known for it's thermal waters, the Willow Stream Spa on site is open to guests and visitor's alike. Visitor's can purchase a day pass to use the bathhouse and various pools. The main pool is reserved for hotel guests only.
Boyes Hot Springs and some of the surrounding communities are primarily Hispanic. Pop on over to the El Molino Central where they make home-made tortillas and are known for Mexican Street food including tortillas, tamales and fish tacos. Or Follow your nose and walk across Highway 12 to the Barking Dog Smokehouse. Both indoor and some outdoor patio style stables are available. Focuses on pulled pork, tri-ip, chicken and brisket. The Barking Dog Roasters (coffee) is part of the same building.
In the mood for some local shopping? Check out the Lonesome Cowboy Ranch for antiques and other 'western' mementos and a bit further north on Highway 12, the Lost Art Stained Glass shop.
The region is also known for small Mexican style markets including La Carniceria, El Bainquito and several La Morenita Markets.
Boyes Hot Springs is also known for being the home to the first ever Mary's Pizza Shack restaurant (still there by the way). Today they have some 20 or so mostly in the 'North Bay', and all in Northern California.
CAZADERO, or as the locals sometimes say, "Caz" is a tiny community nestled among the redwoods & lots of other trees about 6 miles from Highway 116 (the nearest main road). Most visitors will arrive on the Cazadero Highway – the word 'highway' being misleading as this is narrow country road that meanders along the usually calm but always flowing Austin Creek. Cazadero is also near the extremely windy and often one lane Fort Ross Road which ultimately leads down to Highway 1 directly across from Fort Ross.
Cazadero is one of the rainiest towns in all of California with an average annual rainfall of about 85 inches; some years the town receives well over 100 inches! This is remarkable as areas even within a 30 minute drive of Cazadero typically see much less rain.
Historically known for having the northern most railroad train depot in the North Pacific Coast Railroad (which terminated in the south at Sausalito – near San Francisco). This railroad was built to haul milled wood from redwood trees down to the San Francisco Bay Area.
Today the town is quiet – with many less visitors compared to the somewhat nearby towns of Monte Rio and Guerneville. Worth stopping for is the General Store containing a small deli and a gift shop. Next door is Caz Central, a small boutique shop containing an eclectic collection of various mementos. Next door is the Post office – in a building that dates from 1922.
Sonoma County is home to at least two unique churches relating to redwood trees – the Church of One Tree in Santa Rosa (built entirely from a single Redwood Tree) and St. Colman's Outdoor Church near Cazadero. This church is entirely outdoors – located among the shade of towering redwoods with the altar built of stone that is raised above the forest floor. Definitely worth a stop regardless of your faith. Weddings also held on site.
Nearby is Ben Britton – Chainsaw Sculpture – signed with a statue of presumably Babe Ruth in front wearing his finest pinstripes. This open air gallery is located down a short dirt/gravel driveway. The artist, Ben Britton used to be a logger – today he is getting well up in years but still channels his creativity into his chainsaw created sculptures.
While not open to the public, and only a mile out of town – the Cazadero Music Camp has been teaching music under the redwoods for more then 60 years.
CLOVERDALE sometimes it feels like the modern day world has bypassed Cloverdale – a town that feels relaxed and has embraced a slower pace of life. The town has not generally been discovered by tourists – and related businesses (not dominated by wine tasting rooms like some of the towns to the south).
The 101 (back when it was a small highway used to route directly through town) – in the mid 1990's an overpass was built and since then the freeway routes vehicles completely around town. While only about a 30 minute drive north of Santa Rosa – the weather here is decidedly different – especially in the summer. The town sees much less fog and actually has a real summer as opposed to much of southern and western Sonoma County. The temperature on a number of days actually reaches 100 degrees.
Some of the cheapest gas in Sonoma County is often found at select stations in town, especially on the northern parts of town. Quiet center of town featuring a few local shops and restaurants.
The Cloverdale Citrus Fair, located just south of town, hosts the 125+ year running annual Citrus Fair every Presidents Day weekend in February. Also known for starting the Citrus Fair Wine Competition in 1983 which since morphed into the San Francisco Chronicle Wine Competition which is now the largest competition of American wines in the World (highly coveted by wineries). The fairgrounds is also home to the annual Cloverdale Old Time Fiddle Festival (many years running).
COTATI is a small town located just off the 101 freeway about 15 minutes south of Santa Rosa. Can be a quite a bit colder then it's neighbors to the north in the summer as coastal fog tends to congregate here – often not burning off until mid morning or sometimes in the afternoon.
Probably most known for it's annual 2-day Accordion Festival held every August in downtown. The home for this festival in the center of town is La Plaza Park. A sculpture of co-founder Jim Poggi is also located here. Also home of the annual Jazz Festival.
The small core streets of Cotati are laid out on a very unique hexagonal grid system – unlike any other town or city in the United States (other then Detroit). The downtown is centered along a few blocks of Old Redwood Highway with several restaurants and bars including the ever popular Spanky's.
A Sonoma–Marin Area Rail Transit stop is located on the eastern fringes of town, about a 5 mins drive from the center of town.
DUNCANS MILLS (population less then 100) certainly packs a lot in for being one of the smaller communities within Sonoma County. While only 4 miles in from the often extremely foggy coastline – we have always noticed that Duncans Mills is usually warmer and often clearer then the fog shrouded surroundings. Founded in the late 1870's by the towns namesake Alexander & Samual Duncan (Alexander established a sawmill in town).
Completely divided by Highway 116, both sides warrant the same amount of attention. One side features numerous art galleries, antiques and boutique shops – and the other side (next to the Russian River) is home to the Depot Museum and the Camping Club. The depot was built in 1907 for a rail line that ran from nearby Cazadero (7 miles away by road) to Sausalito. The last trains ran in 1935 and several of these old train cars are on display just outside of the depot building. The Blue Heron Restaurant is a town institution (frequented by locals and visitors alike).
Worth checking out is the Duncans Mills General Store and the Cape Fear Cafe. One can even enjoy some wine tasting at Sophie's Cellars although there are no vineyards immediately nearby. Also home to the Russian River Rodeo Grounds – the big annual event held here (usually in mid July) is Civil War Days, the largest civil war reenactment in Northern California and one of the largest west of the Mississippi River.
FORESTVILLE is a tiny community of just over 3,000 people located about 20 minutes from Santa Rosa. The town is centered along Highway 116 – while in town this is known as Front Street. The town was founded in the 1860's and was named after Andrew Jackson Forrester – a saloon owner. Incidentally, Forestville was the home of the first powered sawmill in California. The town has two slogans, "Forestville, The Good Life" and "Where the River meets the Redwoods".
Several blocks of charming little restaurants, wine tasting rooms, private homes and some open space forms the center of town. Establishments to stop in include Nightingale Breads and Carr's Drive-In (decent hamburgers), located at the 'top of the hill' – an old time establishment that has greeted visitors to town for years. Also Canetti's Roadhouse Restaurant. Francisco the chef is from Italy; he cures his own meats and sources ingredients locally – looking for more privacy – reserve a table in one of their smaller rooms. Recommended, start with the charcuterie plate.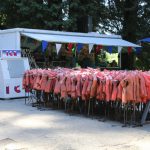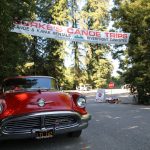 Located within easy access of numerous wineries and the Russian River (including several beaches) and the always popular in the summer time, Burke's Canoe Trips and Campground. Trips are self guided with a return shuttle included. Pull into their parking lot at the intersection of River Road and Mirable Road (just one mile north of Forestville). The 5.5 mile West County Trail (an easy ride for bikes or for pedestrians) connects to Sebastopol and starts/finishes right in downtown Forestville at the park (incidentally where the Forestville Farmers Market is held every Tuesday in the late afternoon from appropriately June through early October.
FORT ROSS is spread out for a few miles along Highway 1 next to Sonoma County's rugged western coastline. There is no center of "town" but historically the area was founded by the Russians with the development of Fort Ross (1812 to 1841). The grounds and the restored fort are part of the Fort Ross State Historic Park (admission is charged at the main entrance kiosk). A visit here is a glimpse into a very unique part of California's heritage and the more you dig into it's history the more you will learn.
The fort was built by the Russian-American Company (a hunting and trading company) to establish a settlement in this part of North America for a number of reasons – namely to introduce agriculture to the region to provide food to the company's Alaskan settlements and to hunt the sea otter and fur seals (the sea otters were ultimately almost completely eliminated from the coastal areas). The first grapes planted in Northern California were Peruvian varietals planted on site in 1817. The fort was settled by both Russians and native Alaskans from Kodiak and the Aleutian Islands (the Alaskan natives were brought to provide the labor force needed for such an ambitious construction project).
A visitor's center and museum is located within a short walk of the parking lot – this building also includes a gift shop and a room for watching a film about the history of Fort Ross.
With one exception, all the buildings in the fort have been reconstructed. Remarkably the Rotchev House (built in 1836) is the only original Russian-Built structure on site. Even that needs clarifying – this entire structure is not completely original from 1836 – over the years it has undergone numerous remodels and restorations (even acquiring a second story for many decades) and surviving a fire which destroyed part of its roof. At one point in the 1880's it was converted to the Fort Ross Hotel. As you enter the fort, this building is to your immediate right (next to the entrance). Visitors to the fort are welcome to enter any of the buildings that are open within the Fort walls and explore the grounds. Be sure to enter the chapel originally built in the mid 1820's – it was the first Russian Orthodox chapel built in North America outside of Alaska. Another must visit is the original well located in approximately the center of the Fort's grounds.
The San Andrea earthquake fault runs through Fort Ross – the devastating earthquake of 1906 (epicenter near Santa Rosa) damaged the fort including the Chapel.
This was the site of California's first windmill and early ship building efforts (a reconstructed windmill stands near the western edge of the parking lot). Fort Ross was also the source of a smallpox epidemic that was carried from the Sitka area through Fort Ross in the late 1830's that ultimately killed many of the native american's living in the area. The fort was eventually sold by the Russians to John Sutter – who would become famous for his role in the discovery of gold in the Sierra Nevada – sparking the famous gold rush of 1849.
Visiting later in the year and want to try fruit from a unique period in California's history – drive about 3/4 of a mile up Fort Ross Road (which will quickly become one lane and very windy) and look for the fruit trees directly on the right hand side (south side) of Fort Ross Road. Only four trees have been identified as still surviving from the Russian era – 3 Capulin Cherry trees and 1 Bellflower apple. The apple tree ripens later in the year – usually by late August. Visitors can sample the fruit for personal use.
Moving up the coastline are a few more stops in or near Fort Ross including a place to spend a night or two, the Fort Ross Lodge (with hot tubs and ocean views – oh and even outdoor sizable banana plants!). Across the street is the Fort Ross Store – which makes a good stop for three reasons, fill up on gas if needed, they operate a small deli and they sell wine.
Heading up the coast slightly to the north is Timber Cove Inn perched on a bluff overlooking the dramatic and rugged ocean scenery. A restaurant and a full service bar – with great views looking west over the ocean. Also of note here is the Bufano's Obelisk, a 93 foot tall very prominent piece of art work built over a span of 7 years by artist Benjamino Bufano. Strongly anti war – this is a peace sculpture in the shape of a missile (partially built during the Cuban missile crisis). A small path leads up to the obelisk from just north of the Timber Cove Inn – views from this bluff are awe inspiring on a clear day.
And the Kruse Rhododendron State Reserve is especially spectacular approximately one month of the year – in May during bloom. Also Salt Point State Park offers several campgrounds and access to small beaches.
For wine enthusiasts, the Fort Ross-Seaview AVA is an entirely hillside appellation ranging in elevation from 920 to 1800 feet above sea level. While the AVA is located in close proximity to the ocean the climate is dramatically different then along the immediate coastline. One can experience this with a short but quick climb up from Fort Ross on Fort Ross Road until you reach the edge of the AVA. We've driven this a number of times mostly during the summer months and are always amazed at how fast the temperature changes from the often foggy sea level at Fort Ross to the often sunny and much warmer higher elevations. A number of premium Sonoma and Napa wineries have vineyards in this AVA.
One vineyard that maintains a tasting room open to the public by walk-in (their winery is in Santa Rosa) is Fort Ross Vineyard on Meyers Grade Road – about a 15-20 minute drive from Fort Ross on steep, narrow and windy roads. Their focus, like other producers from this region is on cooler weather varietals including Pinot Noir and Chardonnay. The founders, Lester & Linda Schwartz are originally from South Africa; in a nod to their heritage, they make an apparently rare Sonoma County estate grown Pinotage. All their wines are estate grown – with parts of their vineyard among the closest planted to the Pacific Ocean in California (we don't have enough personal perspective to confirm if Fort Ross Vineyards are the closest to the ocean in the entire state – but we do know that Rusack, Santa Catalina Island Vineyards are also planted extremely close to the ocean in southern California). NOTE: unlike nearly all wineries in the wine industry they do NOT offer complimentary trade tastings.
And of an interesting historical note, the first grapes planted in Sonoma County were planted at Fort Ross in 1817.
FREESTONE was founded in 1853 and named for a public sandstone quarry that was within the town's boundaries. The surrounding setting is calming – with rolling hills, often forested but also plenty of open space. Home to a number of mostly Pinot Noir vineyards.
While Freestone is one of Sonoma County's smaller communities, several artisan shops are highly worthy of your attention if you are in the area. Most people start with a visit to Wild Flour Bread – a treasured store that bakes a plethora of tasty bread based treats using their wood-fired brick oven. Popular with locals and visitor's alike – we have often seen a line out the door on busy summer weekends. Walk inside, the smells will immediately hook you!
And all those cars you see parked on the sides of the street and adjoining dirt shoulders are probably visiting Wild Flour Bread. Not to be missed is their private garden in the back (that they open to guests during normal business hours). At its peak in early summer it provides a number of the fruits and veggies that go into their products.
A bit further up the road, within a short walk of Wild Flour Bread is the colorful and charming Osmosis Day Spa & Sanctuary. A destination in it's own right it features a unique cedar enzyme bath (a treatment that is originally from Japan).
Still slightly further up the road, nestled against a hillside is Freestone Artisan Cheese. Pop in here and stroll up to the counter – browsing their selection of artisan cheeses sourced from local producers in the tri county area (Sonoma, Napa and Marin). Not only are cheeses sold here but also local olive oils, honey, chocolates and charcuterie. Duck back out with some provisions and head straight for one of the picnic tables in the shade of a redwood fairy ring.
Contrary to what the sign says, Freestone Hotel 1872, this stately old building is actually a private residence.
And for groceries visit the Freestone Store – the 1876 number listed outside is not their address, but rather the date of when this store was founded.
And just outside of town on Bodega Highway is a Farm Stand – not named but when open you can purchase a variety of fresh veggies grown on site.
FULTON is a micro community located slightly north of Santa Rosa and just off of the 101 freeway – and within a 5 minute drive of the Sonoma County Airport. The town is located next to the often busy Fulton Road and River Road junction. During busy weekday afternoons, traffic often starts backing up on the 101 into Santa Rosa near Fulton. Most visitors pass through here on there way to the Russian River via River Road. Founded in 1871, the community takes its name from it's founders, Thomas and James Fulton. The nearby SMART Train passes through its western borders but does not stop as there is no depot within Fulton itself.
A highlight of a visit here is Fulton Crossing (that most Santa Rosa locals don't even know about). It is an industrial type setting that houses workshop space to local artists – including those making functional art and furniture. This area wasn't always so 'nice' – it used to be a chicken slaughterhouse – you knew you were getting close to Fulton when you started smelling the permeating odors. The chicken factory finally closed in 2010 – the abandoned property became an eyesore – homeless people, scavengers, people dumped garbage here etc.
Remarkably, the space has been significantly transformed with specific rooms that used to function for beheadings & debonings among others, now house individual artists. Keeps limited hours – at last check open on Saturday and Sundays from 12-5pm.
A number of wineries with tasting rooms are located right next to Fulton on River Road including Old World Winery and Fogline Vineyards. Kendall-Jackson's original tasting room is located off of Fulton Road, just north of town.
Two other businesses of note are Hector's Honey Farm Stand (not always open) and the permanent cloth covered fruit stand, open year round – Mike's Truck Garden – selling a variety of fruit and vegetables.
GEYSERVILLE is a tiny town located just off of the 101 freeway about 25 minutes drive north of Santa Rosa. There are a few restaurants, tasting rooms and a couple of Bed and Breakfasts including the recommended Hope Merrill House (on the northern fringes of downtown).
A good jumping off point for many surrounding wineries including one of Sonoma County's most prominent wine regions, Alexander Valley. One of the most visited wineries in the region is located within minutes of town – Francis Ford Coppola Winery offers attractions for the entire family including an onsite restaurant (Rustic) and an inviting swimming pool open in the warmer months. Also Werowocomoco Restaurant at Virginia Dare Winery offers a number of Native American dishes.
Also not far from the Russian River and or Lake Sonoma (about 5 miles from the lake).
GLEN ELLEN is a tiny town located just off of Highway 12. Long known for attracting creative people, it is the gateway to Jack London State Park (home of Jack London) as well as being home to journalist Hunter S. Thompson for several years in the mid 1960s. In later years, film director John Lasseter has called Glen Ellen home. The town is also on the way to one of most well-known wineries in the area, Benzinger Vineyards. One of the oldest school still in operation in the state of California was established in 1857 – Dunbar School on nearby Dunbar Lane.
Despite being a small town, it is somewhat spread out along Arnold Drive and to a lesser extent, along Warm Springs Road. Offers several cozy accommodations including the Gaige House (on the edge of town), the Glen Ellen Inn and the Jack London Lodge. Satiate your thirst at several tasting rooms including Talisman and Kivelstadt Cellars and when you build up an appetite after touring around all day – visit the Oyster Grill & Martini Bar at the Glen Ellen Inn or the always popular Glen Ellen Star and the Fig Cafe & Wine Bar.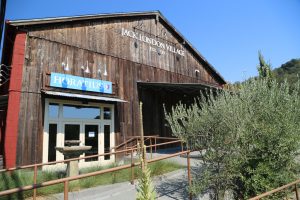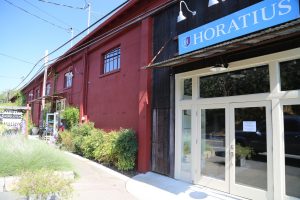 A mile or so south of town is the very historic Jack London Village. Founded in 1839 as a sawmill (that General Mariano Vallejo had built), the current 'village' looks nothing like it's historical roots. Over the years it has also been home to a gristmill and later the Glen Ellen Winery & Distillery. Today it is a nice mix of artisan shops and several restaurants. And a short walk across the street is the cute Eric Ross Tasting Room and the neighboring Magical Massages (located inside a giant wooden wine barrel!).
Also within a very short drive are the beautiful Asian themed gardens at Quarryhill Botanical Gardens (covered under our attractions page in this guide).
GRATON is located about 20 minutes roughly west of Santa Rosa in a part of the county surrounding by vineyards and older apple orchards. This tiny community (no street lights here!) features a charming main street (Graton Road) with several excellent restaurants located on one block including the always good Willowood Market & Cafe – especially for Sunday Brunch. Be sure to sit in their back patio if the weather is decent. Most of the town's businesses are on the north side of the main street.
Other decent restaurants include Underwood Bar and Bistro and Mexico Lindo. There are also several wine tasting rooms in town.
GUERNEVILLE is a small town that is ideally located close to a number of attractions including many wineries, the Armstrong Redwood Grove, a fairly short drive to the rugged coastline and of course ideally suited to a number of Russian River activities including kayaking or canoeing. The often popular Johnson's Beach is located within a short walk of downtown. The vibe here is relaxed although it can be very busy in the summer especially on the weekends when folks from the San Francisco Bay area move into town for a few days. Guerneville has long been a gay friendly resort.
An interesting dichotomy is at play here for a few weeks in the summer. The male only Bohemian Club maintains a large property near Guerneville in which their members hold their annual 'camp' on site.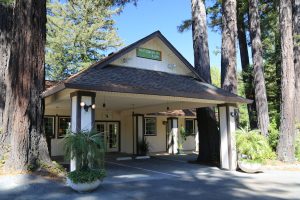 Put your roots down minutes from the towering Redwoods in Guerneville at the West Sonoma Inn & Spa. This delightful 36 room inn is owned by partners Karen and Naveed, both of whom left the fast paced corporate world during the end of the Dot Com days, for a slower more relaxed pace of life in the redwoods. It is quiet and extremely relaxing here, you can see the stars easily on a clear night. Nothing beats sitting on the deck outside your room listening to the symphony of frogs playing in the nearby vineyards. Even better, is this, on a darkened night in your private hot tub sipping one of the area's best sparkling wines, an Iron Horse or Korbel.
West Sonoma Inn has 36 rooms and like other accommodation in Guerneville, are often full in the summer. Advance reservations are important for visits during this time. Choose from a variety of rooms and suites including our recommendation, the vineyard suite which is very private and looks over one of Korbel's vineyards. While cell phone reception can sometimes be spotty in the area, WiFi works well in the rooms. There is no need to leave the Inn for more pampering! Look no further than their small spa located on site. Several types of massages are offered including Hot Stone and Swedish. Facials are also given on site (special applications are used from an herbalist in Washington State) – spa rooms are available for single or couples massage. These massages are pure bliss (based on personal experience)! Visit: www.westsonomainn.com
Staying in Guerneville is an ideal location for many reasons – choose your pleasure. You are within minutes of the wineries, excellent restaurants, the Northwood world class 9-hole golf course open to the public (set among the towering Redwoods and built in 1928 by famed golf architect Alister MacKenzie – worked on Augusta National and Cypress Point – and was voted by Golf World Magazine as having the third-best 9-hole golf course in America, of the top 3, the only one that is public), nearby to the solitude and quiet among the giant trees at Armstrong Redwoods State Park and kayaking on the Russian River if the weather permits. Slightly further away is the boutique shopping in quaint Duncan's Mills, hiking among the rugged scenic coastline, the sea lions that waddle out on the sand near where the Russian River empties into the ocean or the hustle and bustle of the closest city, Santa Rosa.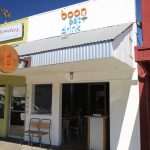 Boon Eat + Drink, a small bistro, is located in the heart of town. It is always nice to discover a restaurant that caters to both locals and out of towners and this restaurant does both. They have just a handful of tables so be sure to arrive early, especially on the weekends. Boon's wine list features a number of small local boutique producers.
For a small restaurant their menu certainly delivers – seasonal fresh often locally grown and produced items are featured. Meat lovers try the tender Flat Iron steak.
With locations in Santa Barbara and just outside of Guerneville on the way to Armstrong Redwoods, AutoCamp takes camping and turns it into glamping. Guests can choose to stay in a variety of accommodation including in a luxuriously furnished Airstream, a tiny redwood home and or a luxury tent. Check out the cool clubhouse for local wine and beer, fire pit lounges and or to meet fellow travelers.
HEALDSBURG is a chic town located just 11 miles north of Santa Rosa off of the 101 freeway. Like Sonoma, there is a small central park/plaza in the downtown. This park is surrounded by four large city blocks of which there is excellent shopping at small quaint boutique and other art type stores. Sophisticated pricey shops line three sides of this square. Healdsburg is a very popular weekend destination for the Bay Area especially those who live in San Francisco. For a small town, there are some very good restaurants located here.
The town has also become a hub for wine tasting rooms – and at the last check featured some nearly 40 stand alone tasting rooms – most within a short walking distance of the main plaza! Look for the easy to find tasting bar signs on every corner. Also located within a short drive of two prominent Sonoma County wine tasting regions; Dry Creek Valley and the Alexander Valley.
Healdsburg Veterans Memorial Beach is within a short drive of the center of town – popular in the summer with those paddling down the river kayaks and canoes. A small dam goes into place in late Spring through late summer – effectively raising the water level and creating a popular swimming area. A parking lot is on site – at our last update the price was $7 per car per day. Also check out the ever popular Amy's Wicked Slush across the street.
Badger Park (located in the Southeast part of Healdsburg) is also an excellent place to find quiet and shaded spots along the Russian River – great for 'parking' it here for a few hours reading a good book or swimming on warm summer days.
A couple of popular stops – for lodging is the boutique luxury Healdsburg Hotel – not far from The Shed where you can drool over various foods and fresh veggies and order food and drink (with outdoor seating, weather permitting). Oakville Grocery also operates a second branch of their famous Napa counterpart on the Southeast corner of the main plaza. Also one of the more acclaimed restaurants in town is Single Thread Farm.
Raven Theatre is located near the plaza. This historic theatre features popular contemporary movies. The Raven also has several other small theatres. Website: www.healdsburg.org
JENNER is perched on an elevated bluff on the edge of the Sonoma County coastline – on the north side of the mouth of the Russian River (because the river is fairly wide at this point just above the Pacific Ocean – it often feels like a lagoon rather then a river). Population 150 – the town is spread out along Highway 1. Named after the writer, Charles Jenner. While quite foggy, we've noticed that on occasion sometimes the weather is clear in Jenner compared to several miles down the coast line (probably because Jenner is set back from the actual Pacific Ocean.
Worth popping into is the tiny Sonoma Coast Jenner Visitors Center (with a nature store). Looking for some food? Try Jenner By the Sea or for a more casual feel, check out the Cafe Aquatica serving breakfast and lunch (when it's sunny sit outside versus taking your meal to go – so you can take advantage of their views overlooking the Russian River). Slightly north of town is the River's End – serving a delicious dinner (try to plan your meal around the sunset!). A stay at Jenner Inn & Cottages will put you right in the heart of town.
South of town is Goat Rock Beach – a long sandy stretch of the coastline with picturesque views of the Arched Rock just off shore.
During the summer months especially, kayakers love paddling along the mouth of the Russian River. Kayaks can be rented in town from Watertreks Eco-Tours.
KENWOOD is located in the Sonoma Valley along Highway 12. The town is rather spread out along the highway and to a lesser extent along Warm Springs Road. This is among one of Sonoma County's most visited wine regions, the 'Valley of the Moon'and Kenwood is not shy about it's plethora of tasting rooms – with some approximately 15 tasting rooms or wineries within town. This includes the ever popular VJB Vineyards next to Highway 12. This "Italian" experience offers freshly made pizzas, wine, an Italian style deli, gelato and equally as important – a cozy stone wall surrounded courtyard in which to enjoy these products. And sometimes as you approach the courtyard during good weather and on summer weekends you will hear Italian tenors belting out inspiring Italian songs to listening patrons.
Need to stock up on provisions – be sure to hit the Kenwood Market in the Kenwood Village or ready for lunch – right next door is the ever popular Palooza Gastropub. Just down the street is the cozy Cafe Citti, featured on Diners, Drive-ins, and Dives.
If you turn off of Highway 12 onto Warm Springs Road you will quickly be whisked away from the traffic that often plagues this main thoroughfare through town. As you drive west on Warm Springs Road you will come to the pretty Plaza Park with its picturesque view of the Kenwood Community Church across the street. A little further down the road is the Kenwood Depot, a picturesque old stone railroad building. Built in 1987 it was the primary rail depot for Sonoma Valley between the years of 1888 to 1934. Today it functions as a community center.
Morton's Warm Springs Resort has been operating as a resort since the 1880's. Features water from a natural geothermal mineral springs. Takes it's name from Ethel and Harold Morton who purchased the property in 1946 – the Morton family sold in 1980. Great place for family's – features two natural mineral spring pools, sports areas including a baseball field and creek side picnic areas. Located within only a few minutes drive of Kenwood.
Car buffs will recognize the name Flowmaster, Inc., an aftermarket automotive products company – it was founded by Ray Flugger in a barn in Kenwood in 1983.
And depending on the time of year, a seasonal strawberry stand is located on the east side of Highway 12 (with fresh strawberries harvested in the fields directly behind the produce stand).
LARKFIELD-WIKIUP is located just north of Santa Rosa (about 5 miles) via either the 101 Freeway or using Old Redwood Highway which parallels the freeway. Prune orchards used to be in the area before residential housing took hold. Also Native Americans would camp and hunt in the area based on the all the arrowheads we have seen in local fields over the years.
The center of town used to be located near where Mark West School is located today (ie a store, post office and blacksmith shop). Today Larkfield-Wikiup is spread along Old Redwood Highway – with no central core to either location. Larkfield is centered around the Larkfield Shopping center – which contains a variety of specialty shops and services including Molsberrys Market. Across the street is the Mark West Area Chamber of Commerce and Visitors Center (open during normal business hours on the weekdays).
Wikiup takes its roots from 1920 when a businessman named John Rosseter built an 800 acre summer home he called Wikiup – and kept racing greyhounds and thoroughbred racehorses on site (two of which ultimately won the Kentucky Derby). Today Wikiup Drive bears the original name and winds it's way through a number of residential neighborhoods. Eventually Wikiup Drive leads one to the members only Wikiup Tennis & Swim Club (founded in the late 1960's).
MONTE RIO. Welcome to Monte Rio Vacation Wonderland – the 1950's era mostly neon sign hangs near the intersection of D Street and Highway 116. It famously greets all visitors who come through town. Monte Rio was originally a stop on the North Pacific Coast Railroad connecting the communities of Cazadero to Sausalito. The reason this railroad was built was to service the local sawmills that were cutting down the old growth Redwood trees (Sausalito served a ferry which would then ship the wood to be used for construction throughout the San Francisco Bay.
This is one of the core vacation towns located along the very busy in the summer months, Russian River corridor.
Known for being the summer home of the Bohemian Club (a men's only club) – a gathering of members always occurs for several weeks near Monte Rio in July (one notices their presence at the Sonoma County Airport simply based on the fact of the increase in private jets flying in and out). They keep a low profile when they are in town – preferring to hang out on the Bohemian Grove property (which also has river access). Members are the whose who of the business, political and entertainment world – they are leading influencers. Past members have ranged from US Presidents to Heads of States to heads of major corporations. The original property that housed the club was 160 acres of old growth redwoods – the club has since expanded their property ownership in the area and now own over 2,700 acres.
With a lot of the Russian River controlled via private property (beaches below the high water mark are available to the PUBLIC contrary to what any sorely owner tells you – as long as you access them via the river not through private property). With that said, refreshingly Monte Rio offers several public from the land accessible beaches including the largest beach in the area – the simply titled Monte Rio Beach. The nearby but smaller Sandy Beach and Dutch Bill Beach are also worth exploring. While this doesn't happen often, note that sometimes in the summer this part of the Russian River is closed to swimming because of elevated levels of coliform bacteria.
Also known for one of the most intriguing golf courses in all of Sonoma County, Northwood Golf Club. This 9-hole course is situated among the 'giants' of west county – redwood trees that tower up to 150 feet above the greens. An historic course it dates back to the 1920's.
And an icon in town is the Rio Theatre – operating since 1950 in a World War II era Quonset hut. Come here for the films but also for the eclectic food choices (even hot apple cider is available). A bit of west Sonoma County history hangs from the 'auditorium' ceiling – a piece of the 1976 "Running Fence," that was temporarily installed between near Cotati and Bodega Bay. Also check out the neat not very realistic paintings of famous movies on the outside of the theatre.
Looking for grub – try the Rio Cafe Take 2 (also located in a Quonset hut) and the nearby Lucy's Lounge & Grill. The Village Inn & Restaurant is located across the river from town and was used in several scenes in the movie, Holiday Inn, starring Bing Crosby and Fred Astaire.
OCCIDENTAL is one of Sonoma County's most picturesque towns due to its small size, charming feel, and ideal location nestled in the lower reaches of the Coastal foothills. Was originally a stop on the the old North Pacific Coast Railroad. The Railroad has long stopped running but the town that was built remains as charming as ever. Today it is a bucolic stop in Western Sonoma County featuring several restaurants, a tavern, a wine tasting room and several hotels. Negri's Restaurant and the Union Hotel are names synonymous with Occidental.
For a very picturesque and rural drive, one can take Coleman Valley Road which climbs out of Occidental and meanders through the coastal hills before sharply dropping down to Highway 1 just north of Bodega Bay.
For those looking for a little soft adventure, Sonoma Canopy Tours offers zip lining experiences near town.
PENNGROVE is a small community located just east of the 101 freeway. Main Street USA – this town is all about its Main Street. Visitors can easily walk through the center of town – spread out along several blocks. Originally settled in the early 1850's – the town was later built up around a freight stop on the railroad from Petaluma to Santa Rosa. Originally known for a chicken and egg producing part of the county – Penngrove was also home to nearby stone quarries supplying basalt paving stones around parts of the San Francisco Bay Area.
Remarkably there are no wineries or tasting rooms located within town – but there are several other fine establishments worth noting. Arguably the most impressive building in town is home to a Buddhist Center. Several food options include Yanni's Sausage Grill, the neighboring Mack's Bar & Grill and on the southern edge of town in the tiny Grove Plaza Shopping center is Full Circle Baking Company and a charming boutique home and gift shop who puts the "hello" in town – called Hello Penngrove.
The SMART train bisects part of this tiny town – but there is no active depot here and the train does not stop. If you have children with you, the tiny Penngrove Community Park is worth checking out. Parking in town is generally curbside along main street. Easy to access Penngrove from Santa Rosa – either on Petaluma Hill Road or by using the 101.
PETALUMA You can pet a cat, you can pet a dog, but you can never pet a luma. Long known as the egg capital of the state, the surrounding countryside is also home to dairy farms. The core part of town is visually pretty – with a historical feel. Small restaurants, boutique shops and other artisans offer a visitor plenty of shopping opportunities. A number of the historic buildings remain, having survived a devastating earthquake in 1906.
Worth visiting is the Seed Bank located downtown in a small building (formerly in an old 1920's era bank building). This is the west coast location for Baker Heirloom Seeds and the various selection of unique and rare plants and vegetables is rather remarkable.
The downtown is compact enough where you can park and easily explore its cozy confines on foot. The Petaluma River is located on the eastern fringes of downtown. The Petaluma River Mill (established in 1854) features a number of specialty shops. Worth exploring is the Theatre Disrict – check out McNear's and the Mystic Theatre both housed in historic buildings located next to each other. The nearby Boulevard 14 shows current movie releases. Sugo Trattoria is owned by acclaimed travel blogger Annette White and her husband Peter – it is located in an unassuming little shopping center (indoor and outdoor seating).
And worth checking out is The Block Petaluma, a beer garden and a gathering for various food trucks. Located off of E Washington Street before you cross the Petlauma River and just before entering the downtown district. Only about a 7 minute walk from the SMART train station.
A bit outside of town is the Petaluma Adobe (to the east) is one of the best preserved adobe buildings in the entire state. Originally construction started in 1836 – but ultimately it was built over a span of 20+ years and was completed in 1857. The adobe was founded by General Mariano Vallejo (see our review of Sonoma for more information about this historical figure). Livestock was kept and crops were planted on the land surrounding the adobe. The workforce was hundreds of local native Americans.
Visitor's can see rooms on both the first floor and second story. If you look closely at the walls – often through the faded white-wash exterior you will see they are in fact made of adobe soil containing pieces of straw. We actually spent a night once here in what locals refer to simply as the 'old adobe'.
A bit further outside of town is the Marin French Cheese Company – about a 15 minute drive from downtown Petaluma on the way to the Point Reyes National Seashore. A stop here is a welcome one – especially on a warm day. A small pond is on site with picinic tables. The store sells a variety of cheeses, snacks and sandwiches. Ideal spot to relax outdoors on a warm day.
RIO NIDO is located along the Russian River about a 30 minute drive from downtown Santa Rosa. If it wasn't for the bright red Rio Nido sign hanging above River Road you might simply pass through without even being aware of it's existence. Near the sign is the ever popular Rio Nido Roadhouse set at the base of numerous redwood trees. Features a lively bar and live music on the weekends. The next door Rio Nido Lodge has hosted a number of famous musicians over the years. Also a public pool here.
The town (population approximately 500 people) is spread out on the north side of the Russian River, near where the river makes a sharp bend. As you head towards Guerneville – on your right hand side you will find the Stumptown Brewery – a great place to enjoy local brews on their large deck overlooking the Russian River.
Like other parts along the river – during heavy winter rains sometimes the Russian River rises so high it will cause localized flooding along its channel.
ROHNERT PARK, the 'friendly city' as they bill themselves or also referred to as the 'commuter city' or 'bedroom community' of Santa Rosa or perhaps should be referred to as 'America's most boring bedroom community'. There is even a street called "No Name Street", we can't tell if that is being creative or shows a lack of creativity. With that said, this town is an ideal place to safely raise a family. Also the gateway community for Sonoma State University. Sonoma State University is known as being a good value for the education provided – and offers a top wine business program.
Rohnert Park was one of the country's earliest planned communities – laid out in the late 1950's after the 101 freeway was built. Unfortunately this town doesn't really have a central core; there isn't a true downtown (perhaps the closest to the center of town is the City Center Plaza Lawn) and when you try to look up Rohnert Park on online maps – the center of town usually just shows a neighborhood. The City Hall is located across from a bunch of apartments – also in a residential neighborhood.
Home of Spreckels Performing Arts Center (theatre and musical productions). Also known for the 50-foot-high digital billboard located right next to the 101 freeway which constantly flashes digital ads. Cal Skate offers roller skating in their indoor arena.
For tourists, the Graton Casino is potentially one of the few attractions here. This dominant feature on the Rohnert Park landscape is located just west of the 101 freeway. Look for their 1/4 mile (at least) long turn lane off of Wilfred Ave. A plethora of parking surrounds the casino and hotel – including numerous outdoor spaces as well as a multi-level parking garage. Soothing music is softly piped via small speakers to parts of the outdoor lot. As in many casinos, when you approach the entrance the musty smells of cigarette smoke soon will caress your olfactory nerves.
A highly unusual restaurant is Amy's Drive Thru (located right next to the 101 freeway. Can't miss seeing this unusual looking space simply based on their living roof. Focuses on veggie and vegan fast food. Features both a drive thru and sit down seating.
Scandia Family Fun Center is located on Redwood Drive (parallel to the 101 freeway). Features batting cages, mini golf and a go cart track. Plenty to keep those of all ages entertained here.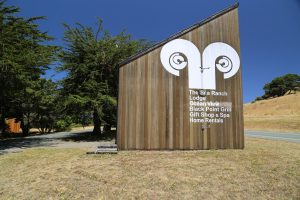 SEA RANCH contains a surprising number of residential homes and neighborhoods tucked in among the coastal bluffs. Not really a center of town – rather the neighborhoods are spread out over a distance of about 10 miles. For miles to the south of Sea Ranch there is no cell service (at least with ATT) but as soon as you reach the fringes of southern Sea Ranch there is very good service along Highway 1. While only about 45 miles from Santa Rosa – it can take upwards of 2 hours to drive here because of narrow, windy roads with low speed limits.
We have noticed a number of license plates from Southern California and from the San Jose Bay area during our visits – this corresponds to the fact that many of the homes in the area are vacation rentals. This is a private community and the entrances to each neighborhood are marked as such – roads only to be used by the residents or their guests. In general the homes are wooden and often grey in color.
Visitor's to the area who do not have a vacation rental secured can stay at the Sea Ranch Lodge and eat on site at the Black Point Grill. Staying here gives one the same access to the area's amenities that are closed to the public (ie many of the private hiking trails or tennis courts). Sonoma County's northern most golf course, open to the public anchors the northern part of Sea Ranch (Sea Ranch Golf Links). Spread out along the rugged coastline, there are a number of public access trails leading down to small often rocky beaches including Shell Beach and Stengel Beach.
Worth stopping at is the Sea Ranch Chapel completed in 1985 – a gift to the community by local residents. One of the most unique looking chapels you will ever see – it is creatively designed to mirror the nearby surroundings – find what you want in its look but it most commonly is said to resemble a wave or a bird in flight. Located on the east side of Highway 1 (address: 40033 Highway 1)

SEBASTOPOL is about a 15 minute drive west of Santa Rosa. Sebastopol (Peacetown, Nuclear Free Zone, etc) is a sister city of Takeo City, Japan and Chihirin in the Ukraine. This small town features a number of boutique shops, restaurants and the often popular The Barlow – a 12-acre space featuring a number of artisans including products such as coffee, clothing, wine, food and art. Central Sebastopol is fairly easy to get around on foot and The Barlow is within easy walking distance of the center of town. Also the Community Market on site is very popular with locals.
Across the highway from the Barlow is the Gravenstein Station featuring a number of artisan shops including food, wine, chocolate and a coffee roaster. Look for the iconic water tower in front as well as the black vintage lococomotive. Very centrally located here is The Sebastopol Inn (great place to stay simply based on it's proximity to both the Barlow and the Gravenstein Station).
A Farmer's Market operates year round on Sunday mornings in the Sebastopol Central Park – features a number of local vendors.
Screamin' Mimi's is an institution in town – locally well-known as the go to ice cream shop. Another restaurants= worth checking out is Ramen Gaijin.
Also home to the picturesque Enmanji Buddhist Temple.
And for sawmill enthusiasts who either live in the area or time their visit to Sebastopol correctly, check out Sturgeon's Mill, a 100+ year old steam powered sawmill. This working museum is only open 4 weekends a year, generally in spring, summer, and twice in fall from 10am until 3pm. This is a unique and uncommon experience and is great fun for all ages.
It was founded in 1912 by Wade Sturgeon with the original location in Coleman Valley, later being moved to its current location in 1924. The mill continued to run until 1963 (operated by Wade's two sons). The mill remained in-operational until 1993 when Wade's heirs, along with volunteers began restoring the mill. It wasn't until 2002 that the restoration had progressed far enough so that the old machines could now be operated and by 2006 a new boiler was installed – allowing the mill to once again be operated by steam.
Watch "lumberjacks" in action – working the mill – large pieces of wood are fed through and come out as thick boards. Also blacksmiths hone their craft in a separate section. Be sure to talk to the folks running the operations – they are a wealth of information and are happy to share information and history about their particular skills.
Old pieces of machinery operate throughout the day – we've seen some dating back to the early 1900s. Food (hamburgers, chicken sandwiches and nachos) is served around the middle of the day for several hours Admission is free – plenty of parking on site in the dirt/gravel parking lot. About a 15 minute drive from downtown Sebastopol on mostly tiny country roads. Load your GPS before you get to close to Sturgeon's Mill – as cell phone service is generally nonexistent at the mill.
The Joe Rodata Trail connects Santa Rosa to Sebastopol. This path parallels Highway 12 for most of the way and is often used by bicyclists and pedestrians. We have cycled this path before; it takes about an hour going at a leisurely pace.
Laguna de Santa Rosa is a sizable wetland area located between Santa Rosa and Sebastopol – off of Highway 12. Features a number of rare and endangered plants. The Laguna de Santa Rosa trailhead is located off a short distance off of Highway 12. Almost 2 miles long it is flat with a trail base of crushed stones. Good for both hikers and bikers. There is also access via Occidental Road – but note that the parking lot here is much smaller then the parking lot on Highway 12 and cannot accommodate horse trailers.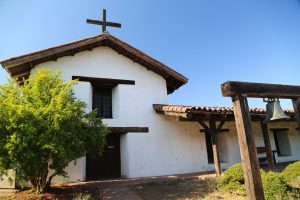 SONOMA is an extremely historic and charming town located 18 miles from Santa Rosa on Highway 12. Your drive along Highway 12 will take you through the heart of the Sonoma Valley wine country (Valley of the Moon). As you drive towards Sonoma from Santa Rosa you will pass through Kenwood. The comedy duo the Smother Brothers used to have a tasting room near here.
Just before you arrive in Sonoma you will pass the Fairmont Sonoma Mission Inn and Spa. This premium resort is located at 18140 Sonoma Highway in Aguas Calientes. Most of Sonoma is centered to the south of the main plaza – surprisingly a large amount of open space is located to the north of town – within a block or two walk of the plaza.
The most northerly of the California missions is in Sonoma (with various parts of the Mission constructed in the early to mid 1820's). The Sonoma Mission is where the first California Bear Flag was raised. This flag was first used to signify the independent Republic of California. This Mission is not as large or impressive as say Mission Santa Barbara, but it is beautiful in its own right. The remains of many native Americans were discovered to be buried in front of the Mission and under one of the main streets.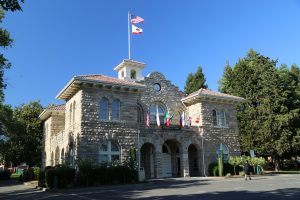 Sonoma used to be the most northerly town of the Spanish state of Mexico. The Blue Wing Inn (still standing) was an adobe hotel visited by legends such as Kit Carson, General Ulysses S. Grant (president of the USA) and the famed bandit Joaquin Murieta.
General Mariano Vallejo used to live in Sonoma. General Vallejo was an important historical figure in California's early history (born in Monterey in 1808 and died in Sonoma in 1890). He was part of the Bear Flag Rebellion and the city of Vallejo takes his namesake. His home (called Lachryma Montis) is now a museum and is open to the public. Located within a short drive or walk from the plaza – the house is located down a long driveway (often pedestrians will be walking on this driveway – coming from the main part of town). The house was an early "prefab" – it was built on the east coast and shipped around the Cape Horn and ultimately assembled in Sonoma. But it looks anything like a generic prefab house – rather it was built in the Gothic American Victorian style. Guests enter the house as part of a self-guided tor. Rooms are gated but both the bottom floor and the second story are open to visitors.
The Chalet is a wood and brick building which serves as the visitor's center and museum for the property. General Vallejo's horse drawn carriage (fully restored) is contained inside.
Culinary enthusiasts should check out the original Williams-Sonoma store – founded in 1956 when founder Chuck Williams opened a specialty cookware shop within a hardware store in Sonoma. He ran this for about 2 years before moving the store to San Francisco. Nearly 60 years after Chuck moved his shop out of this building – in 2014 Williams Sonoma opened a modern day Williams Sonoma store after they purchased the building. This living museum features a retail store and a cooking school (as well as allowing people to enjoy a picnic lunch in their back garden). The store is located a short walk from the main plaza at 605 Broadway Street. Remarkably Williams Sonoma now operates more then 600 stores across the country and select International locations. While Chuck is no longer around – he lived a full life, passing on at age 100 in 2015.
The landscape around the city of Sonoma is rich in viticultural history. Buena Vista Winery is only about a 10 minute drive from downtown Sonoma – this historic winery is California's oldest winery – dating from 1857 (although there were earlier wineries in Los Angeles county but are no longer around). Founded by Hungarian immigrant Agoston Haraszthy (he employed Charles Krug at one point – the founder of now Napa Valley's oldest winery). Agoston met his untimely death in 1869 in a Nicaraguan river while exploring the jungles of that country. Owned by the ever creative-flamboyant, Jean Charles Boisset, Jean Charles has added his own touch to the winery – with the historic cellars undergoing a major restoration in 2012.
And also of equal historical interest is nearby Gundlach Bundschu, the state's oldest continuously family owned winery dating back to 1858 although vintages have not been made every since since 1858. The driveway is long helping build anticipation for first time visitors to a property so historical as this one. Founded by Jacob Gundlach in 1858 – the Bundschu comes from Charles Bundschu who married Jacob's daughter Francisca.
The old stone winery (built in the 1870's) houses the tasting room and gift shop. A small pond is located on site next to an outdoor picnic area – the views are calming. A trail leads up the side of the nearby hill – to several picnic tables as well as additional views of the southern Sonoma Valley. Unfortunately the family home was destroyed in the widespread fires of October 2017 but the winery was saved.
Sonoma's central plaza is larger then Healdsburg's plaza. Many boutique shops, galleries, and antique stores as well as something like 30+ tasting rooms are located within an easy walk around the main square. A number of restaurants and several hotels overlook the square. The hotel where Maya Angelou lived for several months and wrote one of her books is located on the western side of the plaza. Several well-regarded good cheese factories are located on the square including the Sonoma Cheese Factory. A fixture in Sonoma County, Mary's Pizza Shack, operates a restaurant on the plaza. Her original restaurant is located along Highway 12 a few miles from Sonoma. What is probably Sonoma's most famous restaurant, the Girl and the Fig is located on the northern edge of the plaza.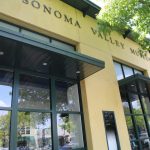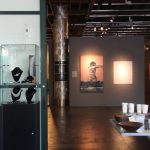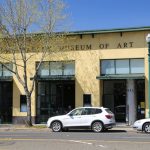 Located within a short walk south of the Sonoma Plaza is the Sonoma Valley Museum of Art (address: 551 Broadway). Three hour free street parking is located curbside in front and near the museum. The museum contains three thousand square feet of exhibition space as well as a 2,500 volume art library. In addition to the museum space, workshops and other art focused lectures are offered year round. No permanent collections here – rather the space is used for rotating exhibitions mostly relating to local and California history.
Were not done with Sonoma yet. Home to the Sonoma Stompers – an independent professional baseball team, the Stompers play at Peoples Home Equity Ballpark at Arnold Field. Well known for creating an environment of inclusion rather then exclusion, the team has been home to a number of notable baseball firsts including having the first openly gay active professional baseball player, playing the oldest person (at age 67) to ever win a professional baseball game and having two women players on the same team (the first time a professional team has had that since the 1950's). Incidentally a year round farmer's market is held in the parking lot here every Friday morning.
And of interest for families and train enthusiasts is Sonoma TrainTown Railroad, located on the southern edge of town featuring 10 acres of model trains located in a pretty environment (gardens and water). Open since 1968. Features 4 miles of railroad track with a quarter scale railroad offering rides throughout the park. Also a number of train 'soft' amusement rides.
Sonoma Photos

VALLEY FORD. For miles Highway 1 hugs the coastline in both Northern and Southern California. However here, it actually cuts inland for a short distance; Valley Ford is located directly on both sides off Highway 1 (about 10 minutes from Bodega Bay or about 15 minutes from Dillon Beach). The town is just barely across the Sonoma County line (Marin is the neighboring county). Lots of rolling hills in the area – and plenty of open grassland that one finds in this part of the county as you get closer to the ocean. This is prime dairy country.
Unlike nearby Bloomfield which experienced a decrease in population because there was never a railroad stop built there, Valley Ford was a stop on the North Pacific Coast Railroad – which connected a number of small towns between Cazadero and Sausalito. The temporary art installation, Running Fence (which we have mentioned in this guide a few times as it pertains to the west county) ran through Valley Ford in 1976 for 2 weeks.
The town is small with most everything of interest for visitors easily within walking distance of each other. The Estero Cafe specializes in farm to table breakfast and lunch. If the weather is pleasant outdoor seating is available. Staying on the same side of the street – one finds the Valley Ford Market – a mix of locals and tourists based upon their diverse inventory of products (including local wines). Across the street, is one of the towns mainstays – the Valley Ford Hotel built in 1864 (with just a few rooms) and the ever popular creatively named, Rocker Oysterfeller's restaurant on site.
And greeting visitors who drive in from the north is a building with large words painted on the wooden exterior, Family Style Italian Dinners. This is Dinucci's Italian Dinners – offering both seafood and steak options.
WINDSOR is located just north of Santa Rosa. It's namesake is the Windsor Castle in England – the town's first postmaster chose this name because the region reminded him of the grounds of that old castle. Today downtown Windsor has almost a Truman Showesque feel at times. Charming and cute, the downtown is clean and modern and new – almost looking like a movie set.
The town is centered around the Windsor Green – a large park. Highlights in the summer include the Summer Nights on the Green which features lots of food, the Windsor Farmer's Market and free concerts.
The Windsor Chamber of Commerce and Visitors Center is located downtown at 9001 Windsor Road (located in the Windsor Depot building).