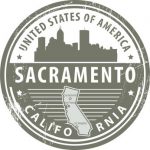 Fat City Bar & Café was located right in the heart of Old Sacramento (Old Town is worth visiting in its own right). This was a historic restaurant favorite with locals and tourists alike. It was housed in a building that was originally constructed in 1849, the heart of California's gold rush. This building was supposedly home to Sacramento's first general store and was one of the first buildings in town.
It was constructed and originally owned by the locally famous Samuel Brannan who started one of the first newspapers in San Francisco – as well as founded the town of Calistoga in Napa Valley. the inside is a mix of Victorian décor including intriguing stained glass windows, overhead lights and a very classic looking bar. For more information please visit their website at: www.fatsrestaurants.com
NOTE: while Fat City continues to operate other restaurant locations in Sacramento, Folsom and Roseville, this particular Fat City permanently closed in 2019 after 43 years in business.