We love the energy of Maputo. It is vibrant, entrepreneurial, positive, and alive. Though Mozambique is not without its problems, its capital city is clearly on the move, transforming itself and melding some of the best parts of its rich and diverse cultures.
We spent the first day visiting a workshop organized by Prolinnova, the Spanish NGO Centro de Iniciativas para la Cooperacion/Bata, and the National Farmers Union of Mozambique, UNAC. The workshop brought farmers together from across the country to share with each other the different innovations each farmer practices in her or his community. The farmers led the meeting, drove the discussion, and presented their own findings. It was really refreshing to hear from the people who know best what is working and what needs to be scaled-up across the country.
The next day we spent an awe-inspiring couple of hours with Dr. Rosa Costa at International Rural Poultry Center of the Kyeema Foundation in Mozambique. Newcastle disease, which can wipe out entire flocks of chickens and easily spread from farm to farm, is especially devastating for rural farmers in sub-Saharan Africa. Today, however, thanks to the work of the Kyeema foundation, villages in Mozambique have access not only to vaccines, but also to locally trained community vaccinators (or para-vets) who can help spot and treat Newcastle and other poultry diseases before they spread.
We also visited with Madyo Couto who works under the Mozambique Ministry of Tourism to help manage the country's Transfrontier Conservation Areas (TFCAs). These areas were initially established to help conserve and protect wildlife, but they're now evolving to include other uses of land that aren't specifically for conservation. In addition to linking the communities that live near or in conservation areas to the private sector to build lodges and other services for tourists, they're also helping farmers establish honey projects to generate income.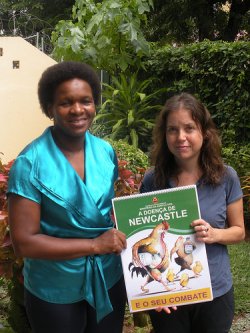 Finally we met with Jessica Milgroom, an American graduate student working with farming communities living inside Limpopo National Park, in southern Mozambique. When the park was established in 2001, it was essentially "parked on top of 27,000 people," says Jessica. Some 7,000 of the residents needed to be resettled to other areas, including within the park, which reduced their access to food and farmland. Jessica's job is to see what can be done to improve resettlement food security. But rather than simply recommending intensified agriculture in the park to make better use of less land, Jessica worked with the local community to collect and identify local seed varieties, creating a more affordable and diverse set of crop options for local farmers.
After only five days in Maputo, we already plan to come back for another visit. Mozambique is so vast and incredible with loads of amazing projects to visit that our brief trip simply wasn't enough time.
Who we are: BorderJumpers began in October 2009 in Addis Ababa, Ethiopia — when Bernard Pollack and Danielle Nierenberg began a journey to travel in Africa. At every stop they are meeting with farmers, community organizers, labor activists/leaders, non-governmental organization (NGOs), the funding and donor communities, and local, regional, and international press.
With a Sony handycam, a 8-year old laptop, and sporadic internet connections – their goal is to bring stories of hope from across the region to as large an audience as possible. They will tell the stories that aren't being told-from oil workers fighting to have a union in Nigeria to innovative ways farmers and pastoralists are coping with climate change.