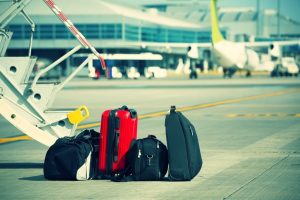 Article courtesy of Travel Just 4U, an Australia Travel Agency that specializes in tailored tours of South America.
We Australians tend to have to travel long distances just to get anywhere. So much so that we like to think of ourselves as wizened travelers who know the tricks of the trade. Here are some of our favorite travel tips from the frontlines of baggage handlers at airports.
When we travel it's easy for us to take for granted some of the risks involved. Packing all your most treasured and expensive personal belongings into a bag that's entrusted to strangers is rarely given a second thought. Damaged or lost baggage can be a very expensive start or end to your holiday.
Baggage handlers have to lift hundreds of bags every day for very little money, so making their job a little easier can go a long way to preserving your luggage.
How to do that? Luckily the decent people over at Reddit have given us some essential tips to minimize the chances of anything happening to your luggage. Check out these pointers from a baggage handler, and keep them in mind next time you travel.
If you're travelling in a couple, get matching bags. You might feel a little bit ridiculous, but baggage handlers are more likely to keep your bags together as they stack well and look like a set, leaving you to get out the airport quickly.
Keep it as light as possible. No-one likes lifting heavy luggage, so imagine having to do it all day. If your bag is particularly heavy less care will be taken owing to the hardship of lifting it. "Sometimes we just throw with very little care because they are too heavy to do carefully", says craigyboy2601.
If you have to pack heavy, think robust and think wheels. Your baggage handler is going to be very thankful if your bag is at least easy to maneuver, and you minimize the amount of time your luggage will spend being lifted.
Get a handle on your luggage. As in, a good handle that won't snap off when the baggage handlers are doing their job.
Take the time to fill out the name/address form. Sounds obvious, right? Many people forget, though, meaning their luggage is difficult to identify should something happen.
Remove old tags. Think about your poor baggage handler having to leaf through all those old tags looks for the right one. They don't have all day, this is a quick process and your old tags are slowing everyone down.
Fill your bag. Sure it makes sense to save space for your shopping, but for the good of your bag try and fill it with newspaper or bubble wrap. It will maintain its shape better and your clothes will crease less.
Rectangle luggage is better. If you're a sucker for the rounded luggage that's become fashionable recently fine, but your baggage handler will thank you if you opt for an easily-stacked rectangle bag.
Try to avoid add-ons. This means travel pillows, sleeping bags, hoodies or anything similar. The more that's attached to your bag, the more likely it is something will get snapped off and lost.
Put fragile items in the middle of your bag. Kind of a no-brainer, but always good to remember.
If something's fragile, get it labelled. Something very important should be labelled specifically, so that the handlers know exactly what they're dealing with and can work accordingly.
Lock up your stuff. Obviously no-one likes to imagine their baggage handlers could steal from them, and most people in the business are honest. There are inevitably, however, a few bad eggs and just a basic lock can help put them off.
Make your luggage distinctive, you'll be able to spot it easier and is less likely to get picked up by someone else at baggage reclaim.
Attach something distinctive to your black luggage. If you can't splash out on new luggage and are stuck with your old, generic black suitcases, just stick something distinctive to them such as bright blue tape, or a colourful bow.
Check in early. The later you check in the more likely it is that your bag will miss the plane.
Don't bother with fancy bags, but don't skimp on price. The most important thing to consider when buying baggage is how durable it is. Baggage handlers don't care if your new luggage is brand new and carries a brand name; they'll chuck it on the pile just like the rest. This means your baggage will get scuffed quickly, so focus on spending your money on luggage that will last, not look fancy.
Fasten your luggage tight. Theft happens, as mentioned, but it's far less common in your average airport than, say, just something falling out. Be sure your bags are well-closed and your zips aren't to the point of bursting open. Baggage handlers will find it hard to notice spilled luggage when they're rushing to get all the bags aboard.
Be wary of connections with little time to spare. Your bag has to travel a long way to change planes, and go through many hands. Flight connections with less than an hour to spare will require your baggage handlers to take less care of your luggage and, therefore, the chances of losing your baggage somewhere along the way are increased.
Put your toiletries in a separate compartment. If there is any damage to your toiletries it can be a disaster for the rest of your luggage, so seal everything in a separate plastic bag and keep it all in a different compartment.
Put expensive clothing in the middle of the bag. When your bag is getting whisked around the airport the clothing at the edge of the bag can easily get snagged on zips. Make sure it doesn't happen to your favourite clothes by keeping them in the middle.
Got Suggestions? Help lower airport rage and share your tips below 🙂