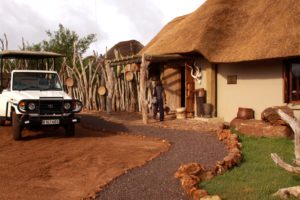 Where does a person go if she wishes to view the largest elephants in the world in their natural habitat? Botswana, specifically she would embark on a Botswana safari to Chobe National Park. This park is so enormous it can claim four separate ecosystems. There are more than elephants to view of course; the area has an impressive predator population that includes lions and hyenas.
Another spectacular destination for a Botswana safari is the Okavango Delta. The wetland area offers travelers a unique opportunity to view bird and animal life from a canoe called a mokoro. Robust tourists enjoy the opportunity to walk the area with a guide and photograph the local flora and fauna. Animals are drawn to water and the swamps are home to hippos, crocodiles, and a wide range of birds among other species. Lions, cheetahs, wild dogs, and cheetahs slip down to the waters edge for a welcome drink that could be a photo opportunity for the alert visitor.
No Botswana safari is complete without a visit to the Moremi Reserve. The reserve serves as shelter to the greatly endangered African wild dog. The remote camps in this area are accessible only by air or via rugged trucks. It is worth the effort to see more than 550 species of birds in one spot as well as both white and black rhinos. Including the rhinos, three of the Big Five species live in the Moremi Reserve; visitors can spot lions and leopards at this safari destination.
It is important to educate the generation coming up on the importance of wildlife to Botswana. Every safari is educational, but a Botswana safari to the private Mokolodi Nature Reserve is a very special experience. A former cattle ranch, the reserve has blossomed into a model reserve, supporting plant and animal species that were teetering on the edge of extinction. The emphasis here is on not only environmental level headedness, but also address the thorny economics of sustainability.
Visitors have a special opportunity to get up close – but not too personal – with giraffes, zebras, thorny porcupines and jumpy hares. While the animals have no fear of humans, it is important to remember that they will always be creatures of the wild. The elephant walk holds a special charm for children and adults alike who have never seen these lovely animals living in the comfort of their native habitat.
Africa affords travelers many opportunities but none as special as the chance to go on a Botswana safari.