Marangu, Tanzania
9/9/2000 – Saturday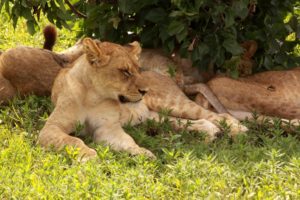 At 9 am Bill, Carole and I left the Kibo Hotel in Marangu in a green Land Rover with our driver Fred to start our photo safari in the Tanzanian bush. We drove to a bank in Moshi where I obtained a VISA advance to buy a tanzanite gem and then to a jewelry store for ring sizing and setting. The stone I've selected is to be set into a ring while I'm on safari and will be delivered to me later. Then we drive on to Arusha and go into the Hoopoe Tours office where we receive our safari itinerary and get to email home for the first time. I'm not able to access my own email account and retrieve my address directory; so I only email Mary Munds in my office and my son Kevin (as I can remember those addresses) to tell them that I summited Kilimanjaro and am still alive and well. I really hope they get this communication as there are no phones here to call home.
After picking up four box lunches to take with us, we drive on toward Tarangire National Park for late afternoon animal viewing. We stop first at our tent camp, called Tamarind Camp, and leave our bags. Carole and I are staying in tent #2 and leave our bags there; there are about six canvas tents here for guests plus a dining tent. Upon arrival the most memorable thing here was seeing the huge piles of elephant dung around camp as the elephants come through camp often and had been here last night. A little girl had become frightened of the elephants and ran out of her tent to a parent in another tent amid the elephants. I'm really hoping that I can sleep lightly tonight and that they return.
Arriving at the park gate, we stopped to use the restrooms first. A sign at the restroom read "Our apologies. The restroom is out of service because elephants crushed the water lines. Use the pit out in back." It was also interesting that there was a main gate to the park guarded by a soldier with machine gun when beside the gate there were no fences anywhere. Since animals could roam freely in and out of the park, I wondered why a 4-wheel drive vehicle couldn't just enter anywhere the driver wanted to.
That afternoon we saw giraffes, zebras, elephants, wildebeests, warthogs, baboons, ostrich, velvet monkeys, impalas, guinea hens and one cheetah. The most remarkable scene was watching the cheetah stalk a baby impala while we just quietly viewed the scene until one tourist in a private car decided he wanted a closer look and drove his vehicle in the middle of the whole scene between the cheetah and impala and stopped the drama. The rest of the observers all gave him a piece of their mind.
As the sun was setting, we drove back into Tamarind Camp and ordered hot showers. Each tent had one bucket on top of it suspended by a pulley system. We'd ask a worker for hot water who would then bring over one bucket of water to pour in the other bucket, which would be pulleyed to the top of the tent and dumped. Inside the tent there was a bathroom of sorts all made of canvas walls where a shower could be delivered with the turning on of one valve. It was one of those frugal showers where you turn on the water to get wet, turn it off, soap up, then turn it on again to rinse; quite luxurious camping compared to backpacking! The tent came equipped with a chemical toilet, a water basin and a bucket of water for washing up, and an empty bucket for disposing of used water.
All clean we went to the dining tent for a candlelit dinner of cheese pasta salad, spaghetti bolognaise, vegetables, cake and creme, along with a bottle of South African red wine that I purchased for the three of us. It was quite an amazing feast for a remote place way out in the bush. After dinner we were told that we were never to walk alone back to our tents because of the lions and elephants nearby. We were escorted by a Maasai with his spear and knife along a path lit by kerosene lanterns. It was quite romantic; I thought that some day I'll come back here with someone special. I lay down in my bed to the sounds of crickets and birds chirping and the wind blowing, hoping that the elephants will come tonight. If they do come, we are warned not to exit our tents, not to shine a flashlight on them, and not to use any flash photography. All these things will make them angry, and they would charge us. I slept soundly and was not aware of any elephant activity that night. Darn!
9/10 – Sunday
Carole and I are up at 6:30 am, hoping for some great fresh-brewed Tanzanian coffee to be delivered to our tent when a thermos of hot water and instant coffee is placed there. After a breakfast of sausage, bacon, eggs, lots of fresh fruit and hot chocolate, we left at 8 am for Tarangire National Park again. Today we saw all the same animals as the day before but also mongoose, serval cats, gazelles, lions, water bucks, dikdiks and elans. We saw a magnificent male lion guarding his new wildebeest kill. We observed the drama of a lioness stalking a herd of zebras from her vantagepoint on a plateau above a river as they approached to drink. They were slow and skittish approaching, but then we saw a cloud of dust as they zebras raced out of the river; and we knew the lioness had made her move. We waited, wondering if she had been successful, unable to see the bottom of the river from the road that we were not allowed to drive off of. About ten minutes later we saw the lioness walk back up the plateau, and we knew that the zebras had been lucky that time.
We also saw a lioness resting with her cubs under the shade of an acacia tree. Elephants were very curious or threatening, not sure which, because as they kept coming closer, too close to our Land Rover, Fred drove away from them. Fred is especially cautious around the mothers with their baby elephants. Most of the animals we see are up close and personal; but for the animals in the distance, Fred is an incredible guide who can spot an animal in the shade of a remote tree when we can barely see it with binoculars. We spent the entire day out viewing animals, stopping only to enjoy our box lunch of fried chicken, hard-boiled egg, carrots, cucumber, juice, cookie and chocolate…way too much food for someone not being allowed to walk anywhere.
We're back in camp at 4 pm for another bucketed hot shower and rest. Candlelight dinner included carrot and raisin salad, creme of onion soup, pan-fried fish, potatoes, peas, carrots and bread pudding. Escorted by the Maasai, we go back to our very comfortable tents, which we are told are very rustic, but are really very nice. I could easily live in one long-term. As we settle in for the night, I am really hoping to hear and see the elephants come through camp tonight.
9/11 – Monday
Awaking at 6:15 am to a peachy rose sunrise, I realize that I didn't see any elephants last night. Darn! Instant coffee is waiting for us outside the tent again. In the dining tent as we eat our breakfast of fruit, eggs, bacon, sausage and coffee, we find out from the folks that stayed in tent #4, a very short distance away from our tent, that in fact the elephants did come through camp last night right beside their tent and woke them up. It was all very exciting, and I was insanely jealous that I had been such a deep sleeper and had missed all the action. We packed up our luggage, paid our tips to staff, said our good-byes and thanks and drove on to a Maasai village where we stopped for photographs and gave villagers our trail mix food. After an hour and a half we arrived at our next camp, called Kirurumu Tented Lodge, which is a step up from Tamarind Camp as these tents are on foundations and have running water with a regular showers and toilets, quite upscale. Carole decides to tent with Bill, and I have a tent solo. After leaving off all our gear, we drive on towards Lake Manyara National Park for game viewing, stopping once to get gasoline at a tiny gas station where a generator has to be turned on first in order to pump the fuel.
The Lake Manyara area is lush, dense and green; and therefore, it was more difficult to spot the animals. In the clearings we did see giraffes, elephants, water buffalo, impalas, zebras, baboons and pink flamingos; but having been spoiled by the abundance of animals in Tarangire, we were somewhat disappointed in Lake Manyara National Park and later advised the tour company that they not recommend it to other travelers.
Back at our luxury tents, we take very hot showers with solar-heated water and enjoy electric lighting to read by. Carole and I decide to go on a nature walk with a Maasai villager named Malunga. He's tall, thin, handsome and proud looking who works part of the time in this luxury tented camp and the rest of the time he goes home to his family down in the plains in a mud house with no water, electricity, etc, living in two distinctly different worlds, and enjoying both. He has a wife and two children down in the mud house even though he explains to us that it is quite acceptable for Maasai men to have several wives. His father had 5 wives, but Malunga said that one wife was enough for him! We notice that Malunga has a branded small circle on each cheek, and we have noticed the same thing on Fred's cheeks. We ask Malunga about it, and he says that it is customary for the Maasai to brand their faces this way. This is the first time that we realize that our driver Fred is a Maasai. We wonder if he is not proud of that fact, as he had never mentioned it. We find out that Fred has always lived in cities and has had a very different lifestyle from Malunga even though they have the same roots. Malunga seems to be proud of his heritage and proceeds to teach us about all the plants in the area. He points out which plants are used to abort a pregnancy, cure syphilis or gonorrhea, relieve toothaches, stop diarrhea, cure gout, make alcohol, relieve sunburn, or become an adhesive. I think about how much my brother Steve would enjoy this nature walk, as he is an expert in the uses of local plants back at home.
Malunga tells us about how the Tanzanian government has taken away the land from the Maasai and given them nothing in return; it sounds just like what we did to the Indians. The Maasai are a nomadic people that herd their livestock, their only assets, and keep moving from place to place, building mud huts with grass roofs. There has been a severe drought for the last year; and, depending on which part of the country one visits, the Maasai have lost between 40% and 70% of all their livestock. We frequently see little children about age 5 alone herding goats to forage from one place to the next. We came across one little Maasai boy playing a homemade musical instrument something like a violin. I gave him a chocolate bar to share with some other children he was with. We ask Malunga why the Maasai always wear red; and he replies that they do it so that they can see each other from greater distances apart and that they used to dye all their clothing with animal blood, but now they use dyes. Maasai have traditionally drunk the blood of live animals by puncturing their veins. Malunga's tour was delightful and informative; we're impressed with this articulate and proud man who has completed the 7th grade in school. He speaks beautiful English, as it is required in school. It is not uncommon for those who have gone to school to speak English, Swahili, and some other tribal language. Carole and I gave Malunga a $5 tip for the nature walk, and he seemed quite grateful.
Later on after showering, Carole, Bill and I meet each other at a bar overlooking the valley below at 7 pm for one glass of South African red wine for $1.50 per glass. What a deal as the bottle of wine I had bought for the group at Tamarind was $20! There is a beautiful full moon, and a bonfire is burning down below us in the valley. Very attentive waiters serve dinner in an open air setting on tables with linen tablecloths and fine dishes. We dine on stuffed tomato salad, cream of pumpkin soup, beef Wellington, carrots, green beans, scalloped potatoes and bread pudding. I'm feeling like a major couch potato, eating like this and not exercising. I justify it since I lost weight training for and climbing Kilimanjaro. Settling down in my luxury tent furnished with a desk and electric lights, I'm very comfortable reading before I fall asleep. The weather has been perfect, warm but not hot, no bugs to annoy us, and no wind to blow up the dust.
9/12 – Tuesday

After breakfast we left Kirurumu and headed out toward Ngorongoro Crater along a very dusty and severely potholed road. It was so uncomfortably bumpy that I kept wishing I had a jog bra to wear and could only travel somewhat comfortably cross-armed. The Land Rover climbs up to the rim of the crater with lush vegetation and diminished views due to heavy mist. As we descend into the crater below, the vegetation becomes sparse and the land dry and dusty; and we breathe through scarves to filter out the dust. We stop at the bottom to elevate the roof of the Land Rover for animal viewing. Maasai children and adolescents in full regalia mob us asking us to pay them to take their photos, and we oblige. We first approach the salt lake filled with pink flamingos, most of them resting on one leg asleep far off shore; but many are walking near us foraging for food. Also along the shoreline are three hyenas, the first I've ever seen, very dog-like but with stealthy hunchbacks. Other animals we saw we zebras, rhinos, water buffaloes, hippos, gazelles, impalas, warthogs, vultures, storks, wildebeests, lions, elephants, black kites, and one huge python (glad we aren't walking). We're not allowed out of the Land Rover, which is very difficult after being so active and used to exercising every day; but safety demands this. We are allowed to get out of the Land Rover at the lunch stop that is beside a fresh water lake inside the crater. There were many swooping eagles trying to eat tourists' food, but we were warned not to feed them because they actually would take food right out of your hand if you let them and could cut your hand. There was a group of three elephants beside the lake away from all of us until one bull decided that he liked the other side of the lake better and came toward us all. We were very excited to get closer photos of him as he just paraded past all of us to the other side. We saw many hippos sleeping in the water as they do during the day; they forage at night and often travel many miles away from where they spend their days. We wished we could stay and see the animal activity at night, but we're not allowed in the crater after sunset.
Dinner at the Ngorongoro Serena Lodge was fabulous: prosciutto and pineapple, green salad, carrot soup, potatoes, spinach, carrots, leg of lamb and a dessert bar. Carol and I chatted with three young men (Mike, John and Ed) from the East Coast of the States who had just climbed Kilimanjaro via a different route. It sounded like it was a little bit technical but also better due to more solid footing, and they tented rather than stayed in cabins. This hotel above the crater is quite posh (each day seems to be a step up in accommodations) made of beautiful local wood and natural rock, with electricity, scalding hot showers, and expansive views of the crater below. We had a wonderful night's rest.
9/13 – Wednesday
Bill decides that he wants to stay at the hotel today; so Carole and I head out at 8 am with Fred after another buffet breakfast. Unlike yesterday morning, this is a sunshiny clear day so that we get a great view from the rim of the crater. There is a cold wind as we drive down the bumpy, dusty road to the floor of the crater. We see all the same animals that we saw yesterday plus hartebeests, kari bustard birds, a male lion with his water buffalo kill, a pride of seven lions up very close, and many hippos up quite close also. Thanks to Fred's eagle eyes, we watched two rhinos walk across the plains in the distance with our binoculars. Then we went back to the Serena Lodge, packed up, got Bill, and all left for our next stop, the Kirfaru Lodge, which is a 500-acre coffee plantation. Everyone is so gracious here, greeting us upon arrival to sit down for tea and coffee cakes. A delightful man named Paul gave Carole and I a tour of the grounds, telling us all about the trees, flowers, vegetables and the coffee production process. Bill wasn't interested; Carole and I always want to pack as much as possible into each day. We learned that coffee beans are picked when they are red, then dried, then roasted. We saw one of their roasters as they make all their own fresh coffee for guests (I bought some of their coffee beans to take home). It takes three years for a new coffee plant to produce; then it produces for seven years before it is cut down to a bare trunk; and the process starts all over again bearing fruit in another three years. In the distance we heard a loud speaker and observed a preacher talking with a crowd of Iraqi tribe villagers. This lodge at 7,500 feet elevation is really quite beautiful and has a swimming pool, tennis court, and well-maintained spacious lawns and flowerbeds; it reminds me of a southern plantation in Louisiana. The assistant manager named Elfrida, a strikingly beautiful young woman, makes sure that all our needs are attended to.
Dinner is formally served in the dining room that is tastefully decorated in African motif (what else?) and includes deviled eggs, butter leaf lettuce salad, spicy tomato soup (made from scratch), beef with sauteed onions, potatoes, garlic spinach, zucchini, snow peas, carrots, homemade bread, and a dessert of custard, watermelon and papaya. All the vegetables were fresh from their own garden, and it was truly magnificent. I could get very fat over here if I stayed long. Resting quite well here, I was aware of the sound of heavy rain during the night
HEADING BACK TO NAIROBI
9/14 – Thursday
I was awake long before Carole listening to the rain, which was very surprising since everything we'd seen so far seemed so dry, but we are at a higher elevation which gets more precipitation. We wonder if the rain will alleviate some of the dust problem on the road today. The air is fresh and clean as we depart Kirfaru Lodge after purchasing bagged coffee beans from Elfrida. Today is market day, and all along the road we see villagers walking to the market bringing animals, fruits and vegetables. The road is very dusty down below, as the rain didn't reach here. The road is horrid as I ride cross-armed again, but it makes me think about how wonderful the dirt road up to my home on Prefumo Canyon ridge will be in comparison when I return home. With the safari now over, we drive toward Arusha, stopping along the way to give any food we have left (trail mix, chocolate, apriocots, bananas. juice, etc.) to Maasai children who mob us trying to grab it away. We're back in the Hoopoe Tours office by noon when Lisa says that I have received two emails. I'm totally excited to get one from my son Kevin and one from Mary Munds, both congratulating me on climbing Kilimanjaro and wishing me safety for the rest of my trip. I am so overjoyed that I well up with tears and can barely talk to Carole telling her about it. I'm so very happy that they both received my previous emails to them and that, from the other side of the world, we have made a communication link in spite of no phones here. Next we drove to the Mount Meru Novotel in order to meet Ebby to get my tanzanite ring and to leave on a shuttle bus back to Nairobi, Kenya. Ebby was late, which made me anxious, but did arrive as promised. The ring looked great, and I paid him the balance due. We departed Arusha around 2 pm with big hugs and tips for Fred for a guiding job well done. We arrived at the Tanzania/Kenya border around 3:30 pm, got out of the bus, presented our passports to the officials in a little crowded room with only one door for both an entrance and exit, and then re-boarded the bus. We arrived back in Nairobi around 7 pm as it was almost dark. It was an absolute madhouse here trying to get luggage off the bus as we were mobbed by beggars. I don't think I will ever forget the faces of the mothers with children holding babies and begging for water from us or food or money or whatever we had to give. Our lives back home are so decadent in comparison that I hope I never take anything for granted again. The driver decides that we have to take all the luggage off the top of the bus and put it inside with us, which I guess is a safety maneuver but makes it difficult to navigate the aisles. We arrive back at the Fairview Hotel and meet up with Duane Jones. Bill, Carole, Duane and I have dinner together in the hotel. Carole and I share one dinner of curry chicken over rice and a salad; it's time to start cutting back on the calories! I had a long and very hot bath, which felt divine. Carole, Bill and I have to share one room tonight.
THE ORPHANAGE AND HEADING HOME
9/15 – Friday
We awake at 6 am to sort gear and have breakfast at the hotel. Duane, Bill, Carole and I head out to try to find an orphanage for baby wild animals that Mike Larrabee has told us about. Duane arranges for a driver named Jimmy to take us. At 10:30 am we arrived where Jimmy thought it was, each paid our $5 entrance fee, and then soon realized that we were at the wrong place. The place we wanted only fed the animals publicly at 11 am; this place said the feeding was at 2 pm. Since we found this out just inside the gate, we turned around and asked for a refund, which they told us was impossible. We argued about it for a little while, but they were insistent; so we just left so that we could find the right orphanage. We did find it in time to see the orphanage staff bottle-feeding baby elephants, zebras and a rhino, which were unbelievably cute. There are no fences here, and stray warthogs and a water buffalo wander in too; but staff doesn't feed them, only the abandoned babies. We were told that the elephants were from moms that had been illegally poached. The elephants are bottle-fed until they are three years old since that's how long their mothers nurse them. The babies' hides are covered in an oil and shovelfulls of dirt to act as a sunscreen since they don't have the shade of their mother to protect them from the sun. We were told how elephants bond with their keeper with whom they stay 24 hours a day, 7 days a week and that elephants experience many of the same emotions as humans. They grieve their dead, and bury their dead with branches; they can die of a broken heart and have very strong family bonds. We watch the elephants play soccer with each other and with the keepers, play with a huge inner tube, and roll around in a mud puddle. They are adorable to watch play, and we gladly donate to the orphanage's cause as we depart.
We stop at the African Heritage Center to buy gifts to take home before arriving back at the Fairview Hotel for pizza and salad lunch. Then we read in the hotel lobby until it is time to go home. I've changed my flight reservations to go home one day earlier than planned because Carole, Duane and Bill are leaving today, and I don't want to stay in Nairobi solo. I reconfirmed with British Airlines that all flights home are confirmed except for my LA. to SLO flight. I ask them to send me a FAX confirmation, but they say that they can't do it. We all leave for the airport at 7 pm. I know that it's going to be another adventure going home as it take 40 minutes just checking in luggage; things are a bit disorganized here in Nairobi. They can't find SLO airport in their computer system to check my bags all the way through; so I have to check them through to L.A.. One last stop at the restroom to find no toilet paper (to be expected) and cockroaches walking on the counter above the sinks. After a very inefficient and delayed boarding process, we finally board the plane at 10:30 pm. The first thing that happens is that they announce that they will spray the inside of the plane with insecticide and that we might want to close our eyes. I guess they want to kill some of those Kenyan bugs and keep them from taking over British Airways; I cover my face with a scarf and hope it won't affect my breathing too badly. After an 8-hour flight I arrive in London, say goodbye to Carole, Bill and Duane, and find that my "confirmed" flight to Dallas-Fort Worth is not confirmed after all. I was to have a 2- hour layover in London; instead they get me on a different flight after a 9-hour layover. I fall asleep on chairs in the middle of the busy airport lobby; I suppose most women would have taken advantage of the fabulous London shops, but I had no desire to shop. I double check to see if my bags are both on my new flight and was told that one was and one wasn't on the plane. Oh well, at least I'm going home; and it will catch up with me eventually. Days became a blur as I had another 9-hour flight to Dallas, another layover, another long flight to L.A., then off to SLO. Back in SLO around 10 pm on 9/17, the best part of coming home was seeing my son Brian waiting for me at the SLO airport with a big hug, smiling and looking like the cover of GQ magazine, smelling of fresh after-shave, and wearing the wool sweater I had bought him in Ireland. It's so good to be home with loved ones again. SLO feels very different from Tanzania and Kenya as re-entry begins.
FIRST REFLECTIONS
As I readjust to my life back in SLO, I can't help but think how easy life is here compared to life in Kenya and Tanzania where people are struggling each day just to stay alive, spending the major part of their day just trying to get water and food any way they can. Here we take for granted that the water is pure when we turn on the tap. We fret over "problems" that aren't life and death problems. I vow to take more in stride, to be more conscious of my many blessings, to focus on the positive, and not sweat the small stuff. We live in a truly decadent society in comparison to Africa; and I hope to never forget the faces of little children herding their goats and begging for food, and the mothers with babies in arm begging for our water bottles. I want to give more of myself and share the gifts and talents I've been given more fully than before. I want to remember to not take for granted what I have and how I live here in the U.S.