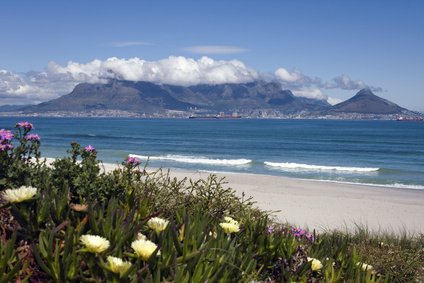 What an amazing feeling to step out of an airplane and get blasted by the heat of the southern hemisphere's summer sun high up in the sky. Morocco was by no means cold, but its mild temperatures pale in comparison to South Africa's summer heat. I could barely contain my excitement over arriving in Capetown and setting foot on the southernmost latitude I have ever been to. However, the excitement quickly gave way to horror when I almost had my toes and knees taken off by a speeding car driving on the wrong side of the road, just as I attempted to cross it. And then it happened again…and again. What's wrong with these people? But that's exactly what they asked me, because everyone here drives on the left side (i.e. wrong side) in the good old British fashion. I just can't get this vital fact into my head and it has nearly cost me a few body parts. Oh, just wait you people until I get behind the wheel myself! Eventually I did find the hostel where my brother Abdul and I had agreed to meet at. There he was sprawled on a bench munching on litchi, a delicious local fruit. I assumed that he would be tanned or sunburned, but I was shocked to see just how mangled he got by the local insects.
I guess we really are in Africa now. And we haven't even left the very cosmopolitan Capetown yet. Additionally, I had a little reunion with South Africa native James, a long distance cycling buddy of mine. He introduced us to the South African passion: braai. That's Afrikaans for barbeque and the meats include boerwors, (chunky bloody sausage about 2 feet in length curled up), ostrich meat, buffalo, and good old beef. I guess if you get to a fancy place you might find bush meat such as zebra, wildebeest, and baboon but we were more than satisfied with our boerwors. It was incredibly good after the hot coals turned the bloody meat into a very appetizing roasted brown rolled up tube. Unfortunately we didn't leave as much time for the Cape region as it deserves because we will return to a closer inspection at the end of our loop.
We continued driving through the night across the huge Richtersveld plateau in direction of the Namib desert and Windhoek, the capital of the country. At this point I will call an end to this installation and continue with the Namibian experience next time, due to computer restrictions. As internet access is sparse, exceedingly slow, and heinously expensive, I might relegate the rest of my ramblings to my notebook and continue when I set foot on South Africa again or maybe even when I return north again. So don't get too worried if I don't chime in every now and then. I got all my immunizations squared away and am heading further into the wild heart of black Africa.
To be continued….February 2004