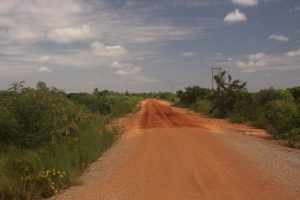 The soft roar of the electric fan wakes me in darkness. A cool breeze pushes back the mosquito netting and lifts the thin sheet off my feet. We are fortunate to have such luxury in this tiny rural village of Apimsu in Ghana, West Africa where an electric appliance often costs more than a year's income. My husband lies next to me, and our son Casey, who has called this place home for many months, sleeps on a floor mat a few feet away. It's been years since the three of us slept in the same room.
"We'll have a great time when you come visit me," he proclaimed the day his Peace Corp assignment came in the mail.
"Sure. Well, maybe…" It had been years since we'd traveled outside our comfort zone. A remote village in West Africa, 7,000 miles from home, might as well have been another planet.
"The rainy season starts in April. It's cooler then – a perfect time to visit." Casey nudged with phone calls and e-mails, but there was always something else on the calendar. As the months passed, his prodding became more urgent, his stories and photographs, more amazing. He had less than a year left in Ghana, we were running out of time and excuses. How could we pass up the opportunity?
We've been in Africa four days now and I wonder why we waited so long. As I lie here, peering into the pre-dawn shadows of his room, I see no resemblance to that teenager's bedroom of the past. No rock posters, stacks of CDs or a floor piled high with clothes and chaos – only orderliness and his ever-creative style. An old door serves as a bulletin board. A long tree branch suspended from the ceiling is cleverly transformed into a clothes rack. The more civilized table-desk and shelves were custom made by the village carpenter. A small clutter of books and toiletries are the only tokens from home.
Somewhere in the distance a persistent rooster crows. Daybreak angles through the louvered window, splashing lines across the scarred, whitewashed concrete walls. Sleep won't come now – I need to grasp every minute of this short visit. I breathe in the sticky air and smell the unique earthy aroma of red African soil. During daylight hours, it mixes with the smoky air from constant open burning. It's pungent and permeates my skin and clothes.
Every day of this trip builds on the next, each one more remarkable. I think back to yesterday when Casey brought us to his village. Our driver David laughed when we tried to pronounce his African name. His freshly washed 1982 Subaru station wagon was luxurious by Ghanaian standards with seat covers and windows that actually rolled up and down. Tall and muscular, he was dressed in slacks and the customary bright African printed shirt. His face was round and full with a typically wide Ghanaian smile, his eyes dark and expressive. We soon discovered he was a family man and a more careful driver than most.
As we approached the final three miles of road that leads to Apimsu, Casey asked David to stop at the Korlewa junction for our first greeting. Then he informed us "We will make small visit." The local chief and his family live here and it was important to pay our respects. Today Casey had another reason – David speaks fluent Krobo and has offered to translate a special message.
An entire family welcomed us with profuse waving and loud greetings when we pulled up next to an open-air structure made from wood scraps with a rusty, corrugated tin roof. Goats and chickens milled around the place. The chief of Korlewa and his wife rushed to bring us plastic outdoor chairs, a status symbol with the locals. Surprisingly, the chief was small and unassuming, his shirt and pants worn. He looked nothing like the statuesque village leaders often photographed in traditional robes.
Casey introduced us, e mami ke e papa. We went through a handshake lesson that included a middle finger twist with a snap at the end and everyone chuckled at our attempts to pick up Ghanaian culture.
We smiled and nodded when it seemed appropriate, while David translated Casey's words into the dialect of Korlewa. Our soft-spoken driver had to shout over the din of a Nigerian soap opera. It blared in Pidgin English from a small television sitting on a bench nearby.
No one else seemed to notice the background noise as David expressed Casey's gratitude for two years of hospitality. As a parent, I am grateful for the way these kind people have helped our son. Residing at this transportation junction, they have offered him food and shelter when he commutes during rainstorms. Once, when he was ill, this humble family paid for a car to drive him home.
While the adults conversed, the children's eyes were fixed on us – this curious pale-skinned family who had come to visit. A little girl peeked out from behind her mother's skirt. Her head was lined with cornrows and jutting pigtails tied with ribbons to match her vivid green dress. Two teenage boys were sitting around a large pot peeling cassava root with long machete knives when we arrived. They stopped their preparation of fufu, the traditional Ghanaian staple, to watch us.
When David finished the translation, Casey held up our camera. "Take photo?"
"Yes, yes," is always the answer here I've learned.
We stood while they posed for a family portrait, then bid our goodbyes. Casey promised to bring them a copy of the photograph, and I made an attempt to speak the only words I'd learned so far. Mochoom ki – thank you very much.
Our first Ghanaian family 'smiled big' and waved us on our way with no idea how this small visit would live in our memory forever.
My mind settled down as we continue our journey to Apimsu over rough, torn pavement. "This is only the beginning," Casey laughed. "There'll be many more greetings ahead."
Every thought I had about Africa pales to the experience of being here now – to think we almost missed this opportunity. I'm proud and thankful for the life our son has made and the world he's opened to us. As parents, we hold dreams for our children. Casey has traveled so many miles beyond ours.