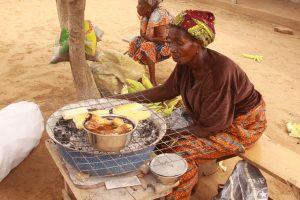 The brilliant sunlight stings my eyes as we make our way out of the airport in Accra, Ghana, but it's the view ahead that has me fighting tears. Our son Casey has been waiting at the entrance gate. Since he entered the Peace Corps in West Africa his father and I have been separated from him for many months and 7,000 miles. Now, just fifty feet across the courtyard, I see that his pale northwest skin is shades darker, his brown hair cropped close to the scalp. When we finally reach him, a silent squeeze is all I can muster or I'm sure I'll start blubbering.
Casey points to the curb where a man with a broad smile is waving from a rusty red Volkswagen sedan. "I've hired Richard to drive us while you're here." I remember all the phone calls and how carefully he's planned our itinerary. "Don't worry Mom, I'll break you into West African culture slowly. We'll spend two days on the Volta River before I take you to my village, then we'll travel to the coast."
As we leave the city, merging onto the Kwame Nkrumah Motorway, African highlife a mix of reggae and hip hop, swells from Richard's dashboard cassette player. We pass scores of improvised taxis, makeshift vans called tro tros, and canvas-covered farm trucks packed with the day's harvest and weary workers.
The air is hot and clammy and it's difficult to breathe as I settle into the back seat. I'm actually here, in this land that just yesterday seemed so remote. If my heart wasn't pounding so loud inside my chest, I'd think I was dreaming.
***
Richard returns three days later to drive us fifty miles inland to Casey's village. I feel excited and anxious at the same time, recalling e-mails from others who have already made the trek to remote communities in West Africa. They described hundreds of villagers attending elaborate ceremonies held by chiefs and elders – the drumming, the dancing, the speeches and feasts that went on for hours.
"It looks like there won't be a big celebration for you in Apimsu," Casey says after a call from his village. "The school was planning a performance in your honor but the students had to leave for a soccer tournament."
"No apologies needed," my husband says as I breathe a sigh of relief.
"But you're not off the hook yet." Casey knows we'd much rather travel incognito. "My neighbors still plan to celebrate your visit."
As Richard's car maneuvers the giant potholes on the final leg of the dirt road to Apimsu, a few barefoot youngsters and a flock of chickens make up our entire reception committee. They run along side the car but turn shy and disappear when the driver stops.
We haul our suitcases up a small hill to a crumbling tin-roofed structure. "Apimsu's finest." Casey chuckles as we step into the two concrete-walled rooms he calls home. He helps us unpack, then reminds us, "It's time for the meet and greet."
We pass his fenced garden, an empty patch of red dirt fringed with yellow marigolds and orange nasturtiums. "I'm having better luck with flowers than vegetables," he admits. "The locals think I'm crazy to plant crops we can't eat." Ironically, his original Peace Corps assignment was in agriculture. But village needs have shifted to micro-financing and community health projects. Currently, he's teaching technology to the staff at the Apimsu school where computers were recently donated.
We stroll through a cluster of lean-tos and wave to an old woman. "Most of the adults are 'at farm,'" Casey tells us. "They hike to the fields every day while Grandma watches the kids."
Our first stop on the winding dirt road that weaves through the village is at the mud-walled hut of a man named Teh. "Tetekwame!" He shouts Casey's Ghanaian name which means Saturday-born. Teh places a small wooden bench in front of us and wipes it with a rag before we sit. His kind, toothless smile warms my heart as he gropes for English words to tell us how Tetekwame has helped his handicapped daughter.
David and Angela Nomo live just down the road. Casey introduces them as his adopted Apimsu parents, telling us how they have helped him adjust. David, a former school master, is the closest thing to a village chief. He speaks English boldly, with a strong Ghanaian accent, and loves to talk politics. Angela is younger and quite shy. She's tall and slender, very dark skinned, exotic and stunning.
A woman beckons to us from the road and Casey quietly explains. "She's recently widowed according to town gossip, but she seems happy. There are so many mysteries to this culture." The woman wants to toast our visit so we choke down a small glass of Akpeteshie a distilled palm wine. I wonder if this is the source of her cheery nature. Her sparkly black T-shirt with PARIS written across the front becomes the topic of conversation. Although we can't understand much of her mix of Krobo and English words, we all laugh heartily.
"Just one more stop, at the Spot." Casey points across a field to a dilapidated wooden structure. "Spots" are generally bars in towns and cities, patronized by Ghanaian men who prefer to drink and smoke in private. But the Apimsu Spot is a combination bar and store with a small inventory of flip-flops, candy and school supplies. Zibo, Casey's official resident mentor, has been waiting here to greet us. He's tall and lean with light brown skin. A quiet intelligence radiates from his big smile. The village entrepreneur, he is curious, always looking for modern ways. His most recent project is a grass roots cellular phone service.
David and Angela soon join us and order Star beer for yet another toast to our arrival. I want to lose the taste of the Akpeteshie so Zibo and I chose Pineapple Fanta instead. But he tells me his new favorite beverage is actually French press Seattle's Best Coffee with white cream powder. Every morning he arrives on Casey's porch and waits for his steaming cup.
"I planned your visit around today's event – it only happens twice a year," Casey announces the next morning. We soon join a group of women and children at a gathering place under a tree near the Spot. The rural clinic nurse, a strapping, self-confident Ghanaian, has arrived with her two assistants and we feel privileged to have this close-up view. A scale is hung from the tree and babies are weighed, measured and vaccinated. It's all recorded in the mothers' booklets. A demonstration of cooking with the fast-growing moringa plant and a short discussion follows. Casey and Zibo have been working to promote this nutritional crop and hand out seedlings to the curious crowd.
That evening there's another surprise – Angela is preparing a Ghanaian dinner in our honor. When we arrive, three chairs and a small table draped in white cloth sit in the middle of their compound surrounded by goat pens and chicken coups. Angela waves from the porch of their mud house. Moments later, she carries out a large bowl with three spoons then leaves us.again.
"It's the custom here to not eat with your dinner guests," Casey explains. "Angela wanted to prepare something you'd enjoy so I suggested this dish. Her usual fufu and banku are an acquired taste." We scoop up the delicious smoked fish and rice joloff with utensils instead of the traditional way with fingers. A tenacious rooster tries to hop onto the table several times during our meal. When we are done our hosts join us for a chat until darkness falls. As we stroll home down the village road, fireflies swarm around us.
***
I wake in a maze of mosquito netting as daybreak angles through the louvered window. Babies crying in the distance remind me of yesterday and the village mothers who cuddled their infants close when the nurse held up the vaccination needle. I recall her reassuring words: "One fitful night's sleep is a small price to pay for a healthy life."
We're down to our last hours in Apimsu when Zibo arrives. In honor of the USA, he sports a Mariners' baseball cap and Blue Blocker sunglasses. As we share French press coffee on the porch, the neighbors begin to arrive. Angela and David wear their colorful Ghanaian attire normally reserved for weddings and funerals. Grandma has dressed several of the children in native costume. It's time for photographs which we promise to send back soon.
When Richard's car arrives to drive us to the coast my heart feels heavy. It's suddenly so difficult to say good-bye to this community that has embraced our son. When we finally pull away, I turn back to see them smiling and waving. I'll carry that image with me always, along with a thousand others from our visit to this amazing small village in West Africa.