Report by Jo Ann von Haff
Pictures by Father Ornelas
Stay in Lwena, Moxico Province from
August 12th to August 22nd 2002 – Lwena (Angola)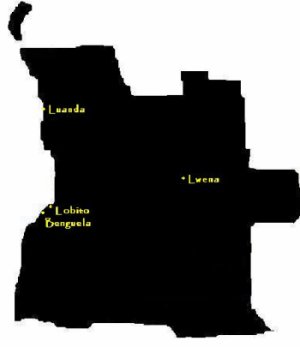 Monday, August 12th 2002
Day 1
Luanda
At 6 AM, I had a glimpse of what my life could become in a couple of years. To wake up at 4 AM and have a 12 kilo bag and to take a plane at 6 AM, when 90% of the population is still sleeping.
It was still dark; the air was fresh and windy. Only a few buses started their lines to pick up early workers or late "partiers". Luanda was silent and I wished I knew that Luanda better.
Father Jose (Jojo) picked us, Maria (my Mother) and I, at 6 AM, in front of our building. He took us to the Military Air Base of Luanda. We would go on a beech craft of the United Nations World Food Program. A plane of 10 places and where I thought if I was a little fatter, I wouldn't be allowed to get in.
The flight from Luanda to Lwena was of 2 hours 10 minutes. I slept most of it; because I haven't slept the 8 hours I need each night. Went to bed at 11 PM to wake up at 4 AM. By 1020 AM, I was sleepy!
Lwena, Moxico Province
We are at The Bishopric of Lwena, the Bishop D. Gabriel Mbilingi's house. In here live D. Gabriel, Father Emilio and Father Jorge (two local priests), and Father Manuel (Noel), a Filipino.
My room is next to Maria's. I am staying at the room of Father Imbamba, who actually lives in Luanda because he is the vice-chancellor of the Catholic University and is a Philosophy Professor. His room is full of books that can give you headache! Hundreds of books! Kant, Hegel, Nietzsche, Descartes, Aristotle, In Italian, Portuguese and French. There are lots of books about Africa too. About youth in Africa, the democratisation, the decolonisation, the future for Africa and a couple of biographies about Mandela…
While D. Gabriel was working, I decided to read in front of the apartments. I sat on the floor, in front of D. Gabriel's office, where the sun was shining like mad and it had a good light to read. Then Maria gets out of the office and looks at me, probably wondering what did she do wrong with her first daughter! Why sitting over the floor? She was already talking, before she managed to close the door of D. Gabriel's office.
Then, D. Gabriel arrived and shook his head "This is a democracy. She feels at home, so let her be". Maria laughed. I guess that at that moment, she was seeing how Bantu I was. I guess she never imagined the expansion of my Bantu identity! Of my Africanity! I really take it to heart, and when I can and am authorised to do so, I am totally Bantu. Well, I am the total Bantu I can be because I wasn't raised that way and at the age of 20 is quite hard to learn what you should learn from the cradle"
About the City: Lwena is a small city. From the airport to The Bishopric, it's 5 minutes by car. As D. Gabriel says, "This is a very economic city". I understand why. The streets are wide but there are no cars. The few cars in the streets are from the Party (MPLA), the governor, the religious congregations, the United Nations, Red Cross, the NGOs, Save the Children, Medecins sans Frontieres, Caritas, etc.
Lwena is so silent, so quiet! It remembers me the South African Veld (like the Australian Outback). The city doesn't have electricity or water in spite of the several rivers around and in the whole province. D. Gabriel says that we have 90,000 inhabitants in Lwena.
What makes me revolted is that it's a city that could be restored in about two years. With only 90,000 inhabitants, call it incompetence from the governor's side! Really! It's not like Luanda that really needs to be evacuated and be exploded!
We ate dinner (D. Gabriel, Maria and I) at the Sisters of the Company of Saint Theresa of Jesus. They were Sister Avelina (the superior), Sister Rosa, Sister Marta and Sister In's. We talked for hours! It was so nice! So, I don't think I will have words to tell. It was simple and very enriching. At one moment we were talking about Prophet Elijah, Jezebel and Acaab. For those who don't know, the king Acaab married Jezebel, a pagan princess. Jezebel ordered the murder of more than 400 prophets because she thought they were dangerous. Prophet Elijah escaped. This is the sum up of the sum up of his story (I know this cause I read Paulo Coelho's "Fifth Mountain")!
Then, the question was how Jezebel had the power of such, to adore idols and take her husband with her? I just said "men are weak", but I soon blushed because D. Gabriel was at the table. If it was at Maria's time, I don't think I would have the opportunity to say something like that. D. Gabriel laughed and said "you are right, men are weak. Men suffer a lot. We suffer a lot!"
When we came back, at 9 PM, although it takes only 5 minutes from a house to another, only a couple of houses had generators. The whole city is completely pitch black! D. Gabriel says that only a couple of generators could solve the problem of the whole city, but that governor of theirs – ouch! Incompetence!
Living in the past: It has been this way for over 10 years. The people of Lwena doesn't have electricity or water, so they go to sleep when the sun sets: at 7 PM. Then, they wake up by 5 AM, having slept 11 hours already. And D. Gabriel says "And there is people who say they are early starters!" They don't have radio or TV, they have no amusements in town, they have nothing. They can't listen to the radio because it's difficult to find batteries in the market or very expensive.
With the lack of electricity, several houses don't have refrigerators and the only solution to keep the food "fresh" is to salt the meat and fish (from the meadows or from Luanda). But the salt is rare or too expensive. So the other solution to keep food is to dry it. I haven't learned how to dry the food, probably next time.
With so many rivers around, the government is not able to put water in those tubes! South Africans would be crazy in that province! South Africa has major problems because the territory doesn't have water. So they managed to create artificial lakes to get over that problem. And now, in Moxico, the women have to pick water at least 12 kms from their place, at the spring of the river Lwena, to cook, wash and drink.
"The people of Moxico suffer too much. They suffer too much!" says D. Gabriel.
I went to sleep short after 10 PM- Since 4 AM I have been counting my blessings!
Tuesday, 13 August 2002
Day 2
Jojo arrived this morning with two Priests of the Sacred Heart of Jesus. A Portuguese, Father Ornelas, and an Italian living in Mozambique, Father Onorio. I met them at breakfast. Jojo presented me as his spiritual sister (Maria is his godmother) and said I was living in France. Well, all started from there. What was I doing in there, how did I like it, etc. The Sacred Heart has a congregation back in Montpellier. I might look more about it, we never know.
I really find the life here at The Bishopric interesting. We manage to talk for endless hours about everything. From politics to history, from the Bible to travel tales. It's such a sane life! The breakfast went till 10 AM, and in no time, we had to eat again – As Maria says, we are going to get fatter if this keeps this way.
Nossa Senhora das Vitorias (2002)
We went to visit Our Lady of the Victories where Father Esteveo and Father Abilio (Benedictan priests), two Portuguese have been living there for over 40 years! In the middle of nowhere! Can you imagine? They only have the Church, a dozen houses and then, around, nothing! The wild!
Maria (Lady General) & Jo Ann (2002)
They asked Maria and I if we spoke Portuguese. "We are Angolan!" go figure! Of course, my Portuguese is bad! Terrible! Sometimes I hope that people around me speak more than a language to understand So, I don't speak! Be silent, my child!
We went back at The Bishopric for lunch. Maria is always asking Jojo if he has already eaten when he is in Luanda. He works so much, that someone has to watch over him, really. He is my big brother. Just like my older brothers Mario, Otto and Carlos. He was eating well and Maria said she was glad to see him this way, smiley, happy and in shape. He doesn't like life in Luanda, so he gets depressed in that city! He replied, "I haven't eaten". I started laughing so loud! Maria asked what was wrong. How could I say that his breakfast at 10 AM was bread with a steak and mayo? The look he gave me made laugh even more. In other words, that wasn't a real breakfast. I said: "Geez, Jojo! We ate together and you say you haven't eaten?" Poor thing!
The bushes: Angola is such a huge country! So beautiful! I have met the real bushes! The wild, wild life of this country. The long roads, half sand, half pitch, are endless. They remind me of those images we watched from Rwanda during the war. Thousands of refugees followed those miles to somewhere else. A long orange/red road between two green areas. The roads are beautiful, but the images and the history of it are scary and sad, 10 Kilometres from here, there was a camp where NGOs were taking care of the landmines. Full of landmines, I am so afraid for those children. They walk around with no supervision.
As long as we crossed the savannah, hundreds of children would wave and shout "Chindele! Chindele!" It means, "White people" in Tchokw, the local Bantu language. D. Gabriel says that White people around here are novelty for them, although there are the Red Cross and United Nations camps around here.
For Maria and I, we are foreigners to them too, anyways. Not only we come from Luanda, but we are Mixed. It's rare to see other than Black people here. "We" (Mixed) are only 13% of the global population, so there is no reason to get astonished by the fact. But we are Angolan. We are brothers. I hope they understand this.
The huts (houses) in the camps are made of earth and straw. Now it's the dry season, what will happen when the rain starts and the rivers flood? D. Gabriel says that the refugees don't want to build real houses (with bricks and cement) because they are afraid they won't leave the area. They live under human conditions, only a room for families that have more than 4 children. They keep on giving birth. As D. Gabriel says they have nothing else to do. No electricity, no TV, no radio, no nothing! So they do babies!
Around the camps of the Bundas and the Luchazes (the two main ethnics), there are the military camps. The war is over, so they stay in the country to avoid going to the cities. To avoid confusion. Some are the terror of the camps next door – and God forbid – I am afraid to think that many of those girls in those camps have at least one child of those soldiers. They can become very violent. Homemade alcohol from sugar is in vogue. The famous "Caporroto". A kind of brandy you tell! They are done in the back of the huts.
Even in time of hunger, we tend to find happiness elsewhere.
Wednesday, 14 August 2002 Thursday, August 15th 2002
Day 4
Father Ornelas and Father Onorio left this morning. Their stay was too short! I think mine will be very short, theirs were shorter. They want to work in Lwena, but it is not their decision. It's their superior that has to say if yes or no, they can come. And from what I have been told, we might have the answer in one year from now. And I thought the French immigration papers were too much of a pain!
The life in The Bishopric is like in a pension. Life is built with very meticulous hours.
At 0540 AM, all the priests in the area wake up. Some celebrate the Mass for themselves. I learned that a priest must give a Mass at least once a day, no matter if he is alone in the room, as long as he gives it. Those men are early starters!
At 6 AM, everyone is wake up for the Mass in the Chapel of The Bishopric. Then, everyone has his own shore in the diocese. For example, Father Noel works at the Jesuit Refugee Centre the whole day. Father Jorge works in the administration with Sister Maria Auxilio of the Reparatory Sisters.
At 1230AM, Father Emilio rings the bell for lunch. We wait for D. Gabriel to arrive for him to bless the food. We eat what we like, really. Normally it's more of traditional meals: manioc or corn (millie) pap with dry fish in palm oil. We can eat those with straw, as Maria says. Savoy-cabbage and its derivations in tomato and onions. Delicious! There are real hens from the hen-coop of The Bishopric too. Served with fries and rice. Then some papayas for dessert.
D. Gabriel: D. Gabriel doesn't sit at the top of the table. He sits right in the middle, and who sits on the top is a priest or a guest, or sometimes, nobody sits there. Since Father Ornelas went back to Portugal, I took my place by D. Gabriel's right side. Maria would sit in front of him.
The lunches are so interesting and funny! D. Gabriel is a great teller! As he is very modern and he has a great general knowledge, we can talk about everything around the table. Sometimes, he is so funny, or even Father Noel, that we laugh endless hours! We leave the table by 2 PM, with regrets. But when D. Gabriel gets up, everyone follows. He gives graces and then everyone goes back to their shores.
D. Gabriel, Maria and I would go to the first floor and I would sit in front of my door. D. Gabriel would sit in the balcony (The Bishopric is built on the Arab model) and Maria would prepare herself in her room to give the Biblical classes. Then, D. Gabriel would tell me the projects around Moxico, about the refugees and billet camps. He would speak about the population of each camp, and the distance from The Bishopric to each of them.
Not only would he talk about the camps, but how the population of Moxico suffered during the war, and the population of Lwena during the War of Forty-Five Days. Moxico was the most tortured province during the war. All the images you got from Angola, watching children starving, it was in Moxico, precisely in the camps of Luau, a few kilometres from the border with Zambia. It was in Moxico that Savimbi died, in Lukusse, one hundred and 133 kms from Lwena. This Sunday, we are going to the Lukusse Billet Camp.
At 0530 PM, the generator is turned on. It's already too dark around to work, read or even write. At that time, I start writing whatever I was writing (at that moment "The Eyes of Adam"). Maria goes to the chapel and without noticing, the day finishes really quick. At 7 PM, it's already pitch dark.
At 0730 PM, Father Jorge rings the bell for dinner. By this time, Father Noel's stomach and mine growl! The following is the same as for lunch. We wait for D. Gabriel, he blesses the food and we laugh till 9 PM.
At 9 PM, after D. Gabriel saying graces, they (D. Gabriel, the priests and Maria) go to the TV room to watch the news and be aware of what happened in the rest of the country and in the world. I would spare that part of the evening, so I would close myself in my room to write and listen to some music.
Tonight though, I was watching the TV. While Maria was away, D. Gabriel and I had a little talk. Mostly about "boys". I think people think I am strange. But what I really don't want, is my eldest brothers to watch over me like if I was a child still. I don't want to give headaches to anyone in the family, and probably I am very prudent on what I am doing in that matter. Mostly because I know if I tell a member of the family, the whole family is aware of what is happening. Even if it is in another country! The whole family (and my family is not small at all, as all of the Bantu families!) will know and I wonder if we shouldn't have a newspaper published to make it easier.
I believe that my younger sister is the one that everyone around knows what is happening with her heart. And that, I really don't want. My heart is mine and nobody else's.
D. Gabriel then asked me "This is your choice" but what about your heart?" "I tell him to shut up!" I believe most of that love things are mental. You love someone, it's normal. But you can change the direction of your thoughts. I love in silence. Probably because I am a total ignorant of that subject.
We laughed a lot, probably because wherever I am, I am still the little clown. It was a serious topic, but I can't be serious too long. Not when it is needed a deep breathe to start talking about your heart and if it is something you don't tell anyone, not even your best friends.
Then, Maria arrived and we changed topic. I watched the TV and ate some peanuts that the Sisters of the Company of Saint Theresa of Jesus sent Maria.
To be a priest, is a good thing! You feel comfortable to talk about everything and anything and you don't feel the guilt of talking about it. I guess I just did my first confession, that evening!
At 1130 PM, the generator is turned off and only the dogs howl. We feel in such security in The Bishopric that we (Maria and I) happen to sleep our keys on the other side of the door! The Bishopric is very vulnerable to all attacks, but I guess no one would do such in there. Actually, the only burglars in Lwena are those who steal the electric cables!
"People of Lwena suffer a lot! They suffer a lot!"
Friday, August 16th 2002
Day 5
Today it's my official twentieth (20th) anniversary. It has been 20 years that I have been baptised. I didn't want to celebrate my 20th birthday, so I hope Maria forgets about that detail. We never know in here! Anniversary of baptism is very important in the Catholic Church.
D. Gabriel took Maria, Orlando (a seminarist) and I to Kamanongue, 55 kilometres from Lwena. We had to take the road to Sakassange, the same road we took to go to Moxico Velho and to the refugees' camps. Sakassange is well known by the massacres during the War of the Forty-Five Days.
The people of Moxico suffer a lot. They suffer a lot!
After burning the woods, violets flowers grow (Jo Ann 2004)
It was a long, long way to Kamanongue. Orlando, natural of this area, was telling us the history of the region during the Forty-Five Days and during the whole war. There is a part of the road to Kamanongue that was really a torture during that period. It was called the "Help us God!" path. If it weren't the landmines, the rebels of UNITA were nearby. There were ambushes in the area. Trying to escape from the landmines, drivers would leave their trucks and cars, but if it weren't for the landmines were there, hidden in the middle of the vegetation, practical for a guerrilla scenario.
We arrived at the Father Abilio's (the Benedictan) mission.
Kamanongue: the house of the priest is a small and old cottage with 4 rooms. It is very deteriorated. D. Gabriel is taking care of the material for the restoration of the house. There was a time that Father Abilio wouldn't even sleep inside of the house, but in the car, because of the lack of roof. Now, the roof is there, thanks to D. Gabriel.
In the yards of the house, there were 3 huts. A whole family lived in those. A 10 year-old boy was carrying a baby in his arms. Maria approached and looked at the baby. A beautiful new-born baby girl. She was 5 days old! Never saw my Mother so emotional and sad! She says that her maternal instinct was asking her to take the baby away from there and adopt her.
The fact is that with 5 days old, normally the babies can't get out of the house (or hut in this case). It was a very cold day and the nails of the baby were almost violet. She was sick and had cold. When we asked where the mother was, the boy said she went to the river to pick water.
We, urban women, when we deliver a baby, we become the most fragile persons in the world. We can't do this, we can't do that – Everyone does it for us. But in the countryside and in the bushes, the new-mother starts working in the plantations, goes to the river, takes care of the family.
We stayed a while. Maria had the baby in the arms and said that wouldn't mind taking her home. She needed medical care. The father of the baby appeared later and said that the baby had a problem with the belly button. Maria couldn't even imagine how bad that could be. She could take care of it, she knew how to, but there was no conditions. No sterilised water, no clean clothe.
The boy had said that she was born in the hut. In such conditions, I wonder how the baby is still that well! Maria said that the baby needed to be changed. So the father came and wanted to take the baby. But it freaked Maria out. He probably came from the plantations and had dirty hands from the labour. So, Maria "evangelised" in her way. She taught him he should have his hands washed before taking the baby. Then, the baby couldn't be outside with all that dust and cold. A boy cannot take care of a baby, even if he is very responsible. Well, the things you do and shouldn't do when you live in the big cities!
There were at least 5 children in the area. D. Gabriel said they were from the same couple and all of them lived with the grandmother and a young widow in those huts. We left before Maria started crying! Leaving the yard, we found the mother of the baby arriving, carrying water over the head and milk pouring out by litres.
We stopped to talk a while with her, Maria remembering her she had a hungry baby, and then we left. Maria was still very emotional upon this. I believe she really wanted to take care of that baby.
Tonight, we went to dinner at the Reparatory Sisters. They were Sister Maria Auxilio (superior), Sister Maria Rosa, Sister Maria Julieta and Sister Maria.
They live 5 minutes away of The Bishopric, and as the rest of the population, without electricity. We didn't have dinner under candlelight but under oil lamps. Like in the good old times!