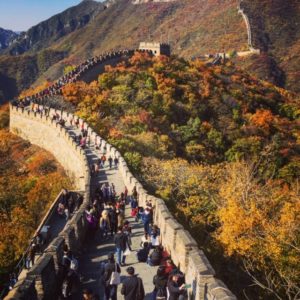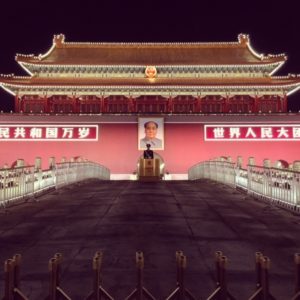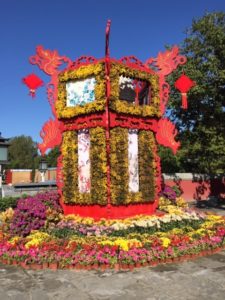 Not long ago, I was enticed to watch a Netflix travel show – "Jack Whitehall: Travels with My Father". The show follows Jack Whitehall, a British comedian on a gap year. Jack thought it would be fun to bring his old-school father, Michael Whitehall on an epic trip around the world. Through endless funny scenes and hilarious exchanges, the show wittily portrays the conspicuous generation gap between the father and son.
At around the same time, my mother expressed her wish to travel to Beijing, mainly to check off the Great Wall from her bucket list. An idea sparked inside of me, "I could use a little mother-son bonding time and experience what Jack Whitehall went through in the show!".  We went on a 6-day trip to Beijing in October 2019. It was a memorable trip, no doubt about that, and I experienced firsthand what was it like traveling with old folks through numerous moments of cross-generational understanding.
Food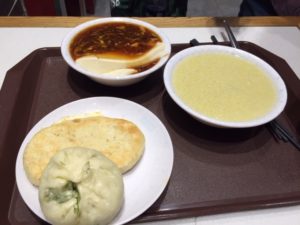 Beijing is well-known for its excellent local cuisine and abundance of street food, but most of these culinary treasures did not appeal to my mother's taste. Every single food was too "foreign" to her.  The "tofu pudding" at the breakfast shop sent her gagging, the biscuit smelled funny and she barely touched the hot pot, complaining the soup was too bland and almost tasteless.
We were both enthusiastic about the city's signature dish – Peking Duck – people say you can't leave Beijing without trying the Peking duck. She enjoyed it in the beginning – the skillfully cooked meat literally melted in the mouth.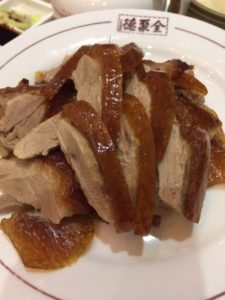 However, she was feeling sick to her stomach towards the end of the meal. She could not down any more food for the rest of the day. She spent most of the evening in the hotel bathroom and barfed her guts out. Luckily, she was feeling much better after emptying her stomach, and blamed her upset stomach on the excessive grease in the duck.
Knowing it was now impossible for her to continue exploring north-eastern delicacies, I had to research other culinary options more familiar – such as dim sum, wonton noodles, chow mein etc to temporarily solve her diet problem. With a huge smile plastered on her face, she was so happy to be done with the "exotic" gastronomic tour!
A key lesson was learned: not everyone is open-minded enough or has an adventurous palate for foreign cuisines; some people just can't let go of eating their usual food. They will even lose their appetite if they are not eating familiar foods – even if the best gourmet chef whips up an award winning dinner.
And my mother is case in point.
A long walk is a no-no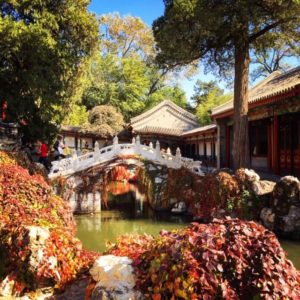 When traveling with old people, you can't expect them to be out for an entire day, let alone walking for miles. Taxi scams are common in China.  Beijing boasts one of the best public transport networks in China. Conveniently, almost all the tourist attractions can be easily accessed by trains and buses. I was thinking, why not give public transportation a shot? It would be the the best way to see locals live their daily lives.
My mother, despite being physically fit in her 70s, was not quite thrilled at the idea of this mode of our daily commute. If possible, she would rather to be driven around by a private chauffeur, and see the sights through windows – no kidding!
She grew lethargic after a few train and bus commutes. She particularly hated the never-ending security checkpoints in every train station, where everyone scrambled to fall into line and put their belongings through an X-RAY machine for inspection. Although it was clearly for security purposes, the hassle was inevitably felt.
When she started showing signs of fatigue, I decided to travel with taxis and e-hailing cars instead. Speaking of taxis, bear in mind that always enter the car through the curbside door. I was once not aware of such rules and went in the car on the other end, triggering the bad-tempered driver to launch an onslaught of filthy curse words.
Most of the attractions in Beijing are vastly spread out, meaning that a lot of walking is required. Do not try to squeeze in too many places in one go. Believe me, your parents will thank you for that!
Full-time tour guide
Be expected to be a 24/7 tour guide. My mother speaks a little Mandarin, but not well enough to read signs or communicate with native speakers. She needed guidance in pretty much every aspect of her travels. From catching the connecting flight, filling out the landing form, answering questions from the customs officers, ordering food at restaurants to finding a restroom, I needed to be there for her.
Most of the places we went were palaces and temples with historical significance. My mother showed little interest in either history or antiquities. She would wrap up her visit quickly in one full swoop of a glance, and look at me, "so, where next?". With this understanding, I would need to search through places to visit, eat and shop the night before- this way our time was fully maximized.
Lastly, tourist scams are rampant in Beijing. I took on the role to safeguard our money and always kept a close eye on her all the time.
What are the most important things that you have learned when traveling with seniors? Please share your thoughts in the comments section below.