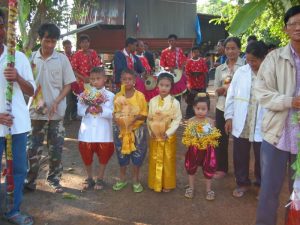 Sawasdee kha friends!
Part I
I find myself writing this email several hours after my brother's village Thai wedding, while sitting in the comfortably air-conditioned "business center" of our hotel.
It's not often on my travels that I am left without words to describe my experiences, but for once I feel that this email can never fully articulate the feel of the last 24 hours.
When we left Bangkok yesterday I was eager to return to the village in rural Thailand that I last visited 2 years ago. In addition to the fact that my brother was going to be married, I was also eager to return to the "Thai experience." Thus far on these travels I have been removed from the Thai experience because in traveling with my parents the luxury hotels and the western restaurants that we have enjoyed are not congruent with typical Thai life. In some ways this has been a great way to remove some of the exhaustion and intense physicality that comes with traveling through lesser-developed countries, but I also was looking forward to that very physicality that we so rarely feel at home. Here, typical homes have no furniture, "bathrooms" consist of a squat hole, and in Syy's village there is no running water. The simple task of taking a "shower" requires standing barefoot on a cement floor in a corrugated metal outhouse, with a little bucket to pour water over my body. After the shower, I am then immersed back into the humidity of Thai weather, and in worst case scenarios can be entirely soaked within minutes. So yes, the physicality of life here takes on an entirely different spin.
While I was looking forward to returning to Syy's village for the Thai experience, in no way could I ever imagine what a wedding in this village of 30 people would be like! When I arrived the day before the wedding, I exited the van smack dab in the middle of the village, and was met with curious stares from all corners. As the sister of the groom, I felt like a guest of honor. I headed for the center of the activity behind one of the homes on stilts, where barefoot women sat on the floor surrounded by mounds of vegetables, raw meat and other uncooked delectable items. The women welcomed me with their smiles, and when I saw the preparation going into that evening's feast I was moved to tears. Being moved to tears upon arrival in a new place is not a common experience for me!
In the last 24 hours I have been touched, moved, stunned, and awed. Cultural contrasts always stimulate my senses, but this time the experience of these contrasts was also keenly connected to my own emotions around my brother getting married. This personal connection with the village left me feeling tenderly aware of all four of those emotions at once.
The women showered me with warm hospitality and invited me to sit down with them and join in "conversation" (a very difficult thing to do with people who do not speak each other's language) while they cleaned the two-foot high mound of green leaves just plucked from the lake where they grow. The women eyed me. They wanted to know how old I was and whether I was married. Would my mother be coming, they asked. She would also be a guest of honor. The women had been cleaning these vegetables since early that morning. Preparations for that evening's feast were an all day affair. Later I watched them take an axe to sizeable toads, and expertly gut them on the floor. These outdoor (and indoor) floors serve as their "kitchen." They converse, cook, and watch life go by, all from the view of the ground. Earlier that day they killed and feathered most of the village chickens.
Food has always been an intensely fascinating subject in my travel emails. The experience of watching the village women prepare from scratch every single item that was to be eaten that evening left me with such reverence and appreciation for the food I ate that night.
My parents arrived not long after I arrived in the village and they underwent similar scrutiny. How old was my mother? Ahh, she looked so young, they said. Very handsome couple. Two years ago we did not have a translator for these mundane conversations that occurred when villagers surrounded us, so having a translator in one of David's friends opened our eyes to the fact that none of these conversations were very profound. They revealed the universal simplicity of first impressions of foreign guests.
This morning we woke up bright and early for the beginning of the ceremony at 7:30 am. David and Syy were dressed in Thai traditional clothing (see the "King & I" for a view of such clothing). The ceremony began with 8 or so orange-robed monks seated on the floor in the main room of Syy's aunt's home, chanting prayers. Syy and David kneeled in front of them. Beyond this main room there is just a side area for the bedroom. All guests kneeled on the floor, as of course there is no furniture. Although somehow the villagers carted in two luxurious leather chairs for my parents as they had been previously warned of their need for seats.
After the chanting and the feeding of the monks, all the villagers gathered for a dancing procession to the bride's home. The tribal sound of the drums set off a series of goose bumps in me. I am at a loss for words to describe the experience of dancing through the village with the natives towards Syy's home. When the procession reached home, David offered money and gold for entrance and the bride's mother very carefully inspected the offerings before she admitted he and the villagers into the home. The mother's face lit up with absolute delight when David placed a gold necklace around her neck.
The wedding ceremony involved offerings of lots and lots of food, negotiations between the two families around the dowry, blessings from the guests, pouring of holy water, the tying of strings on the bride and groom's hands and the individual offerings of money.
It seems to be a universal custom when possible, to lavishly display wealth at wedding celebrations. Syy's mother originally wanted a sizeable dowry from David to show the village that her daughter was marrying a "rich farang" (foreigner). Somehow when traditions and rituals move beyond solitary experiences to public events, self worth and money become intertwined in the experience. David and Syy, however, distinguished their wedding from a financial showcase, and they negotiated the dowry downwards.
When I consider what moved me to tears several times throughout this wedding celebration, I am struck by the genuineness of the people and the authenticity of the celebration. At home "Hollywood" weddings seem to mold the bride and groom into a plastic model of expected behavior where pre-planned poses, smiles and an inordinate number of pictures remove the heartfelt experience of the celebration. This wedding was not a choreographed show. The only people taking pictures were the farang, and we were certainly well documenting the occasion! Everyone else seemed immersed in the experience of the celebration and present to the occasion. My brother seemed to also be moved, touched, and awed, as well as in love and so appreciative for all that was happening. Like all of us, he was connected to the moment.
After the wedding we celebrated with a HUGE feast and then some dancing in the middle of the village, surrounded by cattle, the few roosters lucky to still be alive, and the little children running around. Tonight we return for yet another HUGE feast. The bride and groom change into
western clothes, the groom in a suit, and the bride in a white gown.
I fear this email has done very little to capture the feel of this village wedding, but I hope it gives you at least a glimpse into my experiences these past 24 hours. I know pictures won't capture the feel either, because, as in my parents' case they were very well warned about what to expect, and yet still the sights and experiences failed their imaginations.
In several days we are off for Vietnam, where I understand life is truly 3rd world, less developed than Thailand. And 10 days from today I land in Oregon to be a bridesmaid in my friend's elegant evening wedding. Ahh, the contrast of experiences might be a bit too much in just two week's time.
Sawasdee kha,
Elizabeth
Part II
Sawasdee kha friends,
Here I am again sitting in the cool "business center" at our hotel, torn between writing this email and sitting on the floor with the locals at Syy's village. These past few days I have felt torn — torn between wanting more time to absorb the feel of the village and knowing that I will be saying goodbye to this village and Syy's family perhaps forever, torn between a tremendous desire to communicate with Syy's family and the knowledge that I never will be able to in any depth, and torn between two cultures. I return every day to this comfortable hotel (which incessantly plays tinny Christmas carols) built in the middle of nowhere because there is also a large international company also built in this middle of nowhere place. One moment I am attending to my toiletries in a squat hole, with lizards on the wall, the next moment I wave goodbye to the leathery old women, with bettle nut stained teeth and hop in to the air conditioned van and head back to the world I am familiar with.
I am not the only one torn, though. I am always amazed by the dichotomy between the old and new generations. The young are exposed to Internet, cell phones, and modern conveniences outside of their village, and the old have experienced little of this. For the most part the older generation's experiences are limited to the small territory around their village and to tending to the land to make enough profit to feed their families. The old/young dichotomy couldn't be more felt when in the middle of the wedding ceremony Syy's cell phone rang. At the precise moment when David and Syy appeared to be taking their vows and the expectant villagers sat on the floor around them, Syy answered her phone! It seems that some of her friends from work were lost in trying to find her village, and so she calmly halted the ceremony and gave them directions. While Syy conversed on her cell phone, I entertained visions of a western bride at the church altar interrupting the ceremony to answer her phone. Perhaps the only reason why I have not seen this happen at home is because western weddings are often built up to such fantastical and mythical proportions that any interruption outside of the culturally understood norms would ruin the 'perfect moment.'
Yesterday afternoon I wrote in what appears to have been the middle of the wedding ceremony, when guests were taking a break. The evening was just as memorable. 150 people came to the outdoor feast at an outdoor restaurant 20 minutes from the village. That evening I was feeling the tremendous desire to communicate with Syy's mother, brother, and her aunt's family.
While sitting next to them smiling, I knew the limited time we had together. My parents and I pulled the one translator and Syy's family into a small circle, and huddled together to talk intently, while blocking out the noise. Through the translator we finally communicated with her family! We shared that we knew how difficult it would be for Syy to leave her family and country and live in a new culture and we wanted them to know that we all would be very supportive. My mother shared that she would treat Syy like her own daughter. I shared that I was looking forward to having a sister. Syy's mother shared the qualities that she thought we should know about her daughter. Syy is independent, self reliant, curious about the world, and committed to achieving her goals. She is a hard worker. She also can sometimes be a little emotional and impatient, and so Syy's mother told us to be patient, forgiving, and understanding.
With tears in our eyes we promised we would be all of this and very accepting too. We also assured the family that we were not the typical "Hollywood" family seen on television, and that we were very close to each other. They seemed very relieved. We then shared that we knew Syy's brother, Som Sak, had been a bit suspicious about David when he visited their village previous times and that we could naturally understand this feeling for someone they did not know who had intruded upon their life. Som Sak warned Syy about westerners who just wanted "a little fun." Syy's mother wanted to know if David loved travel so much because he liked "to have fun." We assured Som Sak and the family that David was very loyal, very honest, and very trustworthy. During their observations of him these past 3 years they said they saw all of this plus a tremendous amount of respect from him for the people and their culture.
The conversation was intent. We were all earnest. We all so appreciated the communication. I left with a tremendous sense of shared values across cultures. I also left with a great appreciation for this conversation as it was so apparent how family and support for each other are so much a part of both our families. I knew such an important conversation like this for two families joining together rarely happens at home. The love for our families was poignantly felt that night, as we huddled together under the stars.
The wedding ended with some humor and fun! The close relatives of Syy and David paraded to our hotel where they were staying. Syy's mother looked up at the hotel in awe. We all paraded inside David and Syy's hotel room, and Syy's uncle initiated the final ceremony. The close "happily married couples" to Syy and David got in bed as Syy and David and the rest of us stood around them. They then gave them a few short words of advice about maintaining a successful and happy marriage. My aunt shared "If you didn't cook it, don't criticize it." She also recommended that the husband cook breakfast for his wife every day, and inquire about the menu, prior to going to sleep. Syy's uncle recommended that Syy be obedient and subservient to her husband. Friends of the families then carried David and Syy to bed. Syy was required to give her husband a respectful "wai" (short bow) and then we tucked them in to bed and bid farewell and happy good night.
In a few minutes I return to the village to bid my final farewell. I wonder if I'll be back. I suspect I might, with my own family, to show them where my brother's wife grew up and to continue the cross-cultural bridge that my brother and his wife began. I will continue to cherish the values that Syy and our family hold in common and the appreciation for the simplicity of lifestyle that is so felt in their village. Despite the apparent contrasts in culture and way of life, we really are very similar. Perhaps that is why David found his bride in a small village in Thailand.
Tomorrow we are off to Vietnam!
Merry Christmas!
Elizabeth