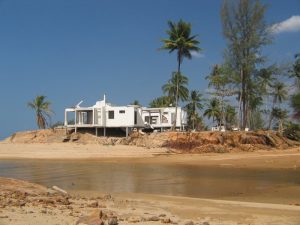 If there is a Paradise on earth it must be here. We repeatedly confirm each other in that statement, several times a day. Mai's Quiet Zone is the name of the little resort where we live, here in the Northern part of Khao Lak. It is not a misnomer. With her husband, the Thai woman Mai has created an area where everything breathes idyllic peace.
On the beach are some practical little red brick and bamboo bungalows. Two storey bungalows encircle the compound. Although we inhabit one of the inner bungalows we can see no others around us. The vegetation is so dense that you get an impression of being in the jungle all by yourself. A multitude of tropical plants and flowers embrace it all. We are in a romantically primeval forest. If you move toward the sea you light on a 20 meters belt of very tall pine trees of some sort, with long, soft leaves. Among the trees there is a two level terrace facing the ocean, and from here you can move down to the water by way of some stairs.
Hundreds of pots with exotic flowers are scattered all over, and the pine trees are adorned with cocoanut shells with orchids. At some of the tables there are parasols. They must have been colorful once, but are now so bleached by the sun that the colors are difficult to make out. All of this area is a beach restaurant. There are about thirty tables, far too many for the twenty bungalows, but the food here is famous as the best of the area, and attracts others tourists for lunch and dinner.
There are also two large open cabins with palm-roofs, and you can take your meals while sprawled on futon mats. Everything oozes romantic decline in this profusion of flowers, and everything confirms us that this is indeed another Eden. We have been here for four days and have become accustomed to the drowsy atmosphere. After a night of good sleep we have loitered around at our bungalow. Mick has found some stones and shells that he has placed in a pattern at the entrance, and all is still peaceful. We wrap a piece of cloth around our waists and wander quietly through the forest toward the restaurant to have breakfast. When we reach the restaurant, the peaceful atmosphere has disappeared. Something is going on. People are looking out at the sea and the staff is running about in agitation. There is no water. We look for several seconds and rub our eyes. It takes us a while to realize that the ocean is gone. It looks odd. There is just a moist stretch of sea bottom, but no drop of water. The sea is gone! All gone! The bathing tourists remain on the sand without water. They are clearly confused and the staff call out to them that they must come back. It is as if someone has pulled out the plug and drained the ocean. Four kilometers further at sea there are two coral reefs where you can go with the local boats to dive. These reefs are now completely exposed and stick out from the grayish sea bottom. Not a drop of water is to been seen there.
I tell Mick that we have to film this and run back for the camera. When I get back to the beach I put the camera to my eye and start filming, but detect an annoying white line across the picture. I remove the camera to check if there is something on the lens. When I look up again, I realize that there is actually a white line on the horizon. "How odd", I think and start filming again. Fifteen seconds later the white line has thickened and now looks like a broad ribbon separating the sky and the sea bottom. When the wave hits, a column of water stretches hundreds of metres into the air and a deep rumble reaches my ears. I tell Mick that we better withdraw a bit – it looks serious. We only have time to turn around ninety degrees.
The wave comes in at a speed of several hundred kilometers an hour and is shaped like a snowplough. The nether part hits us first and in one second I am swept thirty meters into an area of trees and bushes. It is like being hit by a giant fire hose, but at the same time the foaming water is protective and soft. I feel that the water is taking liberties with my person and feel a little offended.
One second later I am thrown into the triangular area under a brick staircase leading to the first floor of the bungalow furthest from the beach and feel my jaw being smashed against the wall below the stairs. Now the water comes in big time. The rest of the wave fills up the space under the stairs and I am flushed out and propelled around in the water, while being struck by thousands of things whirled about in the wave like myself. It feels like being inside a food processor. Broken glass, boards with nails sticking out, house roofs, motorcycles, chairs, tables, beds, and whatever a small village contains are now circling around me. The power poles that looked chaotic enough before are now turned into death traps. Much of the junk is caught by the power cables and piles up. With great force I am hurled into such a pile and get stuck under the water. "That's it" I think, "now I shall drown". Seconds later the cables give in, the pile is dissolved and I am transported to the surface and gasp for air. Then I am again pulled down and thrown about by forces against which you can do nothing.
When I am coming up for air I try to get hold of some branches, but they fly by me too fast. Try catching a branch at 100 km an hour. Forget about it. I cling to a board that is coming my way, only to realize that the next time we pass something, this board may beat me into a pulp, so I let go and try to stay afloat on my own. Suddenly I hear Mick shouting and turn my head to see him some 30 metres away. His little expressionless face and a waving hand. One second later he is pulled down and I have to concentrate on avoiding whatever is floating against me from all directions. By now, fifteen seconds have passed since the wave hit us. I sense that the current is abating. The feeling of being hit by a fire hose now gives way to that of being pulled along by a fierce river. All on its own, my body has been working on steering clear of floating objects and keeping afloat. It was as if I were in a dream world where everything passed as in a movie, and I was commenting on events with phrases like "I'll be damned", "you're kidding" and so on.
Now my brain catches up with my body and I begin to control my maneuvers. A bit further on I see a big tree that has tumbled down onto a palm. I decide to try and land in the top of that tree and succeed in making it there, but the water presses me in among the branches and once again I am jammed with my head under water. How does one find the strength to survive? And in particular me, who is in so poor shape that ten push-ups will almost to kill me, but I still manage to struggle free and climb into the palm tree. The palm leaves are razor sharp and I have to climb over into the top of the other tree instead. By now, I am out of the water rushing by beneath me. One minute has passed and I have been transported half a kilometer away from the beach. A little later a pink parasol comes by and stops right at my feet. I pick it up, place it in the treetop and make myself comfortable.
I call out for Mick, but realize that no sound issues from my mouth. I try again. It suddenly dawns on me how badly bruised I am and what little strength I have left. I pull myself together and shout. My voice is weak, as if I were whispering. By now, the water floats by in a steady stream under me. I wonder how high up I am. The coconuts on the palm on which my tree is resting are hanging right beside me, so I estimate that the water has risen to about six metres. I bleed profusely from the many cuts, but already after fifteen minutes in the sun the blood coagulates. That is, where it can, for in the meantime, I face another problem. Ants. Big, 2 cm long ants with orange jaws. They embark on my open wounds with glee and their bites hurt terribly and make me hysterical.
At first I have time to catch them individually around their bodies, but when I tear them off, bits of my own flesh follow. Within minutes, I'm crawling with ants. At one point I contemplated throwing myself into the water again, but I didn't dare and didn't have the strength. Suddenly I see that the current has stopped. The flood stands still for a couple of seconds, and then begin to run out to sea again. Of course. All that water has been flushed in and now has to be let out again. The current increases. My tree is creaking. If I fall in, it will all start over again, in reverse order, I think. The tree gives in, and I hold on tight. Much of what the flood has brought inland now passes by. And then it comes. The severed arm. The palm of the hand is turned upwards, and it seems as if it is extending its middle finger. F**k you!
I get nauseous. A little later a dead body passes. It is floating on its belly and I do not see the face. I pull myself together and call out for Mick. Now I can actually produce sound, but there is no reply. I call out a few more times. Still no reply. I am discouraged and cry a little. What kind of nightmare is this? I remain bleeding in the treetop surrounded by ants eating off my flesh, the water under me is full of dead bodies and where is Mick?
Then the current stops again and flows inland once more. I cannot comprehend this, but think that with my luck, that bloody arm will pop up again. It does. Then the flood stops and returns to the sea. Incomprehensible. Later, someone explained it to me. What I saw at that time was the second wave which I, half a kilometer further on land, only experienced as the tide turning for a few minutes. The ant problem remains. I tear off a branch and rub it against my wounds. It hurts, but helps me to keep the ants at bay. I am wondering how to get down from the tree once the water has receded, but come up with no answer. The tree shakes drastically and I am afraid to fall in, so I hug a big branch with one arm while the other keeps striking at the ants. Around an hour and a half has passed by now. The heat is insufferable, the sun is in zenith and burns relentlessly. It has all happened so fast, I have been busy all the time and still this nightmare seems to have lasted forever.
The current beneath has stopped again. I want to pour some water over myself to cool off, so I stick my palm-branch into the stream, only to find that there is no water. Just mud. Slowly it dawns on me that the water is gone and that the tree top has slid down the palm tree like an elevator and landed me on the ground floor. I look up, and true enough – the coconuts are high above me. I have landed! I slide down the branch and my foot sinks into the mud. It does not look good. How deep is the mud? I use the ant-branch as a plummet, but cannot get to the bottom. I seize a plank that is stuck in the tree, and with this I succeed in getting to the bottom – a little more than a meter. I take the chance and slide down. The mud reaches my navel. The cool mud provides good protection against the heat. I smear some mud on the rest of my body in order to cool off. My wounds smart and I am beaten to a pulp. My foot hurts something awful and I have difficulty breathing because I have some broken ribs.
I feel something moving in the mud. Little colorful coral fishes are struggling down there. Crabs bite my toes. I cannot remain here, but do not know where to go, so I am about to return to the parasol chair when I suddenly hear shouting. I shout back, but has no voice, so I start beating the plank against the tree. Five minutes later a Portuguese fellow has made his way over to me. He is in the company of an elderly German gentleman who is obviously in shock and crying for his wife. We have to ask him to shut up; there is no time for tears now. The Portuguese seems uninjured. At any rate, he moves quickly and has a lot of energy. We start struggling through the mud. It is not easy and takes a lot of strength. After ten minutes I have to realize that I cannot keep up with them. I'm exhausted and not able to jump up on plants and other objects in our way. I sit down on a tree. The Portuguese soon returns and explains that he does not care whether or not I am able proceed. I must! He annoys me, as he literally pushes me on. I ask again: where does one find the strength? After an hour of struggling on and all the time measuring the depth of the mud before us with a stick, we have reached an area where there is still a lot of water, which means that the mud is not so dense and almost swim able.
And swim we must, for now the depth is almost 2 meters. I am horrified at the thought of treading on something and feel very vulnerable, naked as I am. The Portuguese has made contact with some natives a bit further on land and I realize what they are doing. The area where we have landed is a fishing resort with some sort of a dyke system. It has all been flooded, but now the water has gone down, so the dykes serve as passages and the irrigation system has created a fierce river which we have to ford before we are safe. In the meantime two English girls have turned up. They are not injured, but make a fuss about how nasty all the mud is. They choose to ride on the fierce river into the ocean. It may be a wise decision. We shall never know, for we never see them again. The natives have thrown a rope across the river and our Portuguese Tarzan has managed to tie it to a tree on our side. I am 20 meters away, and with a cocoanut under each arm I throw myself into the river and make for the rope, catch it and let go of the cocoanuts. The current is so strong that I practically lie on the surface of the water, taking handstands across the river, where I am pulled ashore by the Thai and treated to a bottle of water. Water! I have had nothing to drink during the five hours I have struggled for my life in the blazing heat. The flood has conveniently left a leather armchair on the dyke. It is full of mud, but highly welcome all the same. I sink into it and pass out.
A little later someone is pulling at me and when I come to, another bottle of water is put into my hand. What a blessing. I notice that the Portuguese guy and the German are gone. Also the Thai have disappeared. However, a Swedish lady tries to get her very pale husband to drink some water. She tells me that he was blown out a window and that the glass has cut his main artery in the thigh and caused him to lose a lot of blood. They have made a tight bandage and had managed so far, but there is not much life left in him now. I look around. I can see cars driving further into the country on what must be the main road. As no help appears to be on its way, I decide to try and make it to the main road. However, I cannot get out of the chair. My body is all battered and bruised. I still manage to get up, only to observe that my foot is badly swollen and hurts so much that I can hardly stand on it. Once again: how does one manage to summon the strength to carry on? I find a stick I can use as a crutch and head for the main road. It takes me half an hour to walk the 300 meters.
On the way I notice dead bodies scattered all over the slopes of the dykes or floating on the flooded fields. Already by now, five hours after the disaster, the bodies are so bloated by the heat that they look like inflatable dolls. When I get to the road, a Thai guy comes up to me and hands me his loincloth. He feels that it is undignified for me to walk around stark naked, so he offers me his own garments. After all, he is wearing briefs underneath. I explain to him that they must make a stretcher and collect the Swedish man on the dyke. Another man gives me a bottle of water which I drink while I am looking at the dead bodies piled up by the main road. It is scary to see how bloated and stiff and distorted the bodies are, but I feel no disgust. Only emptiness. The traffic is chaotic. It is clear to see that the wave has passed this way too and left a lot of mud, but the road is passable and filled with everything that can drive. To hospital, to hospital, the natives shout and point north and want to put me on an open lorry that is already crammed with passengers. As luck will have it, two English brothers in a smart steel-grey car stop right by me and ask if they can help. Can they! You can take me to the hospital, I say, and climb into their rented car. I sink into the clean, soft back seat, close the door and feel the cool of the air conditioner. We drive off.
Sitting here seems surreal. Two minutes earlier all was horrible and now I am in a clean, cool car, looking out at the disaster. It strikes me all of a sudden that I am actually saved. I have survived! Are death and life really that close? I retreat into myself and sense a strange mixture of happiness and emptiness. The English brothers have been up in the mountains and have descended into this mess to look for their parents. They have been driving back and forth for a while.
We later realize that the hospital is not actually near by but in Takuapaa, 25 km further north. This was not what the boys in the car had counted on, but even though they would prefer to stay in the area and continue their search, they agree to drive me to the hospital where they may check if their parents should have made it there. We drive slowly along. In several places the road is less passable and it takes time. We drive through ruined district after another and while we are driving it occurs to me that I too ought to have stayed in the area, for what about Mick? What if he is walking around looking for me? Nobody knows that I am heading north. I say nothing. I have got to go to the hospital and get help. It takes a little over an hour to reach the hospital. The brothers let me off outside and hurry in to look for their parents.
I am received by some Thai people who place me by the entrance where hundreds of wounded people are already waiting. I look out for Mick all the time. Let me find him now, I need to so much! The hospital is the biggest in the area and reasonably well equipped. How many beds I do not know. Let us say 300. We are several hundreds here at the entrance waiting to be admitted and still more keep coming. I am very busy looking out for Mick. I seem to see him a lot of times but every time I have to admit that it is not him after all. Ambulances deliver one stretcher after another. I cast longing looks after each of them. A nurse comes up to me and offers to clean my wounds, but even to be touched is so painful that I feel faint. I pass out. When I come to, I am lying on a metal table. Above me are sharp fluorescent tubes and there is an infernal noise and an agitated atmosphere all around me. Doctors, nurses and aides are running about, communicating loudly.
The whole emergency room is filled with stretchers placed in all directions, which makes it difficult for the staff to move about. A little later I am picked up by someone with a wheel chair. They have decided that I am not injured enough for a stretcher. But at least I am being hospitalized now and taken to my bed. Well, not exactly a bed. There are no more beds, so I am handed a towel and a basin and they show me a free space on the concrete floor in the hallway. Here I lie down on the towel and fall asleep with the basin as a pillow. It is a dreadful night. The hallway is filled with people like myself. There is a lot of screaming and shouting, and an endless flow of people running around in search of relatives. I see the desperation in their faces. They grab me to get a look of my face, only to find that I am not who they are looking. Their behavior is understandable, but unbearable. Every time I am touched my body aches dreadfully, so I arrange myself so they do not have to turn me to get a look at my face. And perhaps Mick also comes by, in which case he must be able to see me at once.
What if he should pass by without seeing me! The hallway is in the open air, but covered with a roof. The sharp light in the ceiling attracts thousand of mosquitoes and in the morning I am like a pincushion. My pains are insufferable and I coax two painkillers out of the staff. However, the pills are little help. I advance. A bench has become vacant and I limp over to it. It is made of concrete, but at least I can lie there without being stepped upon. I have also acquired a pitcher in which I can pee. I have to pee all the time. It seems as if my body rejects the water as soon as I drink, and the pitcher is constantly full. But at least I do not have to pee on the floor anymore. I smell badly of urine and the mud in which my whole body is smeared flake off all the time. A great many Thai have arrived at the hospital to assist. Even though they are not trained nurses they are a great help. They empty the pitcher, bring me some food, fruit and water and also give me a blanket and a bolster I use as a pillow.
Mick and I have now been together for a couple of years. It is the ideal relationship and from the start we have been very comfortable with each other and have been together every day. We planned to get married, as we wished to make manifest to ourselves and everybody else that we wanted to be together for ever after. We had been on a couple of small vacations, but this was our dream trip and we looked forward to investigate the area and enjoy everything and each other in these wonderful surroundings. All the misery in which I find myself now is completely overshadowed by the uncertainty concerning Mick's fate. I have an extreme need of talking to someone and trust that it will not be long before the embassy pays a visit.
At noon a Swedish guy drops by. He puts me on a list and I was reassured on hearing that he has been driving up here together with the Danish ambassador, and that I can expect a visit before long. I am filled with a sense of happiness and gratitude. Help is on its way. Just after noon I am examined by a doctor. My ribs ache and I have difficulty breathing. I am given something for the pains and sent to x-ray, and they attempt to clean the worst wounds. Then I am back on the bench. I wait and cry. The pains are bad, but the uncertainty about Mick and the fact that I have still not received a visit from the embassy make matters worse. Have they forgotten about me?
Late in the afternoon a couple of Swedes receive a visit. I send a Thai down to them to let them know that I want a visit too. Two people from the Swedish Consulate in Phuket promise me that my name and social security number will be delivered to the Danish Embassy in Bangkok. This calms me down a bit. I still feel very lonely and cry all the time. As the hours pass I realize more and more how chaotic the situation is, and that my chances of seeing Mick again are small. I fall silent and withdraw into myself. The tears keep coming. An injured Swedish lady in a room further down the hallway has been calling for her daughter for 24 hours. Find my daughter, find my daughter. Not until now, when the Swedish Consulate has arrived, are mother and daughter reunited. The daughter has been in a room only 20 meters away but has not been able to make herself understood to the staff. In this chaos, such things can happen. Late in the afternoon the Swedes have yet another visitor, and once more I ask if he can see me afterwards. He is a Swedish doctor by the name of Ole, but speaks fluent Danish. He is the first Danish-speaking person I meet. What happiness. Ole is on vacation down here and has just stopped by the hospital to see if he can be of any service. He is of great comfort to me and examines me thoroughly and observes that my foot is badly injured and may be broken. He has me sent to x-ray again.
The x-ray ward is busy. We are queued up and parked ten at a time beside the x-ray machine. They certainly do not worry about the radiation danger; The door to the ray room is open and there are lots of people parked outside. They work fast, one photo a minute at least, and half an hour later I am back in the hallway with a picture of my foot. Ole observes that the foot is not broken, which is a great relief. In a room just across from my bed there is an old Thai. His relatives have nursed him and have practically been living in his room. Now the doctor has been there, the old man has died, the relatives are crying and the old man carried out. One minute later I occupy his bed. I had to get away from my concrete bench in the hallway and in here there is a mosquito net and a fan in the ceiling. I close the door in a hurry. A little later a German is carted into the room and placed beside me. Apparently no one notices that I have commandeered the bed. I talk with the German. He cannot find his wife and is in a lot of pain. I cannot find my boyfriend and ache all over. We cry each other to sleep. The night passes without mosquitoes or other disturbances.
I sleep in a bed and only my pains wake me a couple of times during the night. In the morning we are awakened by the cleaning lady. She is quite a character, and makes us both laugh. She comes in tired, dragging her feet, in a pair of yellow Wellingtons, dark green rubber trousers, a bright green rubber jacket and pink rubber gloves. On top of this, she is wearing a disposable shower cap. Something of a get-up in 85-degree heat, so it is small wonder that she is dragging her feet. Equipped with a tin bucket and a worn out rag and a plunger, she locks herself into the bathroom for five minutes. Then she drags herself out again and disappears without a word. She leaves the bathroom soaked in water! Late in the morning somebody from the hospital comes to see us. He hands us a formula on which we must state whether we want to stay here or be transferred to a hospital in Bangkok. We are quite taken by surprise and it is a tough decision to make. We confer briefly concerning advantages and drawbacks, and the fact that Mick may still be looking for me makes it particularly hard to make the choice.
This makes sense to the man from the hospital, but he adds that we will receive a better treatment in Bangkok, and it will be easier to communicate from there, since communication down here has all but broken down. We already know this, since natives have offered us the use of their mobile phones if we wanted to call home, but we have been unable to get through. We decide to move to Bangkok and put our names on the form. I wonder how many days will pass before we are actually transferred. But the Thai are efficient. It takes less than five minutes before we are taken by wheel chair to 17 waiting ambulances that speed of – escorted by police – to Phuket Airport, 125 km away, and arrive at 12:30. A lot of people are waiting for a plane, but we are told that ours will take off at 1 pm. I ask a Thai nurse to take me for a spin in the hall to look for Mick. He agrees, and for fifteen minutes he pushes my wheel chair around in the departure hall, but my quest is without result. He then takes me to a big military aircraft and at 13.01 we take off for Bangkok. Thai efficiency. I count 120 sitting passengers and about 20 stretchers, together with 20 first-aid people who are happy to get the food we cannot eat.
They are also thrilled at the chance of putting their training to use, and they pose ceremoniously beside us victims while their friends take photos. Bags of sweets are passed around and never has nauseatingly sweet strawberry candy tasted better. We land in Bangkok after a couple of hours' flight and when the aircraft opens, we see an army of ambulances, doctors, nurses, stretchers, wheel chairs, and reporters. Like movie stars, we are being rolled out into the blitzes of the cameras. In the arrival hall a long row of representatives from the various embassies wait with signs and flags. Norwegians, Swedes, Finns, Germans, Austrians, Frenchmen, Englishmen, Spaniards, Italians, etc. – but no Danes. I am pushed into the tumult while I keep shouting: "Are there no Danes?" Suddenly a guy smiles at me, "Hi, I'm Morten, and I'm from SOS International". Once again I feel calm and reassured.' If you need to call someone, you can use my phone", he says. Call someone? I can make a call? Just like that? Morten helps me make the call. I have also lost my glasses and I haven't been able to see much for the last few days.
I make contact with Denmark. "Oh, you're alive!" they shout at the other end and then I know that this is the first sign of life from me. I ask if they have heard anything from Mick. Yes, Mick's alive. He has been recognized in a Swedish newsflash. I break down crying. All the fears and uncertainties that have haunted me these past days are lifted in one fell swoop and tears flow. Morten tries to call the Danish Embassy, but there is no reply. In spite of the chaos everything is very well organized. The nurse who has picked me up at the airplane is still at my side and tells me that she will escort me all the way to the hospital and get me admitted and then continue to call on me for three days. It is very comforting, and she keeps her promise. I see her for three days in a row. At the admission I receive a very thorough examination. Five minutes later they have summoned an eye specialist, an ear doctor, a physiatrist and they all plan my further treatment. I am taken to my room by a sweet Thai guy by the name of Tamtam. A veritable dance hall on the eleventh floor, with a balcony and a view over Bangkok, a living room, a refrigerator, television, etc. becomes my habitat for the next few days. I can hardly believe it. But God, how I need it! It is a metamorphosis of sorts. I hope it will never end. I want to get a bath, but I cannot stand on my foot and am too weak to stand, anyway. Three sweet Thai girls come to wash me.
Equipped with washbasins and flannels they go to work. They are amazed how dirty I am. They have never seen anything like it. The water in the basins immediately turn brown and they have to get fresh water and fresh flannels constantly. They have a good time and keep trying to cover me up, but I insist on being washed down there too. The giggle and are very shy, and show each other all the time how dirty their flannels get when they rub me. Then I am taken to x-rays and when I return to my room, an exquisite three course Thai meal awaits me. I have hardly finished eating when two good friends from Denmark call on me. They are vacationing in Bangkok and my telephone conversation at the airport have set the grapevine going, and by many curious byroads my friends have found out where I am and hurried over here. It is almost unbelievable. I am overwhelmed by happiness, and feel safe. We talk things through. I leave all the practical stuff to them and now I have only my pains to attend to. And speculations concerning Mick, but, luckily, he is alive.
I do not sleep particularly well that night, because of the pains and the thoughts that keep running around in my head. All through the night I have to call for a nurse when I want to turn in bed. All of my body hurts. I can't find comfort in any position. The nurse wants to help, but I start yelling whenever she touches me. We find out that they have to pull at my hands – the only place that does not hurt. That way I can turn a bit. This goes on all night every thirty minutes. At six in the morning the telephone by my bed rings. In spite of my pains I answer it quickly. A chirpy female voice asks me how I feel, for she has an e-mail from my mother and wants to deliver it. I don't understand. My mother is 82 and has no mail. "Who are you, and where do you call from?" I ask. Well, her name is so and so, and she calls from the Danish Embassy in Bangkok. This is the first time I hear from the Embassy, almost four days after the disaster. "Oh, well, we have been terribly busy" she chirps on while I attempt to turn in bed. I yell out. "Are you in pain?" she wants to know. "Hell, yes, I'm in pain! "But your mother writes in her mail that it's not very bad!" "Read me the mail, dammit!" O'My brother is hospitalized in Bangkok – Oh, then it must be your sister writing" the embassy woman says, a bit too late. "Is there anything I can do for you?" She asks. "Yes, thank you! Everything! Get out here at once!
Well, that was impossible, she was sorry, but she promises to call back later that day. I never hear from her again. I ask for some stronger medicine against the pains and that they put a Balkan beam over my bed so I can drag myself up. Unfortunately they do not know what a Balkan beam is, so they end up tying a sheet to the foot of the bed. It is better than nothing, but no good solution. At the ward round I am examined by several doctors and taken to the eye specialist later to get my eyes rinsed from all the sand that has forced its way into the socket. The eye specialist will also see to it that a pair of glasses are made for me. The ear doctor spends half an hour getting sand out of my ears. A whole box of it, and it makes a crunching noise. The physiatrist examines me and cleans the big open wounds on my ankle and presses out a lot of pus before he puts a tight bandage on the swollen foot. My friends have been shopping and bring me clothes and a mobile phone that will prove invaluable in the days to come. They have also bought glasses for me which means that I now can e-mail. Later in the afternoon I arrange for an internet access.
They wheel me down to the hospital information center and among fax and photocopiers I get a spot by a computer which they have connected for me. I can use it 24 hours a day, I just have to ask. Everybody in the office has been informed about my situation and they are all so helpful. When I open my mail, there are 56 new mails for me. The grapevine at home has been busy and everybody offers to help. It is overwhelming, so I have to send a share mail for them all. I simply cannot answer each one individually. When I am back at my room two maintenance people in overalls arrive with some scaffolding pipes and start designing a Balkan beam over my bed. It works and is very handy in the days to follow. Now I can sleep through the night, except for the checks on my temperature and blood pressure. The next morning it all changes. My friends can report that the footage seen of Mick on Swedish television has been enlarged and it turns out not to be Mick after all. No one knows anything about him. Maybe he is not alive at all. It is a terrible blow. I cry all day and the last glimpse of him in the wave passes through my head over and over again, and my imagination creates dreadful images of him lying battered and lifeless in the mud.
And here am I, being nursed and pampered. What injustice! I ask if I can speak to a psychologist and three minutes later a very competent young Thai psychologist is at my side. The days to come are teeming with rumors and conjectures. In the beginning it took days before help arrived. Now it comes wholesale. Danish nurses, psychologists, insurance agents, help organizations and on top of that, the friends from home and the two already down here. But still no sound from the embassy. Information goes in all directions. Many think that they are on the track of Mick one way or the other. Many look on the internet and find someone who resembles him. I have to approach the situation with apathy. Gradually I realize that I must come to terms with the possibility that Mick is dead. The hope of finding him evaporates and even that of finding his body. I cry all the time, but now without tears. I have none left. I spend some hours each day at the mail. One day I am taken down to the computer by the orderly who was there at my admission and he asks if I remember him. Of course I do. 'You are Tamtam. Who can ever forget that name?' He beams at being recognized. "You find your husband?" he asks.
Apparently everyone at the hospital knows about my situation. No, I reply, unfortunately he has not been found. Tamtam picks me up again a few hours later and now asks me if I believe in God. Not really, I tell him, but I do believe there is something of which we know nothing. "I believe in God, Jesus Christ and Angels" he proclaims. Yes, I believe in angels, too, I tell him. When we get to my room, he stops, knocks and puts his ear to the door. But Tamtam, I say, there's no one in there. He turns and smiles. "Oh yes, the spirit of your husband is waiting for you in there" whereupon he shouts into the room: "I bring back mister Jens". The next days pass. Physically I get better and can now limp around on my own. My wounds heal and I feel my strength return. Then I throw up. It hurts in my ribs. Diarrhea. I have to go to the bathroom all the time, and after a day I am so fatigued that I can only lie in bed. The mail activities are abandoned and all the delicious Thai dishes replaced with rice porridge and mineral powder. The doctors look worried. It is unfortunate that this high-class hospital has given me diarrhea.
They cautiously ask if I have eaten anything from outside the premises, but I have not. They suggest that it may just be a physical reaction. Well, never mind. I get over it in a day or so and can resume my mails and my cure. One day start to look like the other. I receive phone calls or visits from various officials. I do my best to keep friends and family informed, as I gather that uncertainty is as bad for them as it is for me. At long last the embassy informs me that they need Mick's dental chart in order to get on with the investigation. My friends in Denmark therefore find his dentist who is on sick leave with a slipped disc, but who still manages to make it to the clinic, find the dental chart and hand it over to the authorities. The Police have their procedures and one cannot just mail a dental chart to Bangkok. It has to be handed over to the State Police who then sends it by courier to Phuket. This causes a further delay in the investigation, as the embassy's information about Mick is withheld until the journal is complete. Not until then can it be sent to Phuket. Although a lot of people are at work on the case, procedure draws it out and it aggravates me, since every minute may mean life or death. My hopes of seeing Mick again are gone and I see no reason to remain in Bangkok. I want to go home. But to get home one needs a passport!
So at long, long last I get a visit from the embassy, they take a photo, go back to the embassy to make the passport and send a man out with it to get my signature. God, they are circumstantial! My travel agency can only offer me an ordinary seat which I am still in too poor condition to accept, but one call to SOS International earns me a berth if I can be at the airport within a couple of hours. All of a sudden, I am in an awful hurry. I eat, pack, mail and say goodbye to the staff and then I rush to the airport in an ambulance and are rolled into the SAS business class lounge. Croissants with salmon roe cream and champagne, the opportunity to mail home that I am on my way, Danish newspapers and what else one could wish for. They continue to pamper me on the plane and the soft berth on first row has a soporific effect, so I sleep from take-off until we are above Stockholm. Then I get a delicious breakfast and we land in Copenhagen. Here I am greeted by psychiatrists, police and the whole works. But all I want is to see my loved ones who have come to pick me up and it feels safe to have reached home. Lovely to see my home again. The sun is shining, and everything seems to bid me welcome – I am without my beloved at my side, but I have to come to terms with that fact. My dearest Mick, You will remain in my heart. You will never be forgotten. I am proud to have been your boyfriend and I will try to abide by all the good principles you represented. First and foremost you have shown me that love exists the way I want it to and cherish it. I will look for it again, in the hope of approaching something like the happiness I found with you. I love you forever. Jens.