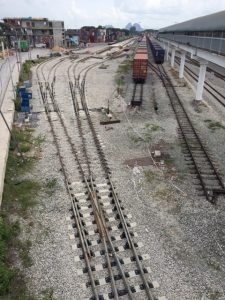 Hat Yai is a popular food and shopping destination for Malaysian tourists looking for a nice weekend getaway. It is also a gateway for travelers especially backpackers to visit other parts of Thailand. For the sake of convenience, most of the people choose to get to Hat Yai by minivan with a wholesome service that will whisk you right from your very doorstep to the front of your hotel at a cost of about MYR 35 (USD 8.5) one way.
Despite the convenience, passengers are at times being put in a crowded car, squeezing shoulder to shoulder, compromising the comfort that a vacation should entail. Furthermore, the van usually stops at the Bukit Kayu Hitam border, the main Malaysia/Thailand customs and immigration checkpoint. It also means that a longer wait is expected at immigration due to a larger crowd. If you are not in a rush and prefer slow-paced travel along with some degree of comfort, there is an alternative you might want to consider.
Ferry to Penang Sentral in Butterworth
The ferry service starts as early as 5:40 in the morning and operates at every 20 to 30 minutes interval. It costs you nothing, REALLY NOTHING, ZERO, NADA, NULL to travel from Penang island to Butterworth. To travel back to the island from Butterworth, only a small amount of MYR 1.20, approximately a quarter is required.
It takes about 15-20 minutes to cross either sides. The perk of taking ferry is you get to immerse yourself in the best coastal view of Penang island, particularly during sunrise and sunset hours, when the sky is painted in magical hues, making a picturesque contrast with the glistening blue sea. Definitely an instagrammable moment you would not want to miss!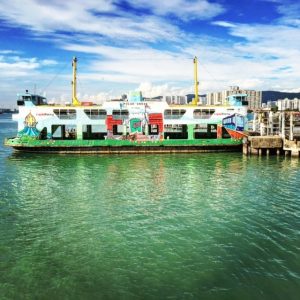 Commuter train from Butterworth to Padang Besar
Upon leaving the ferry onto Penang Sentral, the main transportation hub for Penang State, simply make your way to the train station that is adjacent to the building.  Do not worry about getting lost, there are many clear signs to lead you to the train station. At the train station, buy a ticket to Padang Besar for around MYR 11 (USD 2.5). Malaysian citizen is entitled to a MYR 2 rebate by showing MYCARD at the ticket counter.
There are many trains scheduled between Penang and Besar, from early morning till late evening, running at an interval of 1-2 hours.
The coach is spacious, spotless, fully air conditioned and furnished with seats that offer generous legroom. Some seats have an electrical outlet to power up your device's battery. For the nearly 2-hour journey, all you need to do is to sit back and chill out, occasionally admire towering limestone hills, rustic villages and vast expanse of paddy fields along the way.
Padang Besar to Hat Yai
Question – How do I get to Hat Yai from Padang Besar?
Bear in mind that there are two "Padang Besar", YES, YOU ARE HEARING IT RIGHT! Both border towns carry the namesake of Padang Besar. The train terminates at the Malaysian side of "Padang Besar". In order to catch a minivan to Hat Yai, first you need to get to the Thailand "Padang Besar".
Once you are out of the train, be expected to be approached by individuals who are trying to get a deal on taking you to the Thailand "Padang Besar" on a motorcycle for MYR 7 (USD 1.6). If you don't feel up to it, ignore them and cross the border on foot, it takes about 30-minute walk to the point where you can catch your ride to Hat Yai.
I would, nevertheless, suggest you give the motorcycle ride a shot  to experience the "drive-thru" immigration controls , by which I mean you will be driven through the immigration counter with you siting on the motorcycle when it is your turn to hand in your passport for inspection! Plus, with this arrangement, you would be spared from the blazing heat of the sun from walking.
The minivan to Hat Yai costs 50 Thai Bhat (USD 1.6) and the drop-off point is Hat Yai Bus Terminal. From there, you can move on to other Thailand destinations by buses or other minivans.
In conclusion, for less than USD 6, you will be comfortably transported to the largest city in Southern Thailand without being cooped up in a crowded minivan for several hours. Does that sound appealing to you? It surely does to me!