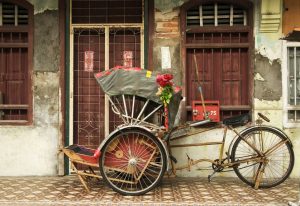 I have been fortunate to have spent significant time in South East Asia over the years with many trips to Thailand. During several trips I've either flown or taken a bus from Thailand to Malaysia. I was recently approached by a Malaysian online booking company that offers flight tickets, Traveloka Malaysia. I was not familiar with this company; in the past I've booked directly through some of the major airlines in this part of the world or some of the budget airlines.
Always intrigued when I am presented another option for booking airfare, especially in this part of the world I took a closer look. It is nice that they have no booking fee. Using their booking widget to see what came back in terms of price for several destinations I was pleasantly surprised to see they already work with a number of the budget airlines in the region and their prices were quite reasonable.
Their booking system is easy to compare and book and they take various payment methods.
After playing with their booking engine I can see Traveloka Malaysia offers cheap flights.
One of my first "Internet" friends lives in Penang and has been bugging me to visit him again! When I first reached out to him indicating I would be in Penang I thought it was a bit odd to be meeting someone in person that I had communicated with for many years strictly in an online basis. How times have changed.
Malaysia has so many neat destinations for visitors; I've explored Kuala Lumpur, Penang and some of the more remote seaside areas north of Penang south of the Thai border. I was surprised at the diversity in Pengang including cultures, religions and foods. Wandering around Georgetown I spotted churches, mosques and temples. And of course the popular Georgetown street art.
Visitors to the area needing to escape the city might want to take a look at nearby Penang National Park. Highlights of a visit here are the hiking – especially the one hour hike to the beach (Pantai Kerachut) to spot nesting sea turtles and watch the young ones make their way back to the ocean. Two types of turtles nest here; Green turtles between April & August and the Olive-Ridley between September and February.
And with my appreciation and love of tropical fruit, the last time I was in Penang I made sure to seek out several farms and gardens. The Tropical Fruit Farm is located 35 minutes outside of Penang and is highly worth visiting. And nearby to this farm is the Tropical Spice Garden – where you get to see various spices growing and at the end of the tour actually taste and smell some of these. I've detailed more information on both here.