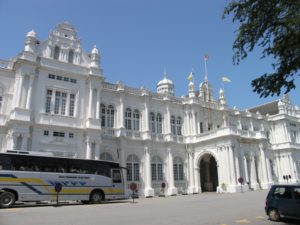 As you cruise down the main north south freeway in Malaysia take exit 161. This will lead you across the 12km bridge connecting the island of Penang to the mainland. Penang, Malaysia is a fast growing city; the new very tall apartment complexes that seem to sprout everywhere from its shores are testament to this. Part of the island is a "free trade zone" and many International businesses are located here including Aigilent, Dell, Bosch and more. A National Park, fruit and spice farms, major shopping malls, affordable pricing for food and hotels, and the "Streets of Harmony" in Georgetown which contain many multi-religous buildings including churches, mosques & a variety of temples all make Penang a great place to visit.
A few of the places we visited are briefly touched upon below.
Georgetown
Georgetown is the colonial and multi-cultural heart of Penang. It is best to walk in this district as many of the attractions are located close to one another in a 5 to 10 block radius. Many of the backpacker shops and guesthouses are also located here including a plethora of Internet cafes.
Little India is an intense collection of shops and temples dedicated to all things from India. Many of the shops are in old colonial buildings. You will most likely hear Indian music following you down the streets. There are lots of Indian food and spice shops.
Masjid Kapitan Keling Mosque is located in the Penang "Gold Bazaar" section of old Georgetown. Stand near the front of the mosque for a walking tour plaque & map which highlights the special nearby attractions. This is a beautiful Mosque and if you are a non Muslim you can enter with a guide. There is an education center on site where you can learn and ask questions about Islam. The guides are informative and after your "education sit down" you can choose from a variety of free books about Islam.
There are many Chinese temples scattered throughout Penang. Some of the oldest ones are located in Georgetown including the Tokong Kuan Yin Teng temple which is well worth visiting for its very colorful and ornate architecture. People watching is also a good way to kill time here.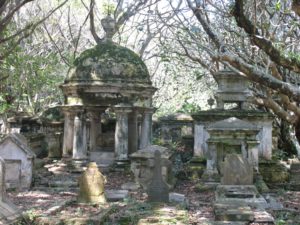 Indian Temples are scattered throughout Penang. Kuil Sri Mariamman is one of the more elaborately decorated ones and is located in Georgetown.
The old Protestant Cemetery is worth visiting on Farquhar Street in Georgetown if you have a few extra minutes. It is historical as all the tombs date from 1789 to 1892 and includes several local personalities including a previous governor and Thomas Leonowens the husband of Anna, famous for being the subject in the "the King and I" musical.
Kel Lok Si Temple (also called the Kuan Yin Temple which means Goddess of Mercy)
The largest and one of the most popular temples is the Kuan Yin temple located at the edge of the hills overlooking much of Penang. There is a huge bronze statue of Guan Yeem, a tall pagoda which you can walk up 5 flights, each flight becoming progressively narrower, and colorful Chinese decorations and buildings. Great views of the city in the distance. An affordable tram car ride takes about a minute to deliver you from the lower to the upper level, or you can elect to walk up many steps. The entrance to the temple is on a long narrow walkway surrounded by vendors on both sides. As you walk you will reach the "turtle" pond which contains hundreds of turtles. Vegetables are avaible for a small fee to be used for feeding.
Penang National Park
This National Park is located on the northern part of the island at the end of the Batu Ferenghi beach road. Admission is free (although you are required to check in at the park headquarters) and there are a plethora of jungle based hiking trails including to a number of beaches, a river, a light house and the popular 1 hour hike to where sea turtles nest and the fledglings hatch and make their way back into the ocean. The sea turtle nesting times vary depending on the specie. Green turtles nest between April & August and the Olive-Ridley between September and February. The nice long beach is a great place to also relax and swim (although keep an eye out for any large white jellyfish). If you tire after the jungle hike to this turtle nesting beach, you can always take a boat back to where you started from (leaves from the pier on site). On the boat ride back, look for rocks near the shore as you round the point of the island that closely resemble animals!
This nesting area is located in what is called the Pantai Kerachut area of the park. A seasonal Meromictic Lake forms during "spring time" when high tides mix in a flat area with the river. Because of this very unique situation plants must be extremely adaptable to both the salt and fresh water and the fact that the lake is usually dry except for certain times of the year. Visit: www.wildlife.gov.my
Farms
The Tropical Fruit Farm is located about 15 minutes inland from the Batu Ferenghi beach road off of a windy road. This is about 35 minutes north of Georgetown. This fruit farm contains over 200 varieties of tropical fruit, and since its always warm in Malaysia there will be always fruit that you can taste. Tours take about 1 hour and the guide walks you through most of the 25 acres describing the fruit trees and picking fruit for you to taste. Many uncommon varieties are grown here including a white Mangosteen. At the end of the tour a fresh plate of fruit is served. Allow at least an hour.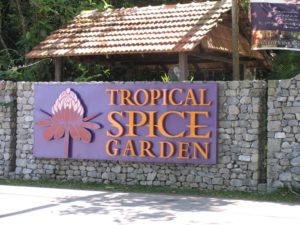 Tropical Spice Garden is located near where you turn off to go to the Tropical Fruit Farm right next to the main road near the Batu Ferenghi area (also home to Penang's very touristy night market). Once you pay the touristy price of admission you will be given a healthy handful of mosquito repellent to help ward off the insects. As a side note, we visited in January towards the end of the rainy season and were not bothered by mosquitos. This farm contains 4 acres of small hiking trails, each trail separated into a different feature – herbs, spices, ferns, bamboo etc. Many of the plants will be labeled and some of the more useful plants have rather lengthy descriptions. Finish your self guided tour at the museum and gift shop/cafe which sits high above the water. As a result, from the deck you have great views of the water and shoreline through the trees. A variety of very good spice drinks are served here. Allow at least an hour. Guided educational tours are also offered several times daily for an additional fee. Visit: www.tropicalspicegarden.com

Malls
Queensbay is a modern mall near the straight that separates the mainland from the Island. Many modern name brand shops are here. It is a great place to escape the terrible heat and humidity that sometimes plagues Penang especially in February, March and April as the air conditioning here is top notch.
Prangin Mall is a slightly older multi-storied mall centrally located in Georgetown just across from the bus station. Many small shops are located here as well as some name brand ones. Internet access is located on the 5th floor. A supermarket is also located next to the main mall. The front of this mall can be crowded with traffic but is a good landmark to give out if you are meeting someone.
Lastly, don't forget to try the delicious local dessert delicacy called Chendul. It can sometimes be sweet; but you can ask for yours to be slightly less so. The best one we have had was from a roadside shop in Georgetown called Penang Road Famous Teochew Chendul. Often many people will be standing around eating their Chendul right in front of the shop. One, because this shop produces such good desert and two, it costs more to eat this desert inside.
Our recommended time in Penang is 3-4 days. To view additional photos of Penang visit our Malaysia photo gallery here.