Japan has always held a certain mystic for us in the western world. While it might be often be highly romaticised compared to the reality, Japan still holds many surprises, and you'll probably be surprised in ways you never expected.
It cost the guts of €1200 for flights with BA  as we flew in high season around April/May it was totally worth it.
From the moment I stepped foot in Narita airport in Tokyo, I fell in love with Japan and its people.
Tokyo
The crowds are the first things that meet you as you step foot in the city. But the streets are wide and Japanese people are polite. Even in a crowd you'll feel like you have space.
We took the metro from Narita airport to our the E-Hotel Shinjuku. It was a clean hotel with compact rooms and Wi-Fi, close to everything.  You'll find that sme hotel rooms in Tokyo tend to be on the smaller side, but as a city with the biggest population inthe wolrd, this shouldn't come as a surprise! Besides, the hotel is nto what matters.
Our hotel was close to the Higashi-Shinjuku Subway Station which was super convenient. The main thing to consider when booing somewhere is that your'e close to a station. Tokyo's subways and trains are highly efficient and are always on time.
We had about 4 days in Tokyo; not enough, but I think if you lived there even for 6 months it would not be enough time to explore everything, so I have chosen some highlights:
1.Takeshite Street for Shopping
The sights, the sounds, and the hyped up crowds all make for an exciting experience as down the pedestrianised Takeshite st in Harajuku. It get super busy here so be prepared for crowds. The pedestrianised street is full of cool clothes shops, boutiques, cafes, and other fun shops selliogn quirky items.
The boutique clothing shops are heaven for those of us who enjoy dressing up…
I got lost in a cave of amazing costumes, show, and theatre outfits. There is something for everyone here.
At the very bottom we found a cat café, which is basically a few rooms with all sorts of felines azing around while you sip tea or coffee.
I have to say that although i love cats and I didn't enjoy the experience as much as I thought. Cats are very independent creatures and although they had some very beautiful ones (ragdolls ,etc), i felt that putting them on show was unfair to the cats.
That is not to say they seemed particularly distressed but cats don't always want to be petted and have their photos taken and they didn't seem to particularly enjoy being followed round by a bunch of tourists.
If you love animals as much as I do, I would tell you to avoid the cat cafes! But if you must, here are some pictures to give you an idea of what you'll see:
2. Park Hyatt for a view with a cocktail
You might be familiar with this hotel if you;ve ever watched Lost in Translation. The scene with Bill Murray in the bar. That's the New York Grill Bar located on the 52nd floor of this luxury hotel.
If you want to enjoy stunning views of nighttime Tokoy while sipping on a 20 dollar cocktail then it's unmissable. There is a cover charge of 20 dollars in he evening after Xpm to enjoy the band, but in my book it was worth it.
We ended up eating there- a small pizz and burger and I would say we had about three cocktails and three beers. The cost came to over 200 dollars! Still though, if you don't want to splach out, you can always arrive earlier in the day before the cover charge, stick to one or two drinks and go elsewhere for dinner.
The view was priceless.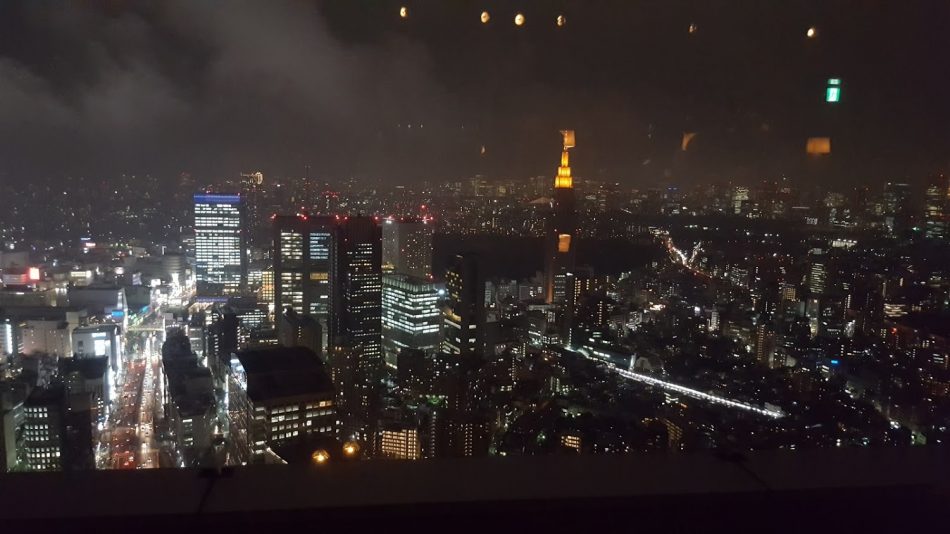 3. Izakaya followed by Tokyo Tower
In search of a traditional Izakaya, we found Warayakiya Roppongi through Tripadvisor and were not disappointed.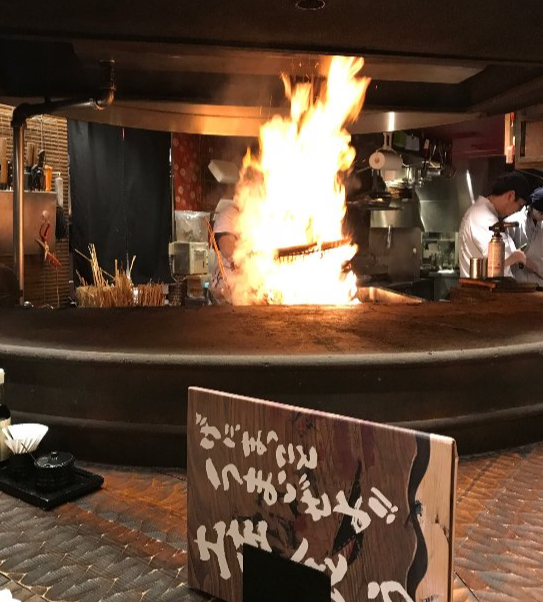 An Izakaya is kind of a gastropub where you can get great beer and saki and order as much or as little food from the bar as you like. They cooked the fish in front of us which was nice because it was comforting to know what we were getting! My experience of ordering food in Japan was that it was a bit of a gamble, especially if the menu has no english or pictures.
A little bit about Roppongi-this place is ALIVE! It's a pretty vibrant entertainment district where you'll find whole skyscrapers dedicated to karaoke and tonnes of bars and clubs. It's even enjoyable just to walk around here at night and take it all in.
Maybe a little clouded by the saki we walked to Tokyo Tower where we were rewared with fantastic 360 views of the sprawling city. Tokyo is huge and there is nothing quite like seeing it from the sky. It's about 900yen for adults and the last admission is 10.30 pm.
4. Shinjuku Gyoen National Garden
Tokyo loves parks so it was hard to choose one! I mainly chose Gyoen for the convenience but it turned out to be the right one!
For ¥200 you can escape the busy streets and skyscrapers and step into pure tranquility. As we were there in cherry blossom season (April/May) we got to enjoy these trees in full bloom. It was a pretty hot day, so it was a welcome break from the city streets.
There's lots to see,  from brightly coloured rose gardens, Japanese and English style gardens and expansive green spaces to settle in with a picnic.
There's also an old-style teahouse on a tidal pond and a 300-year-old pine.
I was nice to be back in nature and you can get a view of the juxtaposition of old and new with the background setting of the modern skyscrapers.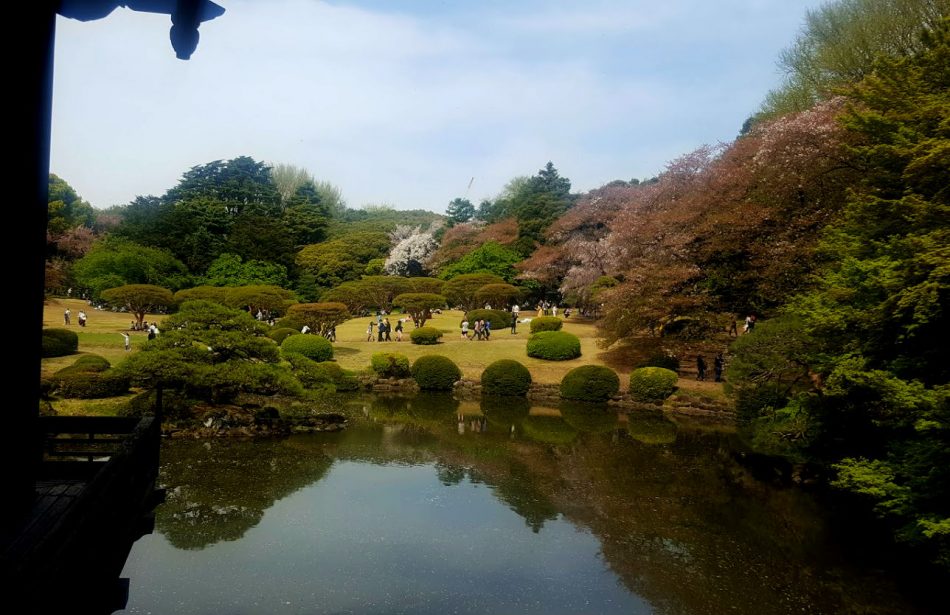 The park is a short walk from Shinjuku-gyoemmae Station on the Marunouchi Line or Sendagaya Station on the Chūō-Sōbu Line.