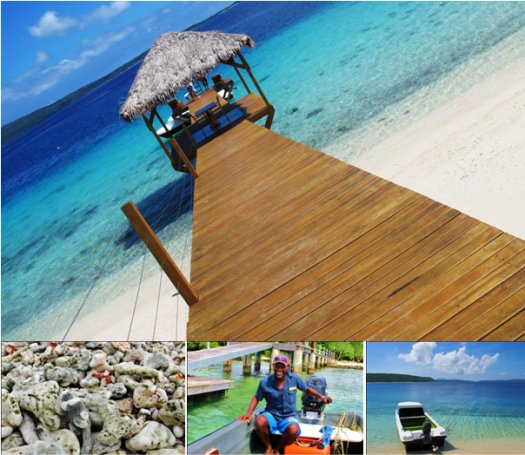 When you think of a romantic island vacation, what do you imagine? Basking away peaceful days in the sun, just you and your special someone? Stealing away to hidden beaches where you frolic in the waves like children, uninterrupted by human life? Sipping a drink in your beach chair with a view over your feet that could easily be the setting for a Corona commercial? Picturesque, pristine, and private- this is the dream setting for couples seeking island romance. Unfortunately, this dream is rarely a reality.
For years many North Americans looking for a romantic island getaway have chosen the Caribbean for its close proximity and value-priced deals. Canadians flood to the Dominican Republic and Cuba, while Americans head to Jamaica, Grand Cayman, and the Virgin Islands. Today visiting these destinations satisfies the tropical fix, however the product of short flights and accessibility has not been all positive. Years of high-volume tourism have turned many of these destinations into resort factories, full of properties designed for large capacities and all-inclusive business models. The result? The deserted beach dream is replaced by back to back lounge chairs, buffet lines, and signup sheets. Privacy is the only thing not included.
A greater sense of 'away,' and an attempt to distance from busy all-inclusive resorts are two desires that have savvy travelers swallowing higher air prices and longer flight times to travel to further across the globe. Finding a hidden corner of the world has become the new travel Holy Grail, but does the Blue Lagoon experience still exist? Rest assured, it does. There are few places left in the world where you can find this coveted romantic privacy, but Vanuatu is one of them.
The islands of Vanuatu are located in South Pacific, a three hour plane ride east of Brisbane and a two hour ride north of Auckland. Nestled a comfortable distance west from their more well-known Melanesian brethren, the island of Fiji, and flanked on the north by the Solomon Islands, Vanuatu has become a vacation spot for Aussies and Kiwis yet remained somewhat off of the worldwide travel radar. Americans may remember seeing the country most recently in the context of Survivor: Vanuatu, as the series' 9th season was filmed there in 2008.
There are 82 islands that make up the nation, however only fourteen are larger than 100 square meters. The climate is tropical, the ocean is crystal clear, and nature is in her finest form. Each island is unique, some with sand beaches, others with coral…some flat and covered in palm trees, others mountainous with rainforest covering the hillsides. One even has as active volcano. All are beautiful.
Many reasons have played into making Vanuatu a desirable destination for romance and privacy; surprisingly much of that is based on what the country lacks. Progress has been slow to come to Vanuatu; the country only gained its independence from England and France 30 years ago. (The United States was one of the nations involved in securing that status as Vanuatu served as a large allied naval base in WWII.) Thirty years of independence under her belt, however the country could be said to be as much as fifty years behind. The upside to this lack of progress is a lack of big-business tourism. In addition to the fact that all-inclusive resorts are not as popular on this side of the world, Vanuatu just hasn't had the time or the infrastructure to support high volume business. Instead, what the country has benefited from is a few visionary individuals bringing their resort dreams to life on a small scale. Developers have focused on quality versus quantity and maintained the natural beauty and tranquility of the islands within their hospitality creations. Resorts are mainly bungalow style or small lodges; you'll find only a handful of micro hotels in the main capital of Port Vila. Room numbers vary by resort but many of the best resorts have between 10 and 25 bungalows, making the ratio of beach space to people quiet desirable and your chances for privacy much greater.
Deserted beaches are not hard to find in Vanuatu. Only a few of the islands house resorts- the island of Efate with the capital of Port Vila currently holds most of the accommodation with Espiritu Santo and its capital Loganville as the second most populous. While Santo doesn't have the shopping or restaurants that Efate has in Port Vila, many people forgo the possibility of action for more remote location.
99% of tourists chose to stay on those two islands and use small charter flights or day boats to visit the others. Some of the higher scale resorts even have agreements for private access to neighboring islands allowing visitors the chance to book a small boat and head over for an un-interrupted afternoon. And this is what in the end gives Vanuatu her private romantic charm. Two islands housing the tourists and another 80 just waiting to be explored.
There is a lot to explore on the islands: waterfalls, tropical pools, coral coastlines, rainforest vegetation. The island of Tanna houses Mt Yasser; visitors can hike to the top at dusk and catch a view of the rim of the fiery volcano. All islands have renowned snorkeling and scuba diving with surrounding coral cays, underwater caves and exquisite marine life. A number of shipwrecks provide rare opportunities for divers including the sunken US Coolidge from WWII and the Million Dollar Dive, comprised of sunken US war equipment left behind. Visitors can also go surfing, sea kayaking, deep sea fishing, and hiking; helicopter rides, eco-tours and other sporting opportunities are available with specialty groups.
While the beauty of the landscape will be what takes you to Vanuatu, the people will be what make you return. In 2009 the Ni-Vanuatu people were named the happiest people on earth. They are warm hearted by nature with a very special energy; visitors often say the people were the best part of their trip. Their unique culture is rich and intriguing, some of the last people on earth living as their ancestors once did- in tribes. Visitors can book village tours, have a drink at a local nakamal (meeting place) and let the Melanesian culture be as much a part of their trip as they desire.
All of this waits in Vanuatu: deserted beaches, pacific sunsets, lush tropical islands, vibrant aquatic life, and a rich cultural people ready to welcome visitors. There are few places in the world where couples can experience this kind of paradise, even fewer where they can feel free from systematic tourism. As with any developing country, there are a considerable amount of amateurs in the hotel and resort business offering low-low prices for access to the island's wonders. While these places do stand to disappoint, the resorts in Vanuatu who are doing it well far supersede expectations and are well worth the trip.
Here are three featured resorts on the island of Efate which deliver on paradise:

Due to regional norms and exchange rates, prices are more than one might encounter elsewhere in the world, however in most cases rates include transfers, water equipment usage, snorkel gear, private island access, hot breakfast, and more.
Eratap
Casual island luxury and quiet romance characterize this unique resort. Situated along a stretch of pristine coral coast, with white sand and crashing waves as the background, Eratap is a magical escape from reality. Visionary Aussie proprietors Tony and Louisa Pittar have built their dream resort, a relaxing tropical hideaway to allow guests maximum privacy.
The resort has only twelve villas in total creating a tranquil and serene atmosphere perfect for a romantic getaway. Spacious and impeccably crafted, the villas are more like island homes, complete with privacy walls on all sides save for the ocean-side view of the crashing waves. They feature a large sitting room complete with flat screen TV, DVD player and access to the resort's free DVD collection for a cozy night in. Guests can have all meals delivered to their villas free of charge, or even a romantic table setting in the front of their villa or private beach bungalow. For the majority of the year, the resort is adult-only, however specific weeks are designated for children and appropriate activities are provided.
Because of the resort's coastal location, it's a great place for water sports, sea kayaking and fishing, all of which are included as part of the room price. There is an excellent surf break right off the corner of the resort and many people bring their boards to catch a few waves. Eratap has agreements with the local village for private access to the surf break and the small island across from the resort, Cast Away. The highlight may be the opportunity for an afternoon on the private island; the staff packs a cooler of food and beer, and then drops guests off with a mobile phone to call when they want to return. The rest of the afternoon is free to eat, drink, swim, snorkel across the beautiful coral cays and enjoy the surrounding private paradise. Typically these kind of experiences are both rare and difficult to arrange, making it a considerable advantage of this resort.
The resort has a spa and daily specials including therapeutic massages, a fully stocked bar including island cocktails, and a main restaurant with local chef who prepares delicious meals daily. Beach access, watersports, snorkel equipment, private island access and transfers, full hot breakfast including gourmet coffee and fresh juices, airport transfers and daily trips to and from Port Vila are included with the room rate. More information can be found at www.eratap.com
The Havannah

If you are looking for opalescent luxury and award worthy cuisine, this is the resort for you. Opened by Chef Greg Pechan, the Havannah is a foodie traveler's dream. Guests enjoy gorgeous views and impeccable service while dining on succulent dishes that are a delight to the senses.
The resort is located in Havannah Harbour, a large and beautiful inlet on the west side of Efate. Drinks and dinner can be delivered anywhere on the property including the beach, however the memorable meal will surely be a romantic lunch or dinner on the Havannah's private jetty (cabana covered dock), a picturesque view that could grace the cover of any 5 star travel magazine.
Water access is calm and very swimmable from a small private sand beach off the front of the resort. The immaculately-groomed gardens and two-tiered pool with waterfall provide a gorgeous background to gives of the sixteen bures (villas.) Six bures also have private plunge pools overlooking the ocean. All of the villas have modern furnishing, including king sized beds, flatscreen TVs with DVD, and IPod docs for guests to play their own music. The bathrooms are floor to ceiling tiled with walk-in showers. Top level rooms also feature soaking tubs.
The main pool is a swim-up bar so guests can drink their cocktails while lounging on chic poolside beds. Staff members deliver specialty cocktails, snacks and meals to the pool free of charge. Guests have included access to the watersports equipment, snorkel gear, and fishing rods. The resort owns two small private boats which they use to take guests fishing, or for a small entrance fee, drop them off at LeLepa Island across the harbour on a private beach.
During the day, guests can enjoy the facilities at their leisure, book services at the onsite spa, or work with the desk to book local tours and activities. At night there are beach bonfires or occasionally local entertainment. Full breakfast, turndown service, nightly home-baked cookies, and transfers to town/airport are also included in the room price. The resort is adults-only fifty-two weeks of the year. Visit: www.thehavannah.com
Erakor Island Resort


Simple and rustic, Erakor provides a beautiful location and an opportunity to stay in Vanuatu at a lesser price. The recently renovated resort is situated on a small, private island tucked into the larger Efate. Visitors take a short pontoon ferry ride across a shallow inlet and arrive in front of the dockside restaurant. This area is the main heart of the resort including the reception, bar, lounge, and the island's two main beaches. Due to inlet's shallow water, the backdrop is breath-taking crystal blue water. These depths allow safe and easy water access for snorkeling and sea kayaking, the latter of which can be done in glass bottomed boats for beautiful views of the reef. Usage of the watersports equipment is included with most stay packages.
The atmosphere of the resort is laid back and low-key. The twenty-two villas spread along the coast of the island, giving them beautiful water views and night-time sounds of the crashing waves. The villas are rustic with wood floors, mosquito nets, and french doors opening onto the ocean. The spa villas include Jacuzzis inside for added romance.
Diving is casual at the main restaurant, Aqua, or guests can have their meals delivered to any location on the island. In addition to the restaurant there is a snack and ice cream bar. There are activities on the main beaches daily and movies shown in the evening on an outdoor screen. Erakor is not only a honeymoon destination, but also has packages inclusive of the wedding service. Children are welcome and special activities are planned daily for the younger age groups.