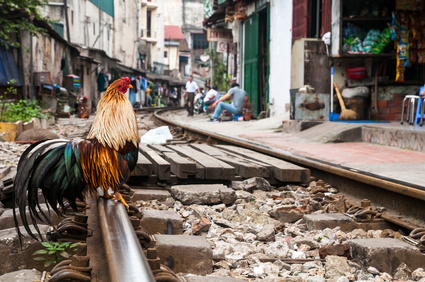 At sunrise the buzz of motorbike traffic has not yet begun, and the street is oddly quiet. We come out of the alley and onto the sidewalk where shop owners are opening up and iced coffee vendors await their first customers. We're out here at this hour waiting for a van, which soon arrives. The four of us shove our bags in the back and groggily climb in. The previous afternoon we booked a Halong Bay tour from one of the hundreds of vendors in Hanoi's historic center. Like many others we were drawn in by photographs of spectacular limestone cliffs towering over narrow waterways. Halong Bay is on every list of Vietnam highlights.
Our van already has one passenger, a blond girl from Germany who waits 30 seconds before opening her mouth to speak, then doesn't close it again for the next three days. Seats slowly fill with more travelers while the driver makes the hostel rounds through Hanoi's old quarter. First is a British couple from London, then two American guys, and finally two Aussie girls. Everyone is chatting with the usual backpacker chatter – where you from? Where you been? Where you going? The answers are more varied than usual. Rob & Mike are originally from New York and now live in Shanghai. The German girl, Eliza, has a research project in Hanoi, and the British couple's plan is similar to ours: 3 months, SE Asia circuit.
Half way through the ride our guide announces a bathroom break. We pull up alongside four identical vans at a CostCo-size warehouse containing thousands of souvenirs and triple-priced Coca Cola and M&M's. Browsing through the warehouse rows reveals cheaply made merchandise, and most of the styles are more representative of neighboring China than of Vietnam. After 15 minutes we meet back at the van, and I silently munch on M&M's as we pull away.
The pit stop was nothing compared to the harbor. Here our van joins a hundred more parked in organized rows. The noise is like a crowded bar and we struggle to hear one another as we step down into the jostling scrum. Travelers from every industrialized nation are lined up along the concrete harbor wall, waiting for their boats. My initial annoyance turns to amazement at the efficiency of this tourism assembly line and suddenly my expectations of exotic natural beauty and simple fishing villages disappear.
For the first night, the crew drops anchor, and we relax with drinks on deck. A bunch of us take turns cannonballing into the murky green water below, and nearby boats blast dance music across the otherwise quiet cove. The next morning we take a smaller transport boat to visit nearby caves, and from the opening we have a grand view over the cliffs and waterways below. Later we paddle around in kayaks and it's easy to get away from the boat engines and find calm at the feet of these stoic formations emerging straight up from the South China Sea.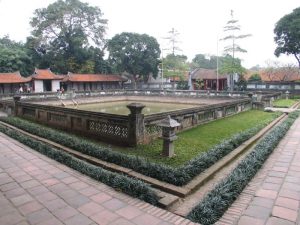 I can't shake this feeling that everything is set up way in advance for us, and our boat crew joylessly hauls their white cargo from one stage to the next. I felt it at the souvenir shop, the harbor, and when we're served at every meal. That night dinner is accompanied by 90's pop songs while our overly cheerful guide informs us of the next day's itinerary.
Just before bed I go to buy a bottle of water, but I can't find Thang, the bartender. So I wander around the boat looking for him and when I find him he is sitting on the floor of the transport boat. The rest of the crew is there too with the captain who is fishing for squid, and all are well into the second bottle of rice vodka. Watching them catch squid, I completely forget about the bottle of water, and I go over to see what is going on. Its a bizarre process where a red light is toggled to first attract squid, followed by a sudden scoop of the net for the catch.
Among my curious questions and watching I was offered rice vodka in a bowl. None of them were wearing shirts, and Thang explained that the captain started the trend and they followed. By my third bowl of vodka, the captain already caught five squid. With the sixth, the bucket is hauled to the kitchen to be cooked. Meanwhile I talk to the crew about their jobs. Each of them spend 28 of 30 days a month on the boat, away from their wives and children. The boat becomes a second home, and the crew their family. They're young and mostly from small villages. After more vodka, I find out Thang has a crush on Eliza, the German girl. I unsuccessfully try to convince him that she talks too much and would make a bad wife. He doesn't care, and I guess if I was stuck on a boat 28 days I wouldn't care either.
Then my wife emerges from our cabin in her pajamas wondering where I went. I told her I was just getting a bottle of water and now I'm smashed on rice vodka with my shirt off. When she tells me to come back I reply that I can't because the squid isn't ready yet. She joins us, and tries to convince me not to eat it because she read about seafood poisoning in one of those "Staying Healthy in Asia" books. The cook comes out of the kitchen with the squid still steaming from the grill. All of us sit down on the floor of the boat, down another shot of vodka, and dig in. I didn't know squid could taste like that, and it was the freshest, most tender I've had before or since. Soon the Australian girls joined us on the floor of this small, grungy boat while the cabins and white-table-cloth-dining-room remained empty.
On our last day we cruise around the bay and head back for the harbor. I've got a hangover, and the humid tropical heat isn't helping. The previous night is still stuck in my mind. For years I put organized tours in this category of things not to do. But the best thing about travel is that the experience is up to you. Even a mass produced tour can open your eyes in unexpected ways.
At the harbor, we say good bye to the crew and get on our bus to Hanoi. Another group gets on right after us.