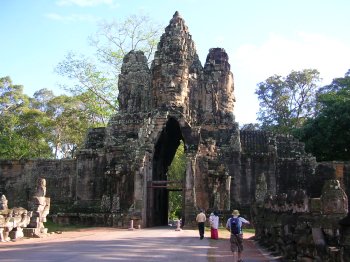 Despite being called a weirdo and hearing them tell scary travel stories about Cambodia – without packing much, I was soon boarding the second hand budget flight on the way to Cambodia, a world so much different from where I now live!
The flight was about three hours from Kuala Lumpur. I felt so bored with my seatmate who was carrying a SONY recording video and talked to herself, as if she was a guide on a travel channel and was going to film a traveling video unveiling the mysteries of Cambodia. Two uneventful hours passed and the wobbly plane finally landed at the airport of Siem Reap (It looks more looks like a community clinic).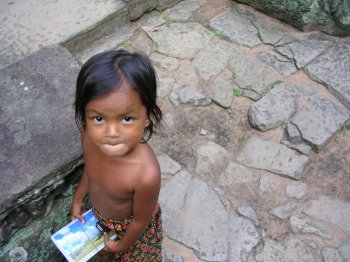 The weather was searing hot and humid outside the airport. There were several men carrying cards with people's names on them in order to pick up pre-reserved guests. I was petrified to notice there were at least 4 men raising their welcome cards with my name on it. At that moment, I just realized I had requested pricing for several Guest Houses from the Internet. Each guesthouse had sent one of their staff right there to pick me up!
"Geez !! What am I going to do?!" I was standing there, flabbergasted, for few seconds before I walked over to a young man who looked friendly and humble (Yes, sometimes you have to judge a book by its cover when you are desperate). He took me to the Guest House I reserved online (Baca Villa); it turned out to be a very nice airy accommodation. The room was clean, a spotless bathroom with cable TV in the main room, and it only costs me 7 USD a night; it was real value for money.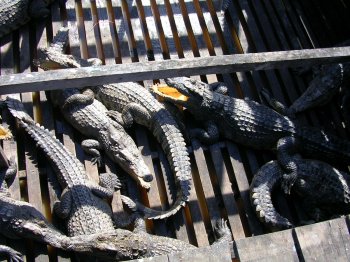 There is nothing much interesting to explore in Siem Reap itself. The locals live mostly in poverty. Foreigners own most of the restaurants, hotels, guesthouses and souvenir shops. They hire local people as shop assistants and pay them 30 USD a month.
On my first day, I went to Angkor Wat at dawn. A one-day pass costs 20 USD. My first destination was Bakheng, the largest temple of the Angkor remains. The view of Bakheng at sunrise was magnificent with thousands of amazing carvings on the walls in all of the temples.
The main shrine stood high in the center of the main temple and it took me great deal of courage to climb up the long, steep and wobbly staircase into the shrine. However, the view at the top was breathtaking, it was worth the nerve wrecking climb after all.
The weather was searing hot in Siem Reap, I took half-day tours around major temples and went back to the Guest House to rest.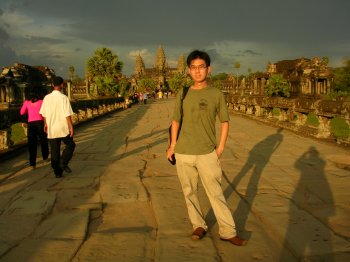 When I finished my temple touring, I went back to the Villa in the evening; unfortunately, the electricity was off due to a lightning strike. I had to leave my pitch-black room and join other travelers. I also had a nice chitchat with the house owner Jan, the Dutch man who has settled down in Cambodia. I always have been shy to initiate conversation with others, but in Baca Villa, everyone seemed approachable and friendly, and we had a great time chilling out in the restaurant of the Villa, eating, drinking and chatting.
On the second day of my visit, I chose to go to Tonle Sap Lake. One of the staff in Baca Villa volunteered to take me there by his motorcycle (due to the bumpy road that leads to Tonle Sap – a Tuk Tuk is impossible for this journey). The boat trip round Tonle Sap Lake costs 15 USD. I would not encourage you to take this trip because the view of the lake is not that scenic – only muddy water, floating markets and a couple of homes on stilts.
The boat stopped over at one of the souvenir shops (another travel scam) and a small girl who spoke very little English whisked me to another section of the shop where a cage surrounded a big pool and in the center it said – CO-CO-DIAL. To my horror there were dozens of vicious looking crocodiles scampering around the pool, the force of their movement causing mud and water to be spattered around. After the crocodile show, the little girl stretched out her arm out asking for tips, I knew what was up from the beginning – thus I hurried and jumped into the boat without paying any tips.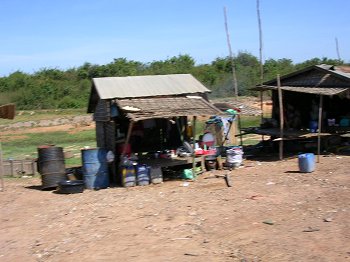 On the way back to my Guest House, the weather was again scorching hot. A row of broken huts beside the muddy and bumpy road amazed me. Each hut has been inhabited by dozens of people and they all live under a fragile rooftop. Little boys played in mud and babies wailed in the balcony while some running chickens pecked on their faces. I am glad that I live in Malaysia where such horrible sights have never come upon my eyes.
The hygiene condition in Cambodia was far worse than my expectations. When I went into a restaurant, flies were swarming around and it was a real nuisance. I have read about various diseases, which have plagued Cambodia in the last decade. Hence, prevention measures need to be taken seriously. Before dining, I would ask that the fork and spoon were sterilized in scalding water.
On my last day, I took a stroll in the streets before I bade farewell to this amazing land. I am not sure I will come back but this trip was really an eye-opener for me especially to experience the rustic life in this post-war country.