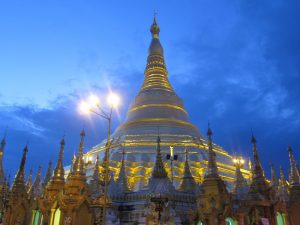 The vines of Burgundy, Tuscany and Napa Valley produce some of the world's most polished pours. While you can use many superlatives to describe these oenophile's Disneyland, it's a stretch of the imagination to describe any of these famed wine-producing regions as undiscovered.
While Myanmar is no threat to Bordeaux as the next global grape deity, I was surprised that any wine at all is being produced here. The pagoda-laden landscape may not seem like a natural fit for vineyards, but pioneering vintners are experimenting with wine producing. I had the opportunity to visit a vineyard and taste for myself during my recent trip to this exotic land.
I was visiting Myanmar with Trafalgar. It's the latest of their Hidden Journeys vacations, cutting-edge destinations that offer smaller groups the chance to slow down and feel the distinct pulse of a country. These guided vacations showcase the best sites and attractions, but they also offer participants options. If you're a traveler who enjoys choice, you've come to the right place. The 11-day Secrets of Myanmar trip was first-rate from start to finish.
For decades, this complex country had been almost completely isolated from the outside world. Today, it is slowly emerging from more than 50 years of military dictatorship. Borders have finally opened and censorship has eased. Although the tourist infrastructure is progressing, it remains only lightly dusted by the trappings of the modern world.
This is an overwhelmingly Theravada Buddhist nation, where spiritualty runs deep. Depending on how one interprets the 5th precept, some Buddhists avoid alcohol entirely. Per capita income is extremely low, so few citizens have the disposable income to enjoy a glass of wine.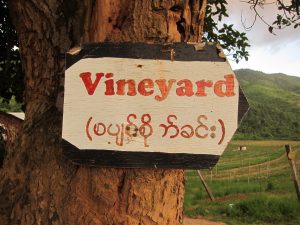 When locals do indulge, beer is the alcoholic beverage of choice. I consumed a fair amount of frosty Myanmar lager during my journey. I found it to be a welcome elixir to the hot temperatures and an appropriate compliment to the well-seasoned food that I delighted in sampling.
The opportunity to explore a vineyard is one I never pass up and I was pleasantly surprised when I saw a vineyard wine tasting offered as one of the optional afternoon activities during our time in Inle Lake. I must admit it, wasn't easy to pull myself away from our palatial accommodations. The teak-accented suites and lake views at the posh and perfect Novotel were showstoppers. I would have relished a swim in the photo-worthy pool, but I managed to I tear myself away from all the luxuries to join our travel director and several other ambitious guests on a late day visit to Aythaya Vineyards.
We drove 45 minutes along a bumpy road to Taunggyi in the Shan State. When we arrived at the vineyard, hectares of sun-dappled rolling hills and manicured vines greeted us. The slopes of the Shan State are a Southern extension of the Himalayan Mountains and sit at an altitude of 1,200 meters. Add favorable temperatures, modest rainfall and calcareous soil and you've got a hospitable grape-growing region.
The German-born owner (he's married to a local woman) imported the original vines from Europe in 1999. The estate is growing Syrah, Dornfelder and Tempranillo grapes. The aging process takes place in stainless steel and oak barrels.
After a pleasant sunset stroll around the vineyard, we headed to the outdoor tasting area. I'll be the first to admit that these wines are not going to appear in Robert Parker's dreams. If you adhere to the philosophy that most wines raison d'etre is to accompany and hopefully elevate the food that they are served with, these wines begin to make sense. I like to think of wine and food as a delicate dance between two partners that lift each other to higher levels, like Fred Astaire and Ginger Rogers.
It would be a gastronomic faux pas to consume these wines with the butter and cream enhanced sauces of the French kitchen or Southern Italy's tomato-laced pasta. These wines are not meant for export; they are of the place and meant to be consumed in the place, as a condiment to the fragrant curries and spicy undertones that define Myanmar's distinct kitchen. Myanmar's cuisine is influenced by all of its neighbors, particularly Thailand, but the food is recognizable for being less spicy and slightly oiler than you might be served in other parts of Southeast Asia.
Keeping in mind that these wines should support and enhance the local food, I forged ahead, sniffing and swirling red, white and rosé.
Don't expect complexity. The red's dark ruby color was initially enticing. I tasted subtle notes of cherries and a bit of earthy tobacco, but the wine possessed little structure, body or power. While far from nuanced, it would be a decent foil for a repertoire of regional dishes, such as Burmese-style beef curry or steamed pumpkin paired with minced beef.
The white wine had aromas of green apple. Served well chilled, it would be a faithful escort for a Myanmar delicacy like spiced fish balls on a sugarcane stick. It would be a refreshing partner for the country's light, fresh vegetable salads, seasoned with citrusy lime and accented with a faint trigger of crunchy peanuts. The omnipresent side dish laphet thoq, a pungent tangle of fermented tealeaves, would also be a worthy accompaniment.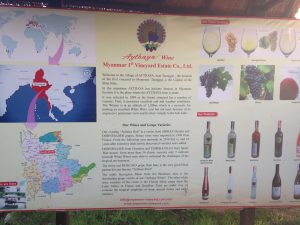 While the Aythaya Vineyards red and white are approachable table wines that are palatable when paired with the local food, the rosé was cloyingly sweet for my palate, like a beverage you might find in a toddler's sippy cup.
Aythaya Vineyard is much more than viticulture. It's a tangible demonstration of the efforts being made to give this emerging nation a global profile. After decades of international isolation, it epitomizes the synthesis of old and new, of East and West that is taking root here. It's about taking the first steps of freedom in a country that has been lacking personal liberty for so long. While I have no doubt that these wines could benefit from some fine-tuning and the assistance of a qualified enologist, this viniferous revolution goes beyond the bouquet and body, aiming straight to the heart of this country's future.