Call it what you want: The Craft Cocktail Boom. The Mixology Movement. The Mainstreaming of the Fancy Manhattan. The Rise of the Instagrammable Drink.
Just remember it's not exclusive to the West.
Around the world, cunning drinkers, thinkers, moonshiners and entrepreneurs do all sorts things to stand out from the crowd. Sometimes that means live animals with your mango juice, others it means dead animals in your whiskey.
Over the course of a pre-pandemic year of travel, I visited at least one world capital a month. I sought what proves most striking on the beverage scene in each city.
Starting in Southeast Asia and moving west across North Africa, Europe and Latin America, I covered some ground physically and inspirationally.
The resulting reports—this being first of at least three—serve as a toast to those who like to travel and those who like it when their drink makes them think.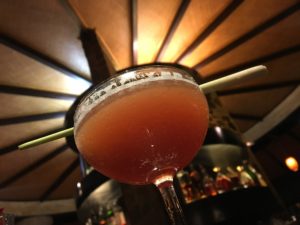 Hanoi, Vietnam
There it appeared, next to a half-inflated basketball on a glass shelf in a tiny mom-and-pop retail shop. The place overflowed with an assortment of mannequins, tank tops, socks, figurines, fabric smocks with flower patterns and body combs made from polished stone. A most weird mix, really. The label on the bottle appeared worn and slightly torn, but its title announced what the tangle of tails and roots inside were all about: 750 milliliters of "Liquor Gecko Seahorse."
So it goes in Vietnam, where cobra-scorpion whiskey is a common sight and every local dinner I was invited to involved homemade moonshine with something floating in it. (My favorites were the lotus root and crabapple creations.)
The dinners happen on the floor next to the food and come with a lot of ritual toasts (many directed at the guest) and multiple older gentlemen telling the new guy how good the "medicine" is for one's love life.
Import and export laws, however, frown upon the inclusion of animals in alcohol, and moonshine is tricky to regulate, so the adventurous drinker will have to do some traveling to experience the medicinal effects of exotic Southeast Asia alcohols.
Unless, that is, one Vietnamese transplant has his way.
Swiss-born Markus Madeja planned to visit here for a few months but by now has resided in country for more than 20. He's building a liquor dynasty around locally inspired spirits with all sorts of indigenous fruits, botanicals and flavor—and none of the wildlife.
Rượu is a unique distillate made for centuries from sticky red rice in villages like Phu Loc in Cam Giang district of Hai Duong province, where Madeja studied how to make it. Today his brand Sơn Tinh enjoys more than a dozen flavors and wins the affection of the New York International Spirits Competition, where rượu is one of the newest categories they recognize.
While rượu is often compared to soju or vodka, it deploys its own identity. At a tasting at Sơn Tinh's signature sibling Highway 4 in Hanoi, several revelations ensued.
The clear fragrant sticky rice distillate that serves as the base for the family of spirits, Nếp Phú Lộc, impressed with suede-like texture and a clean and lightly buttery flavor.
The light and complex Táo Meo (rose apple), Mơ Vàng (Vietnamese apricot) and Mận Đỏ (native red plum) show promise for sweet-leaning American palates.
The Bach Sâm white ginseng distillate wowed with earth and sun-dried fruit. And the vegetal flavors, with higher alcohol levels and traditional herbs grown deep in the rainforests of the Hoang Lien Son mountains—like the engulfing intensity of the Sơn Tinh Mộc Sa Pa and its 30 unique and pungent herbal inputs—prove good enough to make mixologists speak Vietnamese, as Highway 4 manager Andy Ponyikzcy points out.
"We all know the bartenders who say, 'Oh, I make my own tonic, I make my own gin,'" he says." Yeah, we know that. What about this."
Craft barkeeps anchored a subsequent upscale cocktail showcase at InterContinental Hanoi Westlake, conjuring the likes of a savory Panama Whisper with lemongrass and dried red plum to go with the plum-driven Mận Đỏ.
Another eye-opener: the Monsoon Martini with the Nếp Phú Lộc base distillate, the heavenly ginseng elixir and fresh lemon.
While its recipe inspiration dates back to ancient times, its worldly ambitions are new. Sơn Tinh seeks distribution in the U.S.—importers, take note—so there's real hope such time-honored discoveries arrive stateside soon.
More at sontinh.com.
Chiang Mai, Thailand
There are intriguing cocktails to be sipped around Thailand's second-biggest city, a welcoming and easy-going wonderland of breathtaking Buddhist temples, night markets and khao soi noodle spots.
But visitors shouldn't plan on drinking between 2-5pm—or grabbing a rare rice-based and gluten-free beer (Chang) at the local quickie mart—because national law says no no.
Another tip: Don't post a picture mugging with your favorite cocktail on Facebook, as that is as illegal as talking trash about the military government or the king.
Both can get you locked up.
"'Don't drink and Facebook' is always good advice," writes TheCultureTrip.com. "But in Thailand, it's also the law."
Those represent two reasons to swap out alcohol for caffeine. The better reason is the quantity of clever cafes in Chiang Mai.
There cafés hit visitors with waterfalls, living walls and giant anime characters. One even delivers a private pond, a two-story deck and a slide connecting its levels. But the cafes that earn max Instagram action are a whole different breed.
The city famed for its elephants—and a zoo where guests can feed the hippos—plays home to Catmosphere Cafe and Lucky Bunny Cafe.
But the king of the jungle is Harinezumi Cafe, aka The Hedgehog Cafe, near the wall of the Old City.
There appears three long terrariums that run the length of the big window in front, with hog piles of at least five in two tanks and a huge solo hedgehog in the other.
Around the rest of the space, hedgehog schwag proliferates: a hog-shaped clock swings little paws, shot glasses have hogs hanging off the side, and pillows populate every corner along with stuffed animals and original art.
Live hedgehogs work as the main act. They come tableside with petite wooden hog pens for customers who buy combo deals with a coffee, tea or mango smoothie.
The "How to Hedgehog's" [sic] placard that arrives with the hedgies reads: "We are very timid," "Please life Me [sic] gently from the bottom and give Me kindness if I'm round (lol)."
Café-goers can feed their new little buddies dried mealworms with tweezers and cradle them lovingly (gloves are included).
My prickly pal took crispy worms from the tweezers on occasion, but preferred them from the floor of his wood deck. Either way he ate them with a satisfying crunch and an occasional wheeze of a sneeze.
It turns out bringing a hedgehog home isn't easy, so I'm hoping some enterprising café or bar owner will figure out how to start one stateside on behalf of animal lovers everywhere.
Kuala Lumpur, Malaysia
Kuala Lumpur translates in Malay for "confluence of mud," inspired by the swampy rivers that come together where the city sits in central Malaysia.
And the name confluence ends up being just about perfect for the seventh-most-visited-city on Earth.
The gleaming destination of 2 million is nothing if not a confluence of influences—the native Malay, Chinese and Indian flavors all figure into the food with fantastic results (including barbecued stingray and banana leaf-wrapped nasi lemak).
Jungle vegetation weaves its way into an urban landscape.
People from across the globe gather for business dealings and ex-pats flood the place, making it a top 10 relocation destination worldwide.
Muslim deference draws tons of tourists from the Middle East.
Massive malls (including three of the world's largest) blow minds with sheer scale and outsized opulence.
The best of the cocktail scene, meanwhile, has to be the confluence of rooftop bars. The selection of standouts runs a dozen deep, with the likes of Sky Bar (with its indoor pool and floor-to-ceiling windows) and Luna Bar (two stories of heavenly hospitality, 34 floors up) ranking among the best.
The most memorable among the higher-ups I sniffed out keeps a lower profile. Heli Lounge Bar doesn't advertise or maintain a website, but has enough inspiring elements to thrive on word-of-mouth.
Chief among them is one of a handful of active helicopter pads in the metropolis (by day, anyway), and the open platform makes it the best place to stare into sunset against the iconic Petronas Twin Towers and soaring KL Tower.
Another big draw to go with its stylish daybeds and thatch hut-style couches: affordable drinks—in a country that taxes alcohol heavily and keeps very limited wholesale outposts.
Manager Telvince Tana creates the drinks. He touts the Hellusion most highly. Its interplay of vodka and coconut rum with pineapple, fresh lemon juice and a sweet splash of Triple Sec work as familiar flavors with a clever tweak.
Other unconventional concoctions from his list of appropriately named "Gasoline" drinks include the Jet Fuel, which goes lean and mean with vodka, rum and mint. The White Skirt with white wine, pineapple and a lively lychee liqueur intrigues as it pleases. The Red Baron with vodka, red wine, orange juice and green tea turns out to be (unsurprisingly) strong but also (surprisingly) cohesive and balanced.
The lower lounge comes appointed with glass walls, aviation gear and chunks of fuselage, but the real show awaits up top.
"Once guests hit upstairs with their drinks, they're speechless for a while," Tana says.
More at the Heli Lounge Bar Facebook page.