The land of dreams and romance, of fabulous wealth and fabulous poverty, of splendor and rags, of palaces and hovels, of famine and pestilence, of genii and giants and Aladdin lamps, of tigers and elephants, the cobra and the jungle, the country of hundred nations and a hundred tongues…
~~~ Mark Twain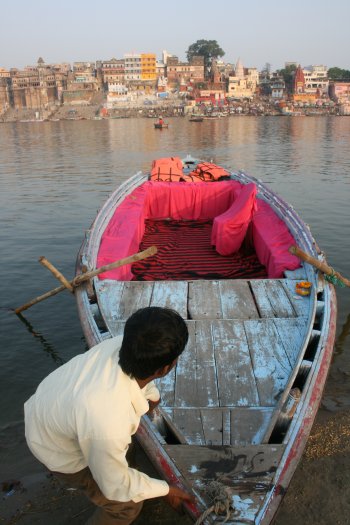 Pink, the navy blue of India, is everywhere in Varanasi, Copyright Stephen Bassman
When I was a twenty-two, I was both naive and adventurous. I went to India, as I went everywhere in those days, neither for purpose nor pleasure but for experience. I was poor yet hardy. I traveled about northern India staying in cheap hostels, riding in 3rd class train cars and walking for hours through cow-crowded streets. Despite my enthusiasm, India's heat, vast distances and utter strangeness made travel tiring and confusing.
That was forty years ago and though the trip was difficult, India's beauty has haunted me ever since, beckoning me to return.
So I did.
Recently I returned to India with Indus Travels because it's the company that not only offers three levels of accommodations based on your budget, but will customize the tour any way you want.
My trip began in Delhi, proceeded by land to Agra to see the Taj Mahal, then to Jaipur, the capital of Rajasthan, and lastly by air to Varanasi, the sacred Hindu city on the Ganges with a side trip to Sarnath, where Buddha gave his first sermon. The trip I chose retraced my steps of 40 years ago but this time I wanted things to be different. Now my body demanded comfort so I had the finest hotel choice which was the Oberoi Hotels. With the luscious pools, Raj decor, quiet, ultra-polite service and exquisite cuisine, this time around, I was not so just traveling in India, I was luxuriating in it.
Yet, while my body was being pampered, my interests seemed in conflict. As an unrepentant shopper, I wanted leisure time to shop among India's measureless array of pretty things. Yet, I wanted the spiritual too. I wanted to get closer to understanding the Buddhist/ Hindu attitude toward gaining inner peace. I craved insight-to unravel the mystery of India-it's paradox- that the most horrendous of life here so closely co-exists with the extraordinarily beautiful.
We were a small group and our guide, Luv Jawad, a devout Hindu with a joyous temperament set the tone right away. My personal quest for both the sacred and sumptuous was the tenor of our travel.
Arriving in Delhi we began with the sacred. We were whisked to the Gurdwara Shri Bangla Sahib Sikh temple. It was a profound introduction to a nation steeped in holiness. Here in this golden-domed temple, a vast kitchen buzzes day and evening with work to feed daily ten thousand people! Silently the poor of all castes and religions arrive. They sit in long lines on rough mats to eat from a metal plate piled with hot fresh chapatti, rice, and vegetables. The surprising thing was that these hungry hordes file silently into a space in which all about the Sikh men, women and children pray quietly so that the giving and receiving of food appears like just another form of prayer.
The quest for spiritual understanding continued in Sarnath where we had an audience with the senior monk at the Mulagandhakuti Vihara monastery on this holy ground. "Buddha's greatest insight" he stressed "was that all life includes suffering and when you truly understand this, the suffering lifts."
In Varanasi we went one night to witness the Aarti ceremony by the river. In the hot smoky evening the Aarti ceremony is a perplexing one of joyous chanting only steps away from where corpses burn in raging funeral pyres. Tourists, holy men and Hindus from all over India come here to celebrate each evening as bereaved families witness the incineration of their loved ones. How, I wondered, can such happy and horrible experiences co-exist? The more I traveled in India the more I saw that the monk at Sarnath already gave the answer and the nightly activities at Varanasi merely confirm it: Suffering is an integral part of life. Joy and suffering always coexist and our refusal to see it only causes more suffering.
The tour gave meaning to everything we saw. For example, Varanasi is not an easy city to visit. The hawkers of trinkets shout, beggars harass, the street noise is deafening and dirty cows roam aimlessly so that one evening I peeked into a sari shop and among the delicate silks, saw a great bull sitting. Understanding our confusion, Indus Travels surprised us one morning with a visit to our hotel by a professor of Hinduism who gave the insight we needed to understand even a little bit about a country of 33 million gods.
On my first trip to India, I had visited Jantar Mantar in Jaipur a magical collection of gigantic 18th century astronomical instruments yet I didn't understand what these enormous structures did. This time, Indus Tours provided as our guide-an astronomer. And, near Jaipur, at Dera Amer before our sunset elephant trek in the Aravali forest, we were surprised with a fun hands-on elephant workshop in which we learned about the care of elephants as we washed, fed and decorated them. The knowledge everywhere simply heightened the wonder.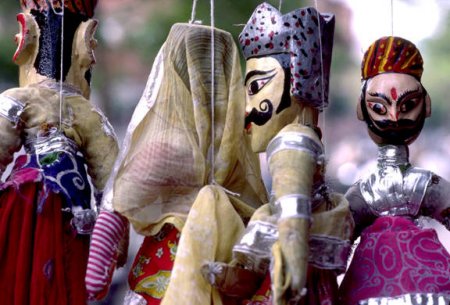 Jaipur's traditional marionettes – Copyright David Ryan
Indus Travels caters to individual interests and always includes at least an activity as a surprise. On our trip we had many delightful surprises-and so in this way I experienced precisely what I wanted. For example, throughout the trip, I reveled in India's visual sensuality including its surprising colors. The hot intense hues everywhere prompted Diana Vreeland, the legendary editor of Vogue to famously state "Pink is the navy blue of India." Everywhere, the colors scorch with pleasure. The vivid red, chartreuse, sun-yellow and the ubiquitous pink shimmer dreamlike in the heat.
Luv arranged for me and others who were interested to bring these colors home with a visit to a traditional silk weaving workshop in Varanasi where I could choose scarves, shawls and all manner of home decor from a selection of 400 colors! In Jaipur I was thrilled with the surprise of extra time to bargain for the ornate kathputlis, traditional marionettes representing characters from the Hindu epics. Even my sudden mad wish to try my hand at elephant polo was granted.
I know now that it was the deeper knowledge provided on this tour and the tailored personal activities that gave me the insight I sought. When I first traveled to India, I viewed the juxtaposition of the sublime and the sickening as incomprehensible. Now I see that my incomprehension is merely representative of the ignorance that encompasses our lives-all that is beyond our control, all that is mysterious, forever unknowable.
This time in India I saw that it's this very juxtaposition that draws you in. The hawkers stalk and harass you but then unexpectedly a child vendor guides you across the street and presents you with a glass necklace as a gift, refusing even a rupee in return. The sari shop in Varanasi gleams with light on the precious, delicate silks above where a great bull sits. The joyous singing in the Aarti ceremony at the Ganges River all the while the dead burn.
Day by day, I got to know India-to feel it in the body and the mind. I saw the contradictions in India only confirm the perplexing contradictions of our lives. This time around, this is what India gave me so that now I can view the bull in the sari shop as somehow fitting.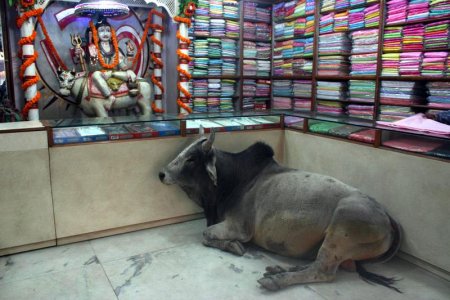 Bull in sari shop, Varanasi
Indus Travels itineraries can be tailored to accommodate your own taste, budget and interest. They can customize a tour to a group or to an individual—even individuals within a tour. Some of their most recent itineraries to meet personal interests have been:
– Salt-walk in Gujarat to follow in the footsteps of Gandhi's famous "Walk to the Sea"
– Cuisine Tour of Rajasthan with Chef Vikram Vij
– Horseback safari on thoroughbred Marwari Horses
– Camping with nomadic Rabari tribes of Kutch
– Village Walk -tour of North Eastern Himalayan Region walking from one village to another.
– Wedding with a borrowed dress from a Royal Princess
– Dinner with a Maharaja
Indus Travels theme tours include:
– Regional Cuisine Tours led by Famous Chefs
– Wine Tours with sommeliers
– Art camps for landscape artists
– Yoga and Meditation Camps
– Photography Tours
– Festival Tours
– Spiritual and pilgrimage Tours
– Hiking tours that go up to the Everest base camp
Culinary Group Tour of India
Architectural Group Tour of India and Sri Lanka
Yoga and Ayuerveda Group Tours
Bollywood Group Tour of India
Prices
For the dry season in India (Oct – March)
a) Luxury (Oberoi etc) – US$4200/person
b) Superior – US$2400/person
c) Standard – US$1200/person
Prices include airport transfers, hotels, breakfast, sightseeing, transportation and tour director services.
For More Information:
Indus Travels: Toll Free (USA & Canada) + 1 866 978 2997
Author Bio
Maxine Rose Schur's essays and articles have appeared in numerous publications including the San Francisco Chronicle, The Christian Science Monitor, Americas, The Los Angeles Times, San Diego Union-Tribune, The Christian Science Monitor Northwest Airlines World, Salon.com, National Geographic Explorer and several Traveler's Tales and Random House anthologies. She has twice won the Lowell Thomas Award and her memoir, Places in Time, was named Best Travel Book of 2006 by the North American Travel Journalists Association won the Gold award from the Society of American Travel Writers. Maxine is the also the author of several award-winning children's books. Visit: www.maxineroseschur.com